Being in Dubai, there are restrictions in respect to the community on how alcohol is marketed. Expats will need to get an license in order to purchase and consume alcohol. Please be guided on the qualifications, requirements, process, and tips when applying for a drinking permit.
The UAE, being a Muslim country, strictly adheres to the Sharia Law. Alcohol, as well as other liquor are forbidden in the Qur'an. However, authorities are aware that there are plenty of non-Muslim expats that who drink alcohol. There are a few rules that need to be followed so you can drink legally in the UAE. In our case, we applied for a liquor licence via Maritime And Mercantile International (MMI), one of the few legal shops that sell alcohol.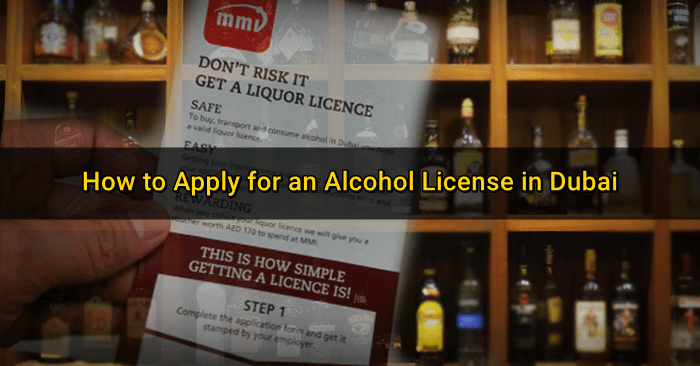 Guide to Getting an Alcohol License in Dubai
Non-Muslim residents of Dubai who wish to buy/consume alcohol, they will need an Alcohol License. Here are some qualifications
Qualifications
Applicant must be at least 21 years old
Non-Muslim
Resident in Dubai
Should have a monthly earning of at least AED 3,000
How to apply?
Application forms are available online at the Maritime And Mercantile International (MMI) and African + Eastern (A&E) liquor stores websites. Physical copies of the form are available at the stores as well.
The applicant needs to make sure that the form is filled up completely and returned to the store with the following necessary documents:
Requirements
Copy of residence visa and passport, and tenancy contract
Salary Certificate or Copy of the labor contract issued by the Ministry of Labour
Photograph, passport size
Application fee of 270 AED
The store will be processing the application with the Dubai Police. The entire process would take approximately 2 weeks and once the alcohol license is granted, it would be valid for one year and will have to be renewed. The applicant will be contacted once the license is granted.
If the tenancy contract is registered under a different person's name, a copy of the landlord's passport and resident visa will be required as well as an NOC (No Objection Certificate) from them.
For those working for a free-zone company, a salary certificate must be submitted as well from that free zone.
If the applicant's Visa is stamped in a different Emirate, an NOC would also be required from that particular Emirate's police headquarters.
Where to Buy Alcohol in Dubai?
There are a few shops that sell beer, wines and spirits in Dubai. Here are some places where you can buy alcohol. Be advised that it's best to buy the shops in legitimate stores to avoid problems.
MMI shops
African + Eastern shops
Duty Free (Airport)
Hotels – bars and restaurants inside restaurants
Hotels and sports clubs in all Emirates (except for Sharjah) are allowed to serve alcoholic drinks in their bars and restaurants. It is important that you secure a license to be on the safe side.
Important Reminders
Legal age for drinking is 21.
Alcohol can only be purchased from licensed stores and should only be consumed at licensed premises or at home.
Absolutely no DRUNK DRIVING. This is a zero tolerance policy!
During Ramadan, alcohol can only be purchased after sundown.
Out of the 7 emirates, Sharjah is the only one that doesn't allow alcohol.
Keep in mind that breaking the Alcohol Consumption laws could lead to large fines and, depening on the offense, even deportation.
Celebrating a milestone? Promotion? Or is it your birthday or anniversary? It is always great to toast to the good times. But it's still important to know your limits and make sure you have a license to drink in Dubai.
Disclaimer: Information posted in this page are based on our experience applying for an alcohol license first-hand. Please be guided accordingly in terms of updates from official distributors such as MMI. They have over 15 shops now in Dubai. More details about application of liquor license in Dubai here: – http://www.mmidubai.com/retail/#retail_licence