Starbucks is one of the well-known coffee brands around the world and in the Middle East, they are looking for baristas to fill their growing number of employees in the United Arab Emirates.
Locations of the successful candidates will be one of the following: Dubai, Al Ain, Fujairah, Adjman, Ras Al Khaimah, Sharjah. Please be advised of the requirements needed for this job in the Food and Beverage industry.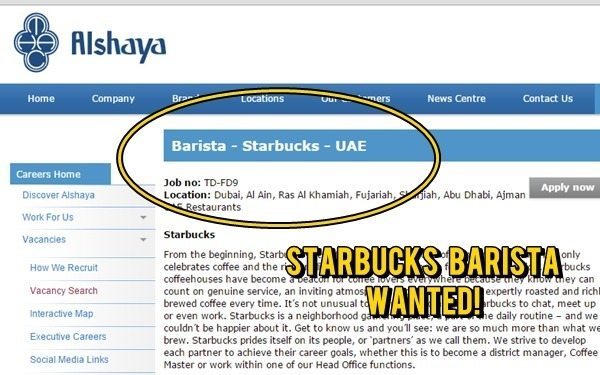 WANTED: Starbucks Baristas in Dubai and the UAE
This company is being managed by Alshaya Group and applicants must be able to work in a fast-paced environment and always provide customers with freshly made drinks as well as serve high quality food products in an efficient and friendly manner.
Other Skills Needed
Customer Service Skills
Lively and Energetic Personality
Works quickly with minimal supervision
Job no: TD-FD9
Location: Dubai, Al Ain, Ras Al Khamiah, Fujariah, Sharjiah, Abu Dhabi, Ajman
UAE Restaurants
How to Apply
Please visit this page here, you will need to set up an account in Alshaya's official page – APPLY HERE