The Ministry of Health and Prevention has recently reported 13 new cases of the virus outbreak in the UAE. This brings the total reported cases in the country to 153. They also reported 7 recoveries which brings the total of recoveries to 38.
The new cases belong to different nationalities, including 3 people from Britain, 3 from Pakistan, 4 cases from Bangladesh, and one each from Portugal, Poland, and America, all of whom are stable.
The recovery cases include different nationalities: 2 persons from India, 2 United Arab Emirates and one from each of Italy, Britain and the Philippines, bringing the total number of cures to 38.
The Ministry of Health and Prevention mentions that all of them are quarantined.
Total Number of Cases in UAE as of March 21, 2020
Confirmed Cases – 153
Recovered Cases – 38
Deaths – 2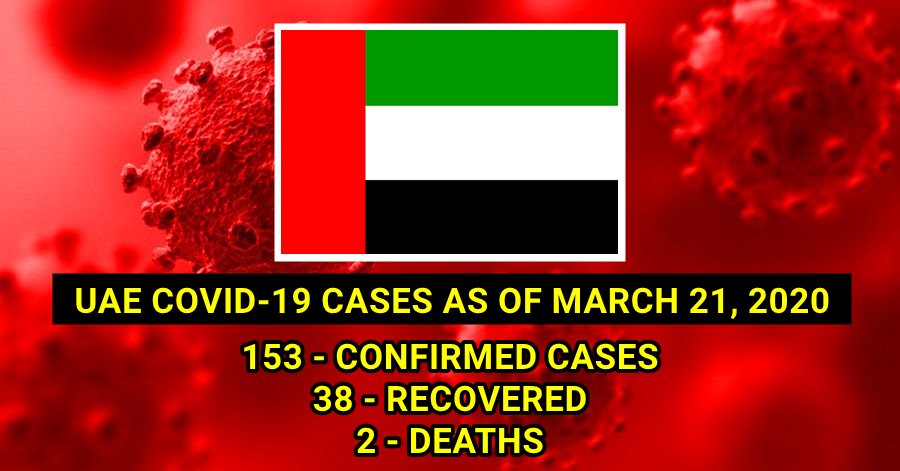 Below is the statement regarding the 13 new cases:
تسجيل 13 حالة إصابة جديدة بفيروس كورونا المستجد، تم رصدها من خلال الإبلاغ المبكر والتقصي النشط والمستمر، والتعرف عليها من خلال فحص المخالطين لإصابات أعلن عنها مسبقاً أو القادمين من خارج الدولة، ليبلغ عدد الحالات التي تم تسجيلها في الدولة 153 حالة.

— UAEGov (@uaegov) March 21, 2020
Below is a Tweet of the nationalities of the new cases:
تعود الحالات الجديدة لجنسيات مختلفة شملت 3 أشخاص من بريطانيا، وباكستان، 4 حالات من بنغلاديش، وشخص من كل من البرتغال، وبولندا، وأمريكا، وجميعهم حالاتهم مستقرة.

— UAEGov (@uaegov) March 21, 2020
Translation: "The new cases belong to different nationalities, including 3 people from Britain, Pakistan, 4 cases from Bangladesh, and one each from Portugal, Poland, and America, all of whom are stable."
Below is a Tweet of cases of Recovery:
د. فريدة: شفاء 7 حالات جديدة لمصابين بفيروس كورونا المستجد وتعافيها التام من أعراض المرض بعد تلقيها الرعاية الصحية اللازمة منذ دخولها المستشفى.

— UAEGov (@uaegov) March 21, 2020
الحالات التي تماثلت للشفاء تعود لجنسيات مختلفة وشملت شخصين من الهند، والإمارات وشخص من كل من إيطاليا، وبريطانيا والفلبين وبذلك يكون مجموع حالات الشفاء 38.

— UAEGov (@uaegov) March 21, 2020
Translation: "Cases of similar recovery belong to different nationalities, including two persons from India, the United Arab Emirates and one from each of Italy, Britain and the Philippines, bringing the total number of cures to 38."
This is the Live Broadcast from the Media Briefing:
البث المباشر للإحاطة الإعلامية حول مستجدات فيروس كورونا المستجد "كوفيد19" السبت 21 مارس 2020https://t.co/HS2UmcrXLn

— UAEGov (@uaegov) March 21, 2020