Breaking News: 1 death, 102 new cases, along with 3 recoveries of the outbreak have been announced by the UAE on a Sunday evening – March 29, 2020. This brings the total reported cases in the UAE to 570. This announcement was made on the official Twitter account of the Dubai Health Authority.
Also Read: UAE advises everyone NOT to go out except for absolute necessity, Punishment for violators
102 Cases – The new cases belong to the following nationalities: one each from New Zealand, Slovakia, Morocco, Greece, China, France, Germany, Algeria, Iraq, Colombia, Venezuela, and Poland; two each from Brazil, Sweden, Ethiopia, Canada, Lebanon, Sudan, Saudi Arabia, and Portugal; three each from Italy and Ireland; six from Egypt; seven each from the UAE and the Philippines; 16 from Britain, and 30 from India. They are all in stable condition and receiving the necessary treatment.
1 Death – The Ministry also said that an Arab woman, age 47, died from a coronavirus infection. She had prior chronic illnesses that complicated her ability to fight the disease.
3 Recoveries – The Ministry announced three people, one Filipino and two Indian nationals
Total Number of Cases in UAE as of March 29, 2020
Confirmed Cases – 570
Recoveries – 58
Deaths – 3
Below is an update from the Ministry of Health and Prevention: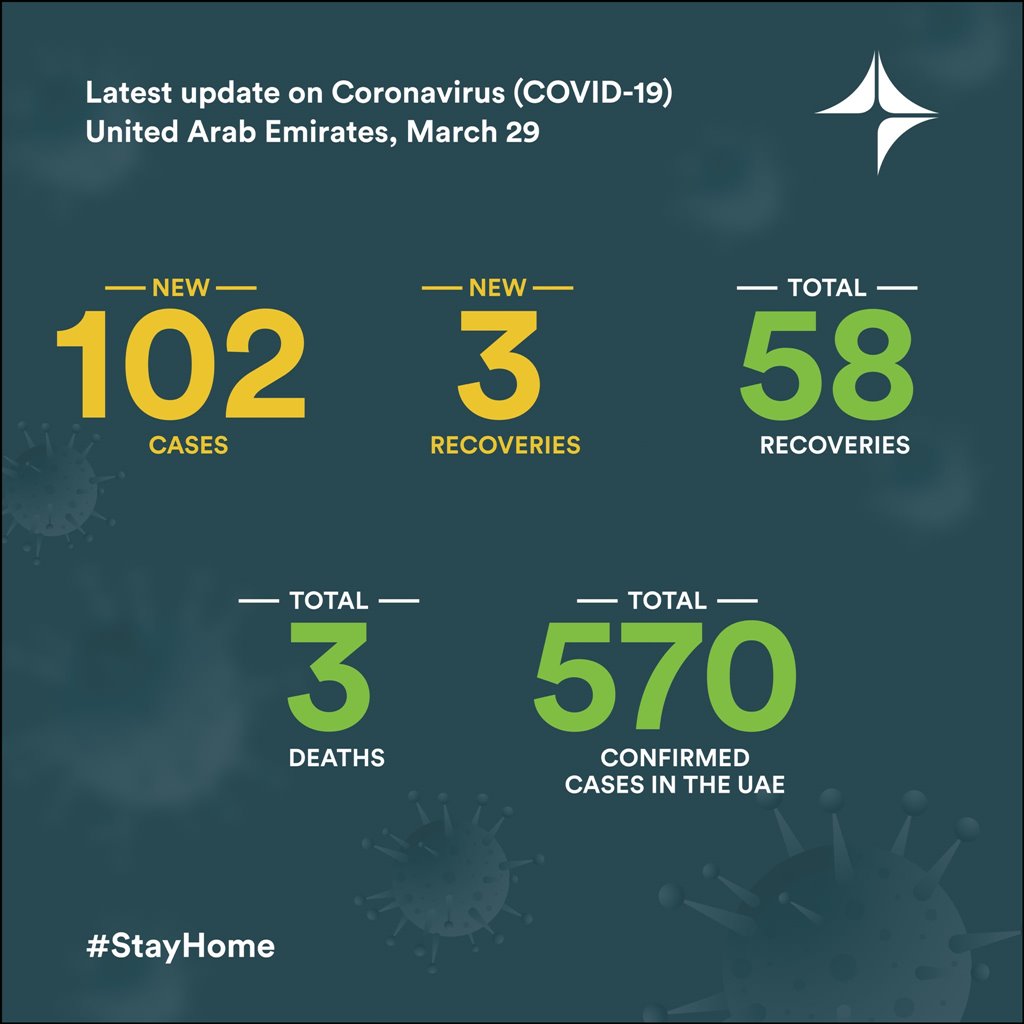 Announcing 3 new cases of recovery and 102 cases of the emerging coronavirus "Covid 19" from different nationalities, and registration of a death
Below is the post from the Ministry of Health and Prevention:
UAE reports 102 new coronavirus "COVID-19" cases, three recoveries, one death#stayhome#coronavirus#covid19#mohap_uae pic.twitter.com/WAu4oBxAne

— وزارة الصحة ووقاية المجتمع الإماراتية – MOHAP UAE (@mohapuae) March 29, 2020
The latest update of #Coronavirus (#COVID19) in the #UAE#StayHome pic.twitter.com/EbY07ujeJO

— هيئة الصحة بدبي (@DHA_Dubai) March 29, 2020
#StayHome
As the country is currently on a National Disinfection Program, everyone is advised to stay home between 8pm to 6am. Those who need to go out will require to get permission and register via website.
Also, be aware of the Fines and Violations of Quarantine & Preventive Measures. Let us all do our part in staying at home as we combat the virus.