To access some parts of bars and clubs, as well as attend concerts and sporting events, Dubai residents must now show proof of having received both doses of the Covid-19 vaccine, according to new regulations implemented this week.
The Al Hosn app, according to the authorities, is the best way for residents to prove their vaccination status, though electronic copies of vaccine certificates will suffice. Paper copies, on the other hand, would not be approved.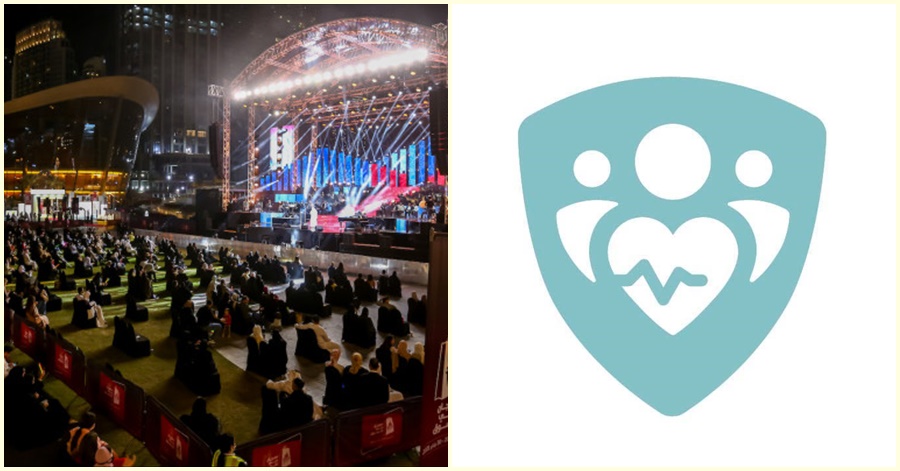 Here's What You Need to Know About the Al Hosn App – An Important Tool For Residents in UAE
The Al Hosn app, which is displayed by motorists crossing into Abu Dhabi from Dubai, was originally developed to monitor and trace interaction with Covid-19 cases, but its scope has expanded to help the country's nationwide vaccination campaign.
What is the Al Hosn App?
The Ministry of Health and Prevention developed the app, which serves as the official Covid-19 contact tracing and health testing record for UAE health authorities.
What Does the Al Hosn App Do?
Al Hosn facilitates national touch tracking, allowing authorities to rapidly contain the spread of Covid-19.
When monitoring is activated, if you come into close contact with someone who has tested positive, the authorities will alert you to self-isolate.
The app also keeps track of all your Covid-19 test scores, so if you get a good result, you know to remain at home.
The app also stores proof of your Covid-19 vaccine doses, which you can use to prove your vaccination status in the UAE.
More importantly, you can also use the Al Hosn app as a vaccine travel certificate if you travel abroad.
How do you download it?
The Al Hosn app is available for free download from the App Store, Google Play Store, Huawei AppGallery, and Galaxy Store.
Register your details, and the app will give you a validation code (OTP) to your phone number to verify your identity.
To use the app for tracing, you must allow Bluetooth and push notifications on your smartphone.
The app incorporates the features of the StayHome and TraceCovid apps. It also provides users with a high level of privacy protection through artificial intelligence.
When you first install the Al Hosn software, you must have an internet connection.
Since the app has been whitelisted by telecom providers, the data used will not count against your limit.
How does the Al Hosn app work?
The app employs Bluetooth technology to record and transmit signals to everyone nearby who has the app mounted.
According to the Al Hosn website, these Bluetooth signals perform a digital handshake and exchange anonymous data and timestamps between devices in close proximity.
Any user who installs the app will receive a unique QR code containing health-related information. The app is encrypted, and the data is stored on the user's phone. Using this information, the competent health authorities will recognise people who can spread the virus and those who are at risk of contracting the virus. They will then engage with those who are vulnerable and re-test them.
The anonymous data is temporarily stored in encrypted form on the user's phone and is removed after three weeks.
Throughout the operation, no personally identifying information is gathered.
If an individual tests positive for Covid-19, the health authority will request this list of anonymous IDs and timestamps from the previous 21 days for contact tracing.
The data is then analyzed by the health authority, and those who may be at risk are notified.
Why do I need the Al Hosn app?
Expatriate residents who return to the UAE from abroad must download the app.
Furthermore, anyone traveling from Dubai to Abu Dhabi since February 1 has had to show the Al Hosn app to prove they have recently tested negative for coronavirus.
As of the beginning of this week, if you want to go to a bar, club, or an event such as a concert or sporting event in Dubai, you must be able to provide proof that you have received the vaccine.
The Al Hosn app is the simplest way to do this.
Who can use the Al Hosn app?
The Al Hosn app is available to everyone in the UAE, and authorities encourage everyone to use it.
Together we can fight the COVID-19 pandemic. The more people use Alhosn, the more effective it will be in protecting us, our loved ones and our community. Download it today on the App Store or Google Play. pic.twitter.com/OQ7XFWvd6r

— Al Hosn App (@AlHosnApp) May 14, 2020
Here's a video shared by the UAE government regarding the Al Hosn app:
Frequently Asked Questions
I have registered but I have not received the OTP. What should I do next?
If you do not receive the OTP right away, please wait 10 minutes before attempting again. If you have not obtained the OTP after 10 minutes, there could be a technical problem that will be fixed in a few hours. You may contact the technical supporrt team through the app if you need any additional assistance.
I'm a tourist to the UAE. Should I download the app?
Yes. Vaccinated visitors may also use the Al Hosn app to prove that they have received the vaccines in their home country.
You can do so by registering the "unified number" (UID) specified on your visa.
If you do not do this, you can still confirm your vaccination status by displaying an electronic certificate on your smart phone.
You'll need to do this to get into Dubai's bars and nightclubs, as well as activities like concerts.
Is Al Hosn available in more than one language?
Yes, the app is currently available in three languages: Arabic, English, and Hindi. Additional languages may be considered as they become accessible or as the need arises.
Why has my Al Hosn app turned red?
The app has a color-coded system for quickly indicating your health status.
If it turns red, it means your most recent test resulted in a positive result, and you can seek advice from your local health authority.
The color amber means that you should be screened or retested due to potential Covid-19 exposure.
Green means you've been screened and found to be Covid-19 negative.
The color grey means that you have no recent test results.
What does the 'E' on my Al Hosn app mean?
The letter E indicates that you received your second dose of Covid-19 vaccine at least 28 days ago and that you had a negative PCR test within the last seven days.
This must be present on your app in order for you to cross the border from Dubai into Abu Dhabi on several occasions in the days following your last negative test.
You must have a Covid-19 test every week if you want to retain your E status.
How do I know if the app is working?
The simplest way to ensure that the app is operational is to keep it running and periodically check or update it. If the app stops running for some cause, you will be notified.
Do I need to keep the app running all the time?
Yes, you need to keep the app running in the background at all times for the contact tracing to function and for your own protection. Bluetooth and push notifications should also be enabled at all times. The app must be kept open at all times, particularly when you are not at home or in public places.
How do I get my COVID-19 test results via the Al Hosn app?
The results of the tests will be shown on the Alhosn app as soon as they are made available by the health authority.
Can I book a COVID-19 test via the Al Hosn app?
No, it does not. Alhosn will currently only collect your test results.
I don't have a smartphone. How can I use the app?
Unfortunately, the app is only available for mobile phones. However, other alternatives, such as wristbands, are being considered. Meanwhile, please adhere to the government's social distancing and hygiene guidelines.
Do I need an Emirates ID to use Al Hosn?
Yes. To register for the app, you must currently have a valid Emirates ID number. However, future updates could allow for alternatives such as a passport.
I am vaccinated, but it is not showing up on my Al Hosn app. What should I do?
If you have received both doses of a Covid-19 vaccine and they do not show on the app, you can return to the clinic where the immunizations were given.
In a radio interview, Dr Hanan Al Suwaidi, who oversees vaccination and testing at Dubai's Covid-19 command and control center, raised the question.
"I would encourage anyone who has any difficulties or problems with their certificates to just reach out to the health authorities or the clinics where they received their vaccines, and we will immediately work on and rectify this issue," she said.
Contact the appropriate authorities at 800 HOSN if you have any more questions about the Al Hosn app (4676).
Disclaimer: The purpose of this post is for information-sharing only. If you would like to get more information regarding the Al Hosn app or updates from the UAE government regarding its vaccination campaign or COVID-19 protocols and management, you can visit the UAE government's website here.  
READ NEXT: [GOOD NEWS] UAE Leads Global Ranking for Vaccination Rates