There will be a walk-in interview hiring by the Commercial Bank of Dubai May 2014. Location of the job event will be in Mankhool Street in Bur Dubai on May 10-12, 2014. The position is for Sales Agents.
Commercial Bank of Dubai, a leading national bank in the UAE, is looking to expand its Consumer Banking Sales Team and are looking for Sales Relationship Officers for Personal Loans, Mortgages and Credit Cards.
Here is your opportunity to become a Sales Rep in a Bank in the UAE. The bank agent job position base will be in Dubai and Abu Dhabi.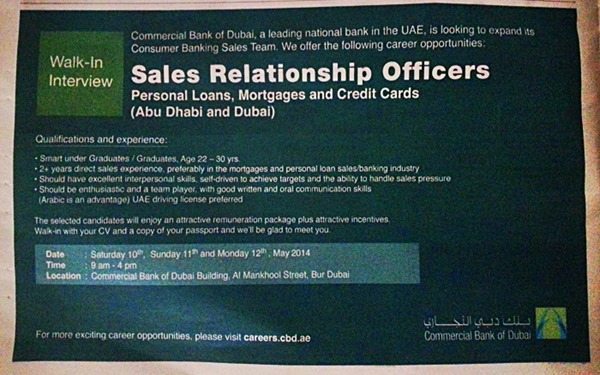 Commercial Bank of Dubai Hiring
Taken from a Newspaper Ad
Commercial Bank of Dubai Sales Relationship Officers (Agents) Walk-in Schedule
How to Apply
Bring your CV and a copy of your passport on the said location on the following dates:
Dates: May 10, 2014 – Saturday
May 11, 2014 – Sunday
May 12, 2014 – Monday
Time: 9am to 4pm
Location: Commercial Bank of Dubai Building, Al Mankhool Street, Bur Dubai, UAE
Bank Sales Rep Salary and Benefits
The selected individuals will be given an attractive remuneration package plus incentives.
Qualifications and Experience Requirements
To be qualified for the job post, here are the requirements:
Education: Smart undergraduates / graduates
Age: 22 – 30 Years Old
Experience: Have 2+ Years in Direct Sales, Preferably in Mortgages and personal loan sales/banking industry.
Have excellent interpersonal skills, self-driven to achieve targets and ability to handle sales pressure.
Should be enthusiastic and a team player, with good written and oral communication skills – Arabic speaking is an advantage.
UAE driving license preferred.
For more information, visit: www.career.cbd.ae