It could take 18 months to create a vaccine for COVID-19 disease. This was announced in a statement by Dr. Tedros Adhanom Ghebreyesus, the Director General of the World Health Organization.
PLEASE READ: UAE Health Ministry Guidelines on Coronavirus 2019-nCoV
The newly named corona virus disease, so far, has 42,708 confirmed cases reported in China and with over 1017 have deaths. Outside China, there has been 393 cases in 24 countries, and 1 death.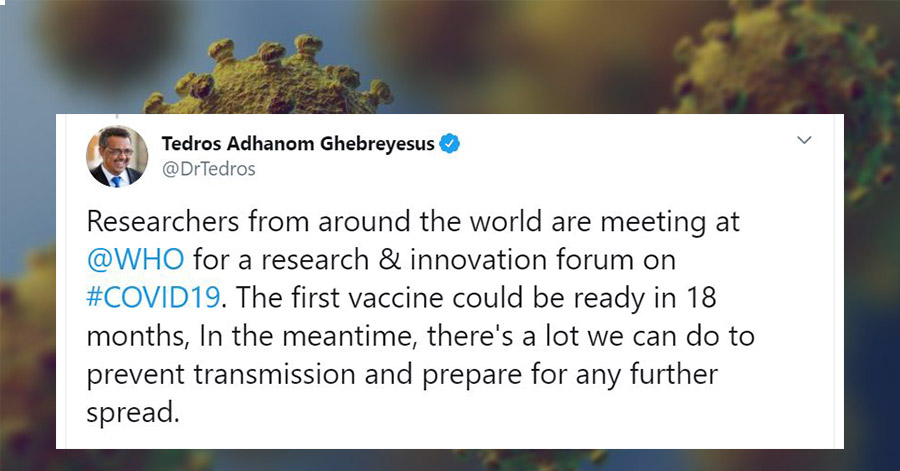 Researchers and scientists from around the globe are meeting at the WHO headquarters in Geneva City, Switzerland to discuss and and plan in bringing the world together to coordinate the response to the outbreak.
Dr. Tedros said that it could take 18 months for a vaccine to be ready.
"The first vaccine could be ready in 18 months, so we have to do everything today using the available weapons to fight this virus, while preparing for the long-term." – Dr. Tedros
Below is a Tweet from the official account of Dr. Tedros:
Researchers from around the world are meeting at @WHO for a research & innovation forum on #COVID19. The first vaccine could be ready in 18 months, In the meantime, there's a lot we can do to prevent transmission and prepare for any further spread.https://t.co/7uXYj2KxF3

— Tedros Adhanom Ghebreyesus (@DrTedros) February 11, 2020
In the same statement, WHO also mentioned about its call for $675 million for the support preparedness and response operations in countries.
Updates about COVID-19 in the UAE:
Philippine Embassy in UAE to Assist UAE Authorities with Filipino Infected with Coronavirus