In a crucial effort to step up measures to contain the virus outbreak, His Highness Sheikh Mohamed bin Zayed Al Nahyan, Crown Prince of Abu Dhabi and Deputy Supreme Commander of the UAE Armed Forces, has opened a mobile drive-thru COVID-19 test center for all community members.
The specialized facility situated in Sheikh Zayed Sports City has been launched by Abu Dhabi Health Services Co, SEHA, in collaboration with the Department of Health, Abu Dhabi.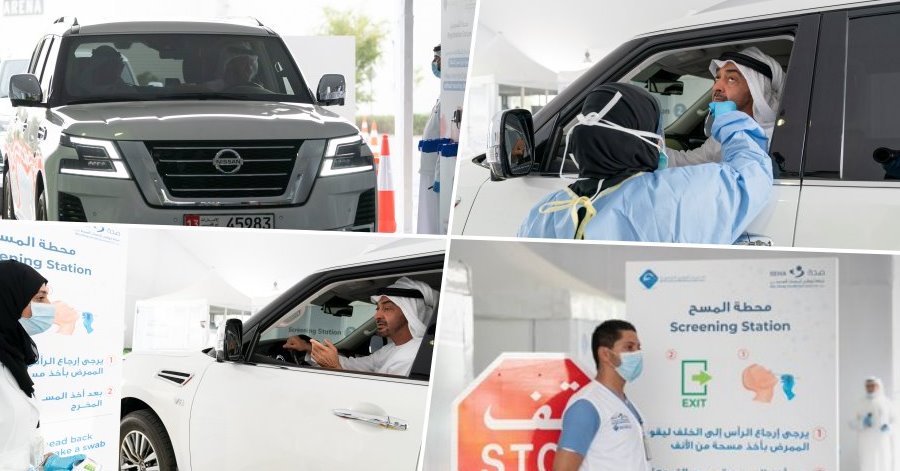 New Drive-thru Test Center Opens in UAE, Screens Up to 5 Minutes Only, Accommodates 600 People Daily
The mobile COVID-19 test center, which has been inaugurated by His Highness Sheikh Mohammed bin Zayed Al Nahyan, Crown Prince of Abu Dhabi and Deputy Supreme Commander of the UAE Armed Forces, is not only contactless but it also just takes five minutes and can accommodate about 600 people daily from 8 AM to 8 PM, as shared in a report by the Khaleej Times.
On the opening day of the new center, Sheikh Mohamed was seen to receive an in-car radio welcome voice note from SEHA requesting him to prepare his ID card and to stay put until reaching the registration point where the ID was digitally scanned.
On the next stop point, a nasal swab was collected from Sheikh Mohamed.
Sheikh Mohamed was then shown around the test facility and got firsthand experience with its advanced equipment. 
The UAE leader spoke to the center's service squad and got briefed by Sheikh Abdulla Bin Mohamed Al Hamed, Member of the Executive Council, Chairman of the Department of Health, on the measures followed by the center, where all necessary inspections take around five minutes.
Here is the video report on Sheikh Mohamed's visit at the new testing center's inauguration:
Under the patronage of HH Sheikh Mohammed bin Zayed Al Nahyan, SEHA is proud to launch the country's first drive-through testing facility for COVID-19. Located in Zayed Sports City, citizens and residents can be tested in 5 minutes, with results delivered via SMS and the SEHA app pic.twitter.com/3YmVvF6BTL

— SEHA – شركة صحة (@SEHAHealth) March 28, 2020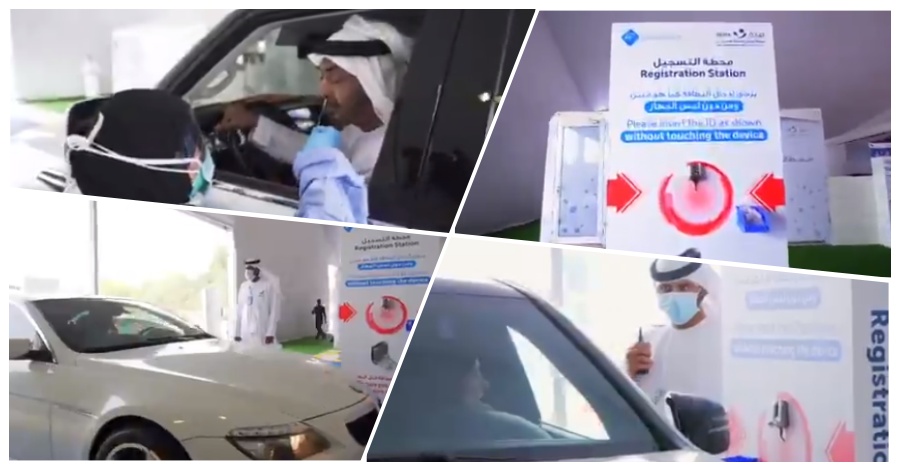 Test Center Timings and Procedures
The center is open from 8.00 am to 8:00 pm on weekdays and provides services to around 600 people per day, with priority given to senior citizens, pregnant women and people with chronic diseases.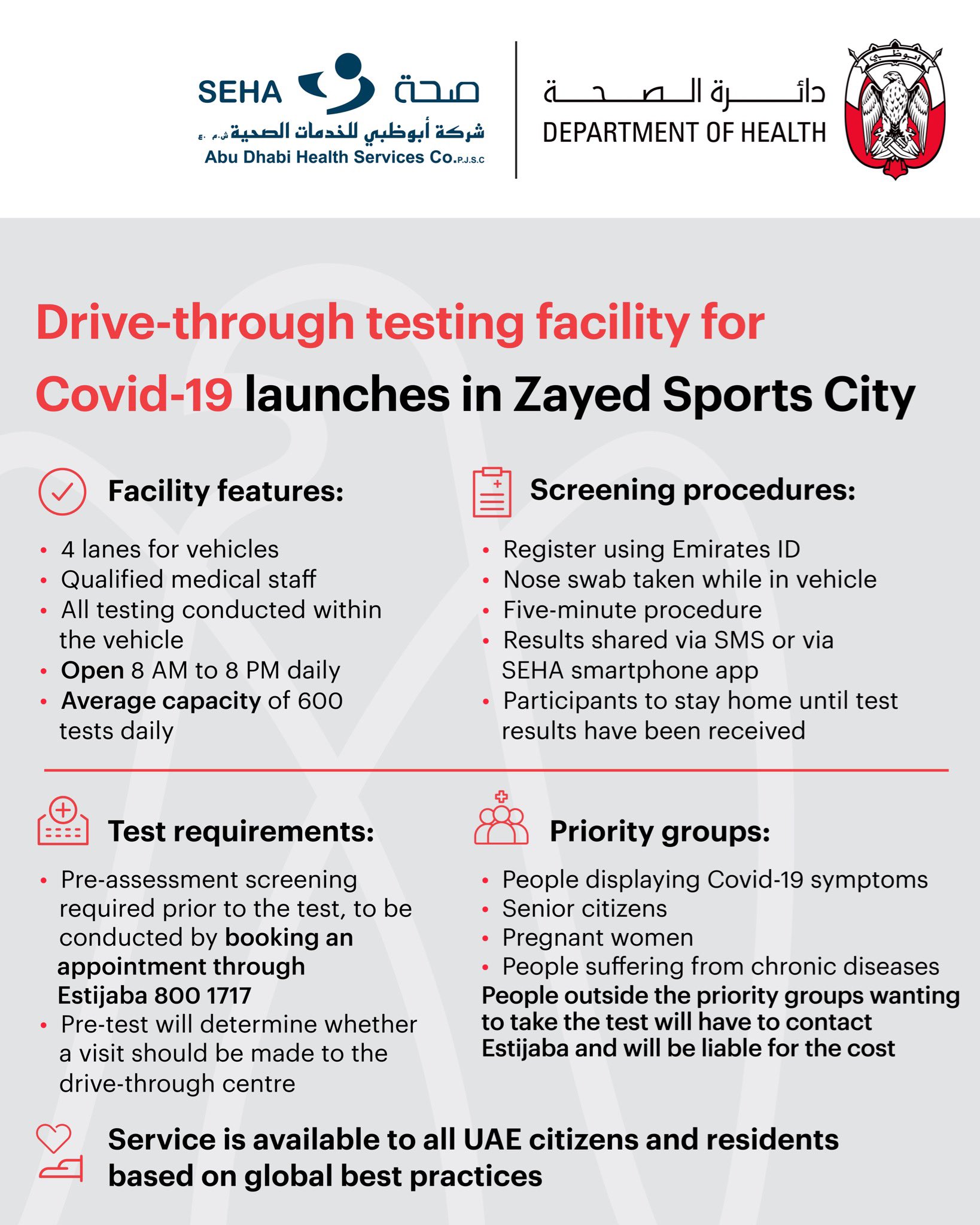 This development has made the UAE the fifth nation in the world to implement a drive-through service, accelerating testing times for the nation's population.
The new testing service will be offered to Thiqa and non-Thiqa cardholders, ensuring that testing facilities are available to everyone. 
With a maximum of four people being tested at one time, and will allow for average capacity 600 tests daily. The new system is an extension of the UAE's commitment to ensure the availability of Covid-19 testing for all.
Not only is the facility equipped with complete medical supplies and innovations, but it is also operated by world-class medical professionals.
Also, part of the process is requiring patients to book an appointment through Estijaba 8001717.
After setting an appointment, individuals will need to participate in a pre-assessment screening, where they would need to answer questions related to their condition. Following the pre-screening, people who are considered to have contracted the virus and those who are most vulnerable, such as the elderly, pregnant women or people with chronic diseases will be prioritized.
More importantly, the test will be free for these vulnerable groups.
Meanwhile, for those who wish to avail of this service for reassurance only, the testing procedure will cost AED 370.
ALSO READ: 1000 AED Fine for NOT Wearing a Mask Only to Those Who have Symptoms, 1000 AED for NOT Maintaining Social Distance