The Dubai Health Authority (DHA) on Sunday announced that it has rolled out saliva testing for Covid-19 for children ages 3-16.
The new testing method is based on one of the world's largest research studies with high diagnostic accuracy. This approach has also been introduced as children have found it extremely uncomfortable to get the nasal swab test.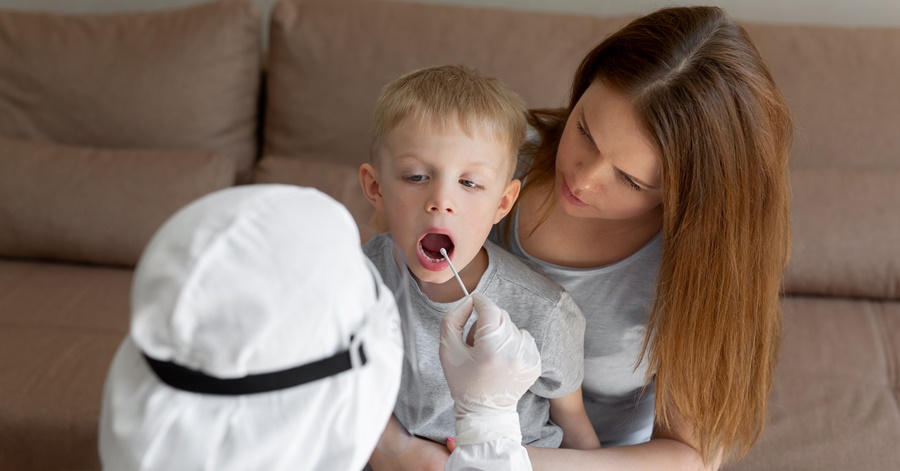 New Saliva Test Introduced to Detect Covid-19 Among Kids
The said research which revealed 90% diagnostic accuracy was headed by the Mohammad bin Rashid University (MBRU) jointly with the DHA, the Gulf News reported.
The researchers gathered samples of saliva and nasal swabs from 476 children who presented for COVID-19 screening at DHA screening facilities.
As part of the procedure, the saliva specimens were collected in sterile containers, and at the same time, the children provided nasal swab specimens collected by trained health care professionals for comparison with the saliva results.
The samples were then evaluated for detection of SARS-CoV-2, the virus causing COVID-19 at the DHA Virology Laboratory.
The research data revealed that saliva could be used for viral detection with 87.7% sensitivity and 98.5% specificity. These results have shown that saliva is a useful diagnostic specimen for COVID-19 screening in children.
The simple test, which has been spearheaded and rolled out by the Dubai Health Authority (DHA) received the supports of health professionals in the Emirates, noting that the new approach is an example of translational research that can impact policy and practice and help guide policymakers in decision-making.
The research study is a first in the UAE and the MENA region and is the world's largest study of saliva for COVID-19 testing in children to date was a close collaborative effort between MBRU and DHA.
READ NEXT: Dubai Offers 'By Appointment COVID-19 PCR Tests' at Malls