Each of us is coping with the pandemic in our unique ways. But for other people such as our frontline health and security workers, this is something they have to deal with so quickly that they might be ignoring their fears to deal with the grueling work of saving other people's lives against an invisible enemy.
Also Read: [WATCH] Emirati Vlogger Khalid Al Ameri Plans Surprise for Filipina Nanny and Visits Her Hometown
This is something that we learn to appreciate more through experiences shared by our front-liners, who risk themselves every day in the service of others. Here is a heartwarming story shared by an Indian doctor working in Dubai.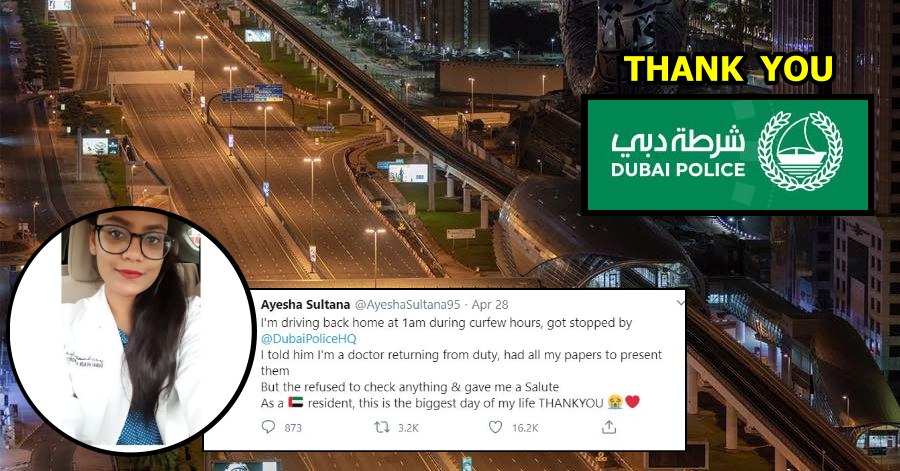 Dubai Doctor Moved to Tears by Cop's Heartfelt Gesture 
At around 1:00 am on Tuesday (April 28), Dr. Ayesha Sultana from Hyderabad was on her way home from work when she was stopped by a Dubai cop near the Al Mulla Plaza on the Dubai-Sharjah highway. She was driving home to Sharjah after finishing her shift at the Al Ahli Screening center in Dubai, as shared in a report by the Khaleej Times.
Dr. Sultana admitted that she did panic at first and was so focused on getting her work permit and other documents ready to prove that she is working as a doctor, and had business to be outside during those hours.
However, what she did not expect was that when the cops saw her, they refused to check her documents and instead gave her a salute and simply sent her on her way home.
Admittedly, Dr. Sultana said that she was speechless as it was all happening and had "tears in her eyes". She thanked the policemen and said, "I'm blessed to be in the UAE and serve the people here."
I'm driving back home at 1am during curfew hours, got stopped by @DubaiPoliceHQ
I told him I'm a doctor returning from duty, had all my papers to present them
But the refused to check anything & gave me a Salute
As a 🇦🇪 resident, this is the biggest day of my life THANKYOU 😭❤

— Ayesha Sultana (@AyeshaSultana95) April 27, 2020
Taking her experience to Twitter, she said: "As a UAE resident, this is the biggest day of my life THANK YOU."
Dr. Sultana, who was born and raised in the UAE, said she did not expect that she would be dealing with a pandemic as a doctor who recently graduated from medical school last February. 
"After finishing my internship at the DHA, I was preparing for my MD exams when I was called by the Health Authority to join in the fight against coronavirus."
She also shared that her family was concerned for her safety, but she was able to convince them that it was her call of duty. "That was the whole point of being a doctor. This is my home and I want to do my best in helping the UAE fight the pandemic. We see around 200 to 300 people every day – both with and without symptoms. It is very rewarding and I am all the more committed to continue doing my job."   
During and even before the outbreak, there is tremendous respect for healthcare workers in the UAE, who are hailed as the "first line of defense against Covid-19".
During the National Sterilization Program hours, residents express their support for the medical community by clapping, cheering, and singing the national anthem from their balconies.
ALSO READ: Sheikh Hamdan Shares Heartwarming Story of Dubai Expat during Lockdown