Dubai Taxi fare increases starting December 1, 2014. The new flag down rate is now 5 AED from 3 AED. Also, the minimum fare is now 12 AED from 10 AED.  To regular taxi passengers, please be advised of the changes. Only the basic fares have been changed, while the meters will continue to run at the same rate, which is Dh1.71 per kilometer.
Dubai Taxi Fare Price Increase to 5 AED (Flagdown Rate) and 12 AED (Minimum Rate)
Following the Dubai metro increase last month (November), this is another change for the residents of this Emirate. The price fare increase applies to all taxi franchise companies and for regular taxis.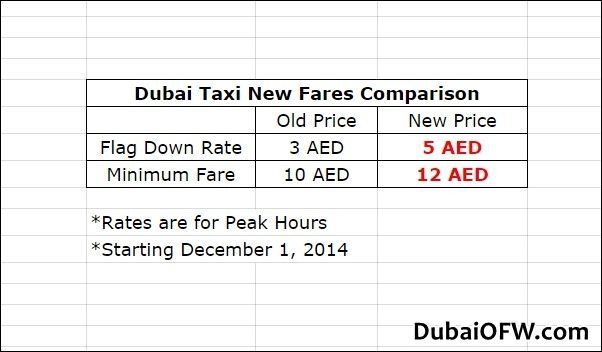 Please be advised of the price difference for your reference.
Taxi Payment via Nol and Credit Card
As for Taxi payments, the plan of using the NOL card or credit card as the means to pay is now functional in all Airport taxis. So you can now use your Nol card or credit card when using these airport taxicab services. The goal by mid 2015, commuters will have an option of paying through their Nol cards and credit cards across all Dubai taxis.
This is another news that everybody should be aware of so please pass this on to your friends and family for their reference.