In line with new safety flight protocols released by the UAE, Dubai-based airline, Emirates announced that it will be offering free coverage for Covid-19 related medical and quarantine costs for passengers traveling to and from the UAE.
Emirates' free coverage for Covid-19 related medical expenses and quarantine costs is available to all of its customers regardless of class of travel or destination.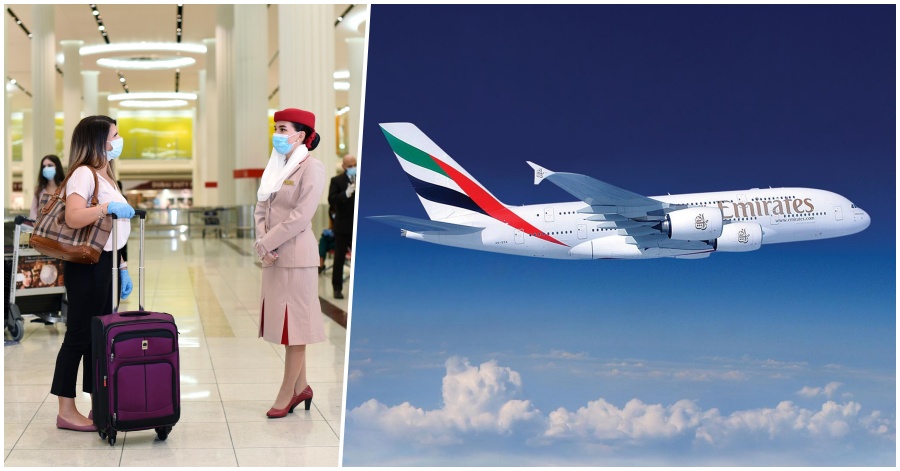 Emirates to become the First Airline to Cover Covid-19 Expenses for Customers
According to a report by the Dubai Media Office, Emirates customers can claim medical expenses of up to EUR 150,000 and quarantine costs of EUR 100 per day for 14 days, should they be diagnosed with Covid-19 during their travel while away from home.
The coverage applies immediately for customers flying on Emirates until October 30, 2020 (first flight to be completed on or before October 30, 2020); the cover remains valid for 31 days from the moment customers fly the first leg of their journey.
Emirates becomes the world's first airline to provide free, global cover to customers from COVID-19 medical expenses. Launched under @hhshkmohd's directive, this industry-leading initiative aims to boost travel confidence. https://t.co/gwjVNhubiP#FlySaferWithEmirates #COVID19 pic.twitter.com/OahtuyhRTN

— Emirates Airline (@emirates) July 23, 2020
Moreover, customers are not required to register or fill out any forms prior to travel, nor are they obligated to utilize this cover.
Affected customers diagnosed with Covid-19 during their travel should use a dedicated hotline, the details of which are available via http://www.emirates.com/COVID19assistance.
According to Sheikh Ahmed bin Saeed Al Maktoum, Emirates group chairman and chief executive: "Under the directive of His Highness Sheikh Mohammed, Emirates is proud to lead the way in boosting confidence for international travel. We know people are yearning to fly as borders around the world gradually re-open, but they are seeking flexibility and assurances should something unforeseen happen during their travel."
"Emirates has worked hard to put in place measures at every step of the customer journey to mitigate risk of infection, and we have also revamped our booking policies to offer flexibility. We are now taking it to the next level, by being the first in the industry to offer our customers free global cover for Covid-19 medical expenses and quarantine costs should they incur these costs during their travel. It is an investment on our part, but we are putting our customers first, and we believe they will welcome this initiative," Sheikh Ahmed added.
Emirates has a network of more than 60 destinations, facilitating travel between the Americas, Europe, Africa, the Middle East, and the Asia Pacific via a connection in Dubai.
As of July 7, tourists have been allowed to travel to Dubai as the city has re-opened for business and leisure visitors, with new air travel protocols in place for UAE citizens, residents, and tourists.
In July, the airline has announced that it had processed nearly 650,000 refund requests in the past two months, returning over AED 1.9 bn to its customers due to several cancellations as a result of the Covid-19 pandemic.
ALSO READ: Is Dubai safe? UAE Safety for Travellers, Women, Expats, Workers