So we finally decided on getting the new Entertainer Dubai 2014 Voucher book! A few days ago, I posted a blog article about the benefits of getting this discount coupon set  for different establishments in Dubai. Before the year ended, we bought another one to prepare for new adventures next year!
This discount voucher set comes with 2 Volumes – 1 for different restaurants and 1 for  night spots, leisure and services. What surprised me was that it also came with a bonus hotel coupon booklet containing great offers from various hotels in different parts of the world.
The Entertainer Book Discount Cost – 395 AED
gearing towards another year in Dubai!
Where to Buy the 2014 Entertainer Dubai 2014 Book
So where can you buy the Entertainer book? Bookshops and supermarkets sell these products.
Supermarkets – Spinneys, Lulu, Choithrams, Carrefour, Geant
Bookshops – Gulf Greetings, Borders Books, Kinokuniya, WH Smith, Hallmark, Virgin Megastore
By the way, there are also other Entertainer versions like exclusive for Abu Dhabi shops, also for Oman, Bahrain, Qatar, Saudi Arabia, Cyprus and Kuwait. This is a great value offer especially here in the Middle East.
Dubai Entertainer Ferrari World Discount and other Adventure Discounts
I noticed that the Ferrari World coupons have been minimized to 1 coupon for each Volume. Unlike last year's booklet, the Ferrari World Entertainer book had 3 Abu Dhabi Ferrari World theme park buy one take one coupons. Oh well, given that we haven't used any last year, we're definitely going to travel from Dubai to Abu Dhabi for this great theme park adventure. We've already used the vouchers for desert safari tours and a visit to Wild Wadi Waterpark.
We will also use the Yas Island Entertainer promotional deals as it will be cheaper and more convenient compared to waiting for Groupon deals from Cobone or LivingSocial online.
Is the Book Cheap or Expensive?
One thing I asked myself before we purchased the book was if this was cheap or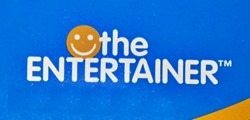 expensive. At 395 Dirhams, I was doubting if this was a good investment since I did not want to spend too much on my expenses in this city.
I made a computation based on the number of times we were to eat in casual restaurants in Dubai. One example is Chili's Restaurant. One good meal would cost around 50 Dirhams. If there's two of us, then we'd save 50 Dirhams more since we would use a Buy One Main Menu Item and Get another Main menu item FREE. There are 3 discount coupons for Chili's restaurant in one page of the booklet. This means, we would save 150 Dirhams in the process.
9 meals in Chili's restaurant = 450 Dirhams Savings
If we eat 3 times in 3 restaurants (total of 9 meals) in a year, that would more than offset the value of the Entertainer booklet. And there are more discounted products inside the book! 9 meals, 9 days a year would be enough to give us great value for our money!
If you're the type who wants to eat out with friends or go out with your significant other in Dubai, better grab a copy of this book.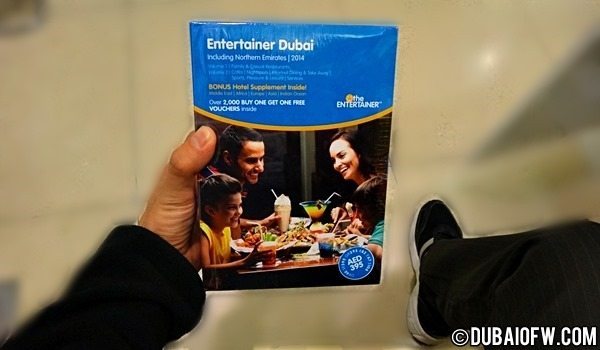 this Pinoy's copy of great offers from various DXB establishments!
Dubai Entertainer 2014 Including Northern Emirates
Volume 1 – Family and Casual Restaurants
Volume 2 – Cafes, Nightspots, Informal Dining and Take Away, Sports, Pleasure & Leisure, Services
Bonus Hotel Supplement – Middle East, Africa, Europe, Asia, Indian Ocean
Over 2000 Buy One Get One Free Vouchers inside