A Filipino child, age 9, is the youngest coronavirus recovery in the UAE. He also celebrated his birthday and doctors and nurses cheered for him. This was shared in a post by Abu Dhabi Media Office.
Abu Dhabi Media Office shared on their social media pages a video of the Pinoy child where health workers clapped and cheered as the boy celebrated his recovery after beating the virus which has become a worldwide pandemic.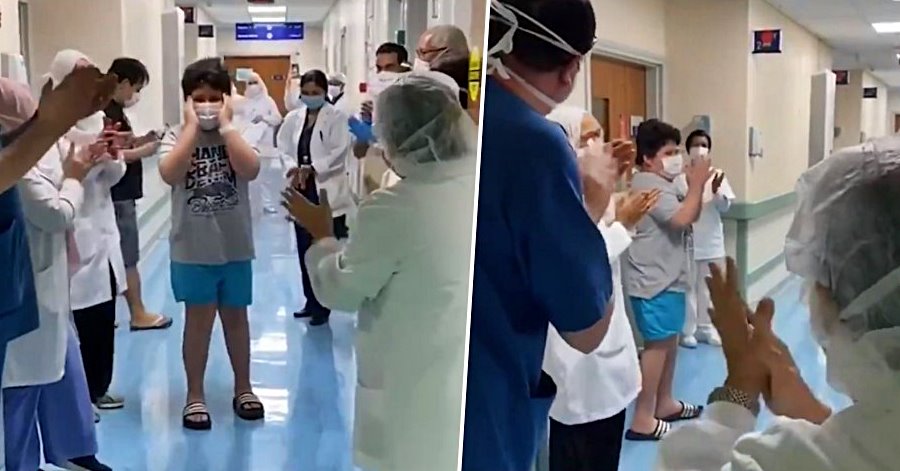 Filipino Celebrates Recovery and Birthday, Doctors and Health Workers Cheer
The Filipino boy was admitted at the Sheikh Khalifa Medical City located in the emirate of Abu Dhabi. He got out of the intensive care of the hospital and is now fully recovered.
Check out this short yet heartwarming video of the boy where doctors and nurses were cheering him on as he celebrated both occasions (birthday and recovery):
يوم احتفاله بعيد ميلاده التاسع، غادر أصغر مرضى العناية المركزة بمدينة الشيخ خليفة الطبية المستشفى بعد تماثله للشفاء من إصابته بفيروس كورونا المستجد "كوفيد – 19"، وتلقيه العلاج اللازم، وسط فرحة وتشجيع الكادر الطبي. pic.twitter.com/dqajgJMoWn

— مكتب أبوظبي الإعلامي (@admediaoffice) April 21, 2020
It's quite good to learn and read about this story especially in these hard times. After all, we are all in this together as we combat the pandemic. We thank all the doctors, nurses, emergency responders, health workers, volunteers, and authorities for working hard in this crisis.
As always, let's keep continuing our fight, cooperate and follow the precautionary measures imposed by authorities. Let us all continue to be safe and stay in our homes so we can flatten the curve.