Gulf Finance is looking for Sales Officers for their banking company and they will be conducting a walk-in interview day this July at the Jumeirah Lake Towers. If you have a minimum of one-year banking experience and have a good network in Dubai and the rest of the UAE, then you are qualified to come to the walk-in interview! Check out the rest of the details and schedule below.
JOB ALERT: Gulf Finance Hiring Sale Officers
Here is the date and time of the said recruitment interview. Please bring your CV and proof of achievements to date. Successful candidates will be employed by Gulf Finance or by our outsourcing partners.
Date: 5 July 2014 – SATURDAY
Time: 10am – 2pm
Venue: Floor 29, Tiffany Tower, Cluster W, Jumeirah Lake Towers, Dubai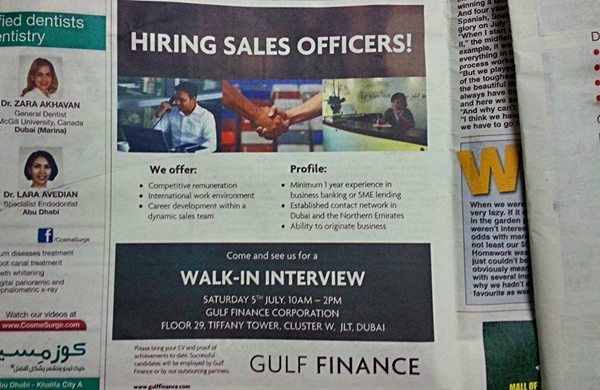 Job posting for banking sales officers in Dubai
Applicant Profile
Minimum 1 year experience in business banking or SME lending.
Established contact network in Dubai and the Northern Emirates
Ability to originate business
We offer
Competitive remuneration
International work environment
Career development within a dynamic sales team