The Dubai International Airport's new system for traveling using the facility post-pandemic has earned the trust of travelers worldwide. 
Since the easing of travel restrictions in the UAE, more than 20,000 passengers traveling through the airport every day, expecting that the airport will return to normality soon.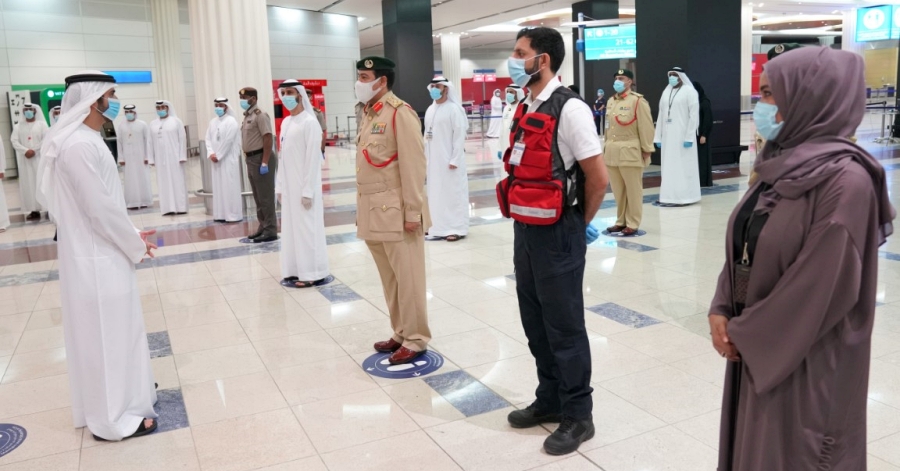 COVID-19: Dubai Airport Enforces Strict Measures to Ensure Safety Among Staff, Passengers
Strict measures have been implemented at the world's busiest international airport to ensure passenger safety in the wake of the coronavirus pandemic, the Gulf News reported.
The General Directorate of Residency and Foreigners Affairs (GDRFA) in Dubai approximated that by November, the peak number of travelers passing through the airport will be similar to 2019 figures.
For his part, Brigadier Talal Ahmad Al Shanqiti, general director assistant of Ports Affairs at DRFA-Dubai, commented that facilitating travel through the airport was essential towards ensuring that the airport returned to normality soon. Passengers can now arrive two to two-and-a-half hours before the flight.
According to Al Shanqiti, "Airport procedures used to take four hours before departure, but the situation is back to normal now," adding that the number of travelers has increased from 500 passengers per day during flight restrictions to 20,000 per day by August.
Although there is a much lower risk of getting infected on an aircraft than in a shopping center or in an office environment, Brigadier Al Shanqiti noted some simple measures one can follow to further reduce the risk when traveling through airports:
When leaving the UAE through the Dubai Airport:
Take a taxi, use the Metro, or ask a friend to drop you at the airport as only travelers with valid tickets are allowed to enter the airport premises.

Always observe social distancing norms inside the airport, leaving a two-meter distance between travelers to ensure safety. 

Once you have passed through the airport's main gate, you will see a vending machine selling personal protective equipment (PPE), in case if you have forgotten to bring your mask, gloves or protective kit for travel.

Always wear a face mask inside the airport.

After you've donned your PPE, you need to pass through the thermal screening gates.

If your temperature is low, you will be allowed to proceed to the next boarding procedure. However, if your temperature is high, an alarm will go off and an employee will check your temperature again with a manual thermometer.

And if your temperature reading is still high, you will be required to go to a quarantine area near the thermal screening gates, wait for ten minutes and pass through the check again.

But if your temperature does not return to normal on your next thermal scan, a medical team will arrive to check you again and decide on whether to allow you to travel or not.

Once you proceed to the departures area to collect your boarding ticket, make sure to leave enough space between other travelers.

A plastic barrier has been erected between a traveller and an airline employee at the check-in desks to help protect both from the infection.

Next, you will then proceed to the Passport Control counters for immigration formalities.
If you are an Emirati, a resident, or if you are holding a certified passport, you can use the smart gates for a contact-less immigration experience and go through smoothly.
On the other hand, those who cannot use the smart gates can always safely use the traditional immigration counters where there is a safety barrier between you and the immigration officer, have your passport stamped and take off your mask to show your face to the officer.
And once you reach the Duty-free area, you can safely shop by following the safety signs.
Also, at the seating area near the departure gate, there are barriers between seats and signs to ensure safe distancing between fellow travelers before you finally board the airplane.
Arriving at Dubai Airport
Anyone who wishes to travel to Dubai must present a negative COVID-19 test report upon arrival.
You must submit this document to the Dubai Health Authority employees at the airport on arrival before proceeding to the immigration counters.
Also, residents need to go through another round of PCR tests at the arrival point and download the COVID-19 app to get the result.
Wearing of masks and social distancing are still strictly enforced while waiting at immigration counter queues. 
Furthermore, a safety barrier has been placed between the immigration officer and the traveler.
If your test result comes out negative, then you can go out without quarantine.
However, if you come up with a positive test result on arrival then you will be required to be in self-quarantine for 14 days and do the test again.
Otherwise, you can then go to the baggage carousels to collect your bags, then walk towards the exit gates to take a taxi, a ride on the Metro, or be picked up by your friend or relative.
Dubai is fully committed to following all guidelines and measures set by the UAE government to secure your family's health and safety. 
From the moment you arrive at the airport to when you check into your hotel, whether you take your family shopping, treat them to the thrills of a water park, or a relaxing day at the beach, the Dubai government can ensure that your well-being is safeguarded every step of the way.
On the other hand, travelers are also encouraged to keep posted of their country's travel advisories for the latest guidance on outbound trips. 
Ensuring your health and safety is the Dubai government's priority, especially since the threat of virus transmission and reinfection is still there. 
However, there are many ways to lessen the risk of transmission and it is up to every one of us to do our part in protecting ourselves and others from contracting the coronavirus. 
And while the pandemic is still not over, everyone in the UAE is encouraged to continue best safety practices such as performing proper hand-washing, social distancing, wearing of masks, and self-isolation, when experiencing flu-like symptoms. Also, it's important to keep updated on the latest updates from the Health ministry as well as directives from local authorities. 
ALSO READ: Is Dubai safe? UAE Safety for Travellers, Women, Expats, Workers