The UAE government is considering to reinstate the National Sterilization Program if the number of COVID-19 cases continues to increase.
Dr. Saif Al Dhaheri, spokesman for National Crisis and Emergency Management Authority (NCEMA) noted that the government could "reinstate the national disinfection program in areas that have recorded a high number of COVID-19 cases," while stressing the importance of "breaking the chain".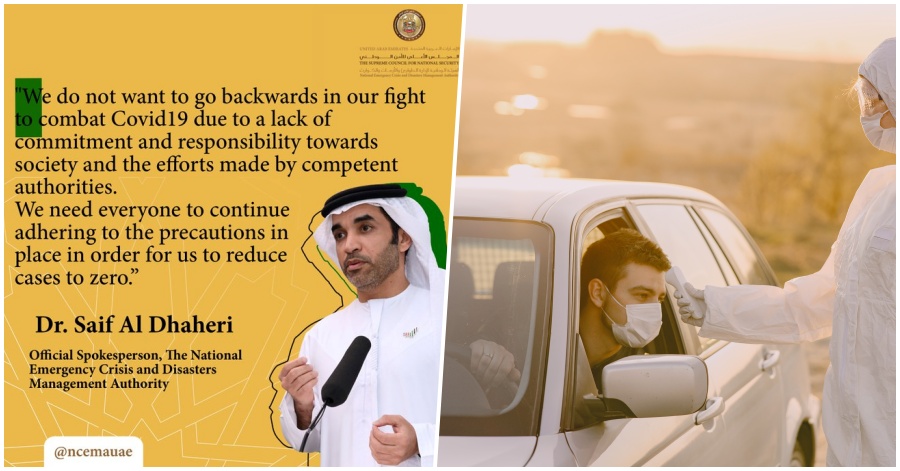 Gov't Official: Disinfection Drive Could Return if Cases Continue to Increase
In recent weeks, the UAE has seen a significant increase in the number of coronavirus cases, which authorities blamed on non-compliance of precautionary measures outlined by the country.
Al Dhaheri pointed out that the government hopes not to "go backwards" in the fight against COVID-19. Thus, he encouraged all UAE residents to continue adhering to the precautions set in place to reduce (the) cases to zero. 
We stress the importance of following precautionary measures. The first of which is physical distancing and avoiding visits and gatherings, which may be a primary factor in any increase in the number of cases.#CommitToWin #نلتزم_لننتصر pic.twitter.com/HprdJmsBqs

— NCEMA UAE (@NCEMAUAE) August 20, 2020
هل يُمكن أن يعود برنامج التعقيم الوطني؟

د. سيف الظاهري، المتحدث الرسمي للهيئة الوطنية لإدارة الطوارئ والأزمات والكوارث يجيب..#نلتزم_لننتصر#نتصدر_المشهد pic.twitter.com/eTpeMNc79D

— صحيفة الاتحاد (@aletihadae) August 20, 2020
When asked if the number of daily infections rising could prompt the return of the nightly national disinfection program, Dr. Al Dhaheri responded: "Yes. If we found that the number of cases is increasing in a specific area, we could."
The sanitization drive, which took place in March, saw the spraying of sanitizing mist over the country's public areas each night. The program required everyone in the UAE to stay home between 8 pm and 6 am – during Ramadan this changed to 10 pm and 6 am – so the work could be carried out. 
During this time, residents and Emiratis could only leave home during those window periods in case of absolute necessity, and all shops, except supermarkets and pharmacies, were closed. The stay-home order was then lifted in late June.
Dr. Al Dhaheri pointed out that the rise in figures is a result of complacency among the public, rather than a phenomenon that is widespread across the country. 
In line with this, Al Dhaheri noted that there would be a renewed effort to clamp down on those who breach safety measures designed to protect themselves and others. 
د. سيف الظاهري المتحدث الرسمي للهيئة الوطنية لإدارة الطوارئ والأزمات والكوارث في برنامج العالم في مواجهة كورونا#نلتزم_لننتصر #CommitToWin pic.twitter.com/Gv9oTtoaOc

— NCEMA UAE (@NCEMAUAE) August 20, 2020
Fines for non-compliance range between AED 3,000 for not wearing a face mask or physical distancing, to AED 50,000 for not adhering to mandated home quarantine.
With the existing measures and the reminder from the government, Dr. Al Dhaheri hopes this would be enough to encourage people to be vigilant again and avoid authorities having to take further measures.
Regarding the possibility of reinstating the sterilization program, Dr. Al Dhaheri explained: "If we put further measures in place, this decision will be made according to studies, scenarios, and data." 
While there has been a significant increase in COVID-19 cases in most parts of the world, the UAE government has gone above and beyond its duty and responsibility to keep the people safe and well-taken care of during these times. To ensure that everyone stays at home during the National Sterilization Program, which lasted for almost a month, medicines were delivered right at residents' doorsteps, free COVID-19 tests were conducted, and many other measures were set in place. 
That being said, everyone's cooperation and sense of responsibility to their community are much needed during these times to prevent another tide of coronavirus cases in the UAE, which has already affected hundreds and thousands of residents and their families. 
ALSO READ:  Dubai Updates Requirements for Returning Residents; Quarantine No Longer Mandatory for Negative COVID-19 Tests