The Philippine Embassy in UAE in Abu Dhabi has recently posted an advisory to the Filipino community in the country. The advisory states the preventive measures that the embassy is observing in light of the coronavirus outbreak.
PLEASE READ: UAE Health Ministry Guidelines on Coronavirus COVID-19
There will be a thermal screening for all incoming clients, face mask requirements for those showing symptoms, request to utilize hand sanitizers and the strict implementation of entry restricted to applicants only.
This is to ensure that the health and safety of visitors and clients will be put in utmost importance. Please see the full advisory below: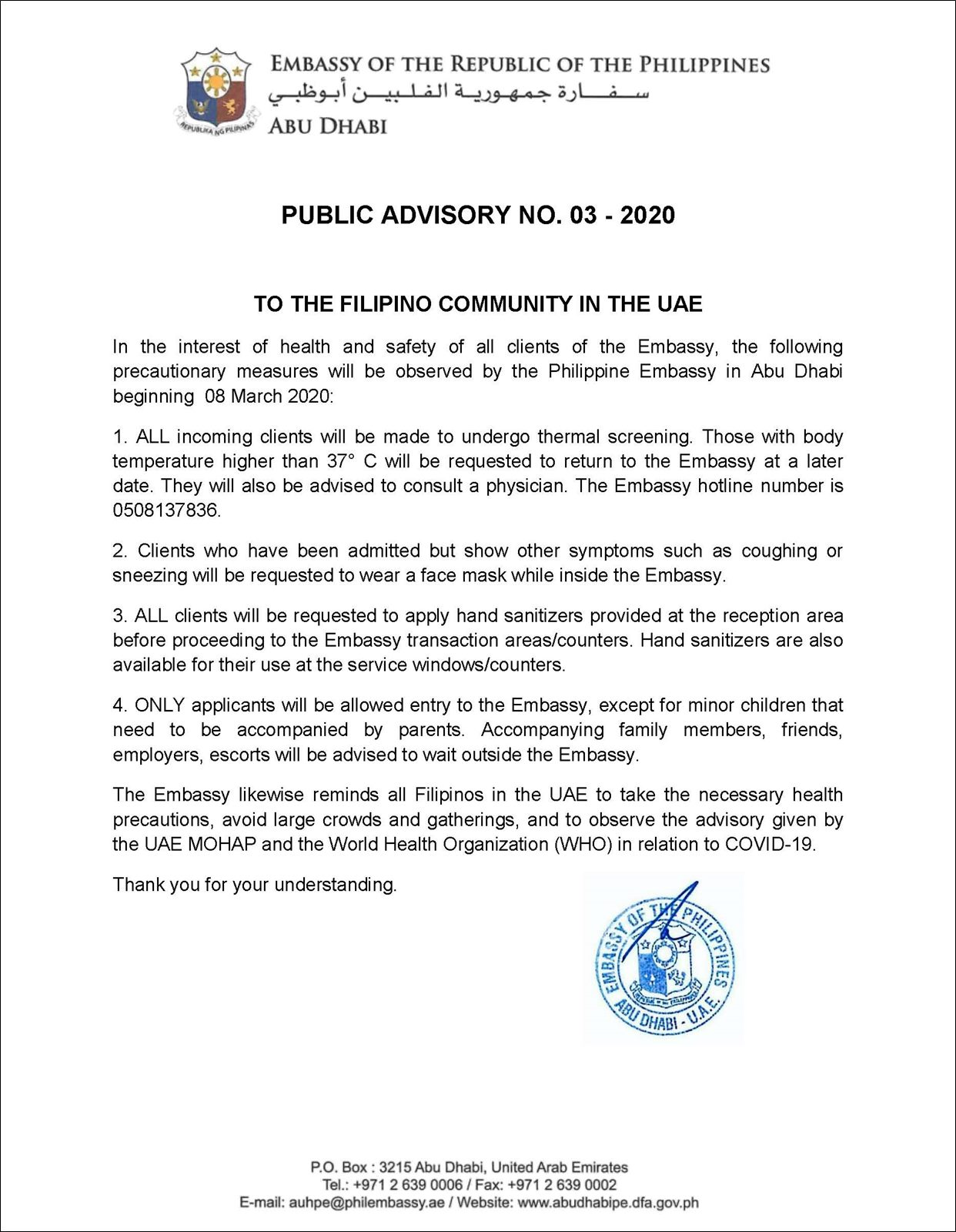 Public Advisory No. 3-2020: To the Filipino Community in the UAE
To the Filipino Community in the UAE.
In the interest of health and safety of all clients of the Embassy, the following precautionary measures will be observed the Philippine Embassy in Abu Dhabi beginning 08 March 2020:
1. ALL incoming clients will be made to undergo thermal screening. Those with body temperature higher than 37 degree Celsius will be requested to return to the Embassy at a later date. They will also be advised to consult a physician. The Embassy hotline number is 0508137836.
2. Clients who have been admitted but show other symptoms such as coughing or sneezing will be requested to wear a face mask while inside the Embassy.
3. ALL clients will be requested to apply hand sanitizers provided at the reception area before proceeding to the Embassy transaction areas/counters. Hand sanitizers are also available for their use at the service windows/counters.
4. ONLY applicants will be allowed entry to the Embassy, except for minor children that need to be accompanied by parents. Accompanying family members, friends, employers, escorts will be advised to wait outside the Embassy.
The Embassy likewise reminds all Filipinos in the UAE to take the necessary health precautions, avoid large crowds and gatherings, and to observe the advisory given by the UAE MOHAP and the World Health Organization (WHO) in relation to COVID-19.
Thank you for your understanding.