BREAKING NEWS: Limited passenger flights to Manila have been suspended for a week from May 3-9, 2020. This announcement was made by the Philippine government's Department of Transportation (DOTr) on a Sunday as all PH airports are to be closed to manage the handling of incoming international passengers.
In a previous report, the Emirates Dubai to Manila flight schedules for May 2020 are on May 3, 6, 8, 10, 13, 15, and 16.
Etihad Airways, on the other hand, initially has flights from Abu Dhabi to Manila for May 2020 on May 1, 5, 7, 8, 12, 15, 19 , 21, 22, 26, 28, and 29.
These flights are meant to be outbound passenger flights for Filipinos in UAE who wish to go home. However, with the new updates from the Philippines, the schedules for the week are cancelled.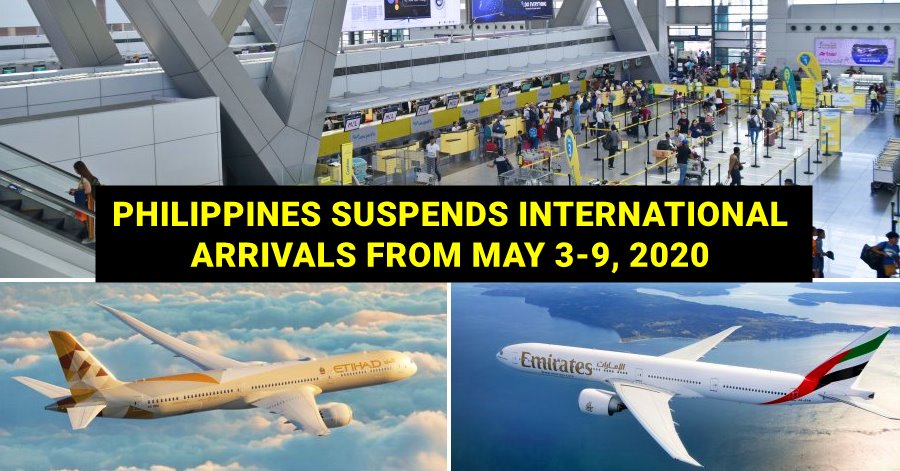 Emirates and Etihad Airways repatriation flights to Manila Cancelled after PH Temporarily Suspends International Passenger Arrivals
Emirate's Dubai to Manila and Etihad Airways' Abu Dhabi to Manila routes are a few of the limited flights operating in the UAE which aim to serve Filipino nationals in the country who wish to return to the Philippines.
However, with this recent announcement, the flights for this particular week (May 3 to 9) are now NOT available. Additionally, the status of next scheduled flights under review.
Please see the full statement below from DOTR-Philippines:
DOTr Press Statement
3 May 2020
On the decision of the National Task Force Against COVID-19 for the TEMPORARY SUSPENSION OF USAGE of all PH international airports for inbound international passenger flights
The Department of Transportation (DOTr) accedes to the decision of the National Task Force Against COVID-19 to temporarily suspend the use of all international airports in the country effective 0800 of 03 May 2020 for international inbound passenger flights, except enroute emergencies.
We understand that said request, which we reiterate is a temporary measure, was made by the NTF to DOTr in order to allow the current system to ramp up its capacity to properly process the growing number of Filipino repatriates going back to the Philippines daily.
Currently, the government has already accommodated around 20,000 repatriates who are quarantined in Metro Manila, with an arrival rate of 2,000 per day. This measure to temporarily suspend international passenger arrivals will enable the government to decongest the processing of this number to a more manageable level, given the need to observe strict health protocols, and the fact that existing quarantine facilities are at full capacity.
The move is deemed necessary in order to ensure that our country will not experience a second wave of Covid-19 pandemic due to the increasing number of international passenger arrivals. It should be noted that most of our repatriated citizens are coming from countries which experienced significant Covid-19 outbreak.
It will also allow the government's front line agencies that are tasked to contain the spread of the coronavirus disease 2019 (COVID-19) to upgrade their testing and screening protocols, and expand the existing quarantine and treatment facilities and ensure a more comfortable quarantine arrangement for our repatriated kababayans.
Accordingly, the DOTr assures NTF Chief Implementer Secretary Carlito Galvez of its full cooperation, and agreement in the adoption of this TEMPORARY SUSPENSION of usage of all international airports for international inbound passenger flights, effective 0800 of 03 May 2020 until 09 May 2020.
The DOTr remains firmly committed to uphold the SAFETY and WELFARE of the Filipino People. This is paramount, and we are one with the rest of our government in exhausting all efforts to fight Covid-19.
We heal as one.