UAE authorities ordered the imprisonment of two young people who roamed around in public, with one of them showing off his positive result for the COVID-19 test.
The other man filmed the act and posted the video on social media, which immediately went viral.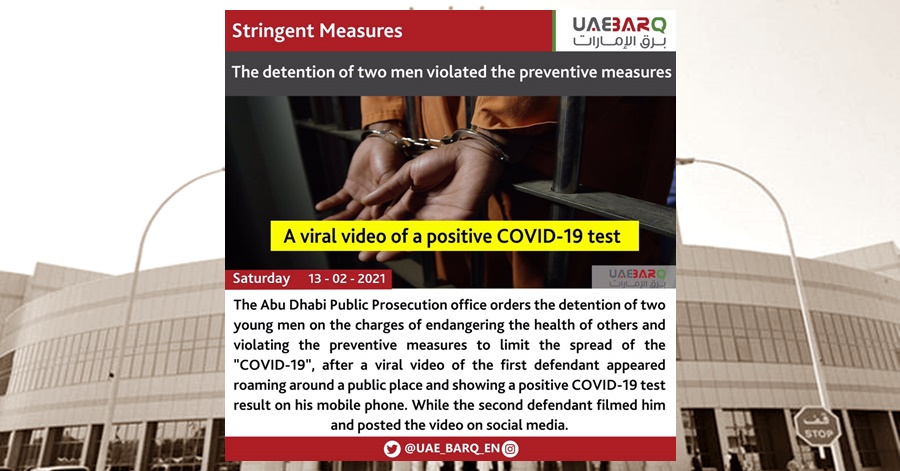 2 UAE Teens Sent to Jail for "Showing Off' COVID-Positive Test Result on Social Media
The Abu Dhabi Public Prosecution called for the two men and ordered for their imprisonment pending the investigation of their case, the Khaleej Times reported.
The two young men will face trials for endangering public health and blatantly violating COVID-19 protocols.
The prosecution said they looked into the clip and were able to investigate and arrest the two teens.
Authorities said that the teens can be slapped with a fine of AED 10,000 to AED 50,000 and/or extended imprisonment.
Abu Dhabi Health Authority reminded the public that such reckless behavior will not be tolerated.
Meanwhile, those who tested positive for the virus are urged to quarantine themselves and follow all health measures.
UAE authorities have been keen on reminding the public to consider getting vaccinated, and even after then, to follow all health measures set by authorities across the UAE.
The #AbuDhabi Public Prosecution office orders the detention of two young men on the charges of endangering the health of others and violating the preventive measures to limit the spread of the #COVID19#UAE_BARQ_EN pic.twitter.com/kEVqHy9eQv

— UAE BARQ (@UAE_BARQ_EN) February 13, 2021
Also, improper use of social media in the country can be given a hefty fine by authorities.