Two individuals have been arrested for fabricating news regarding "an Emirati family of five who allegedly died of COVID-19". The incident has been aired on a UAE television channel.
Also Read: 5 Social Media Rules: Using Social Media in the UAE
The public prosecution in a briefing on Tuesday revealed that the family does not exist.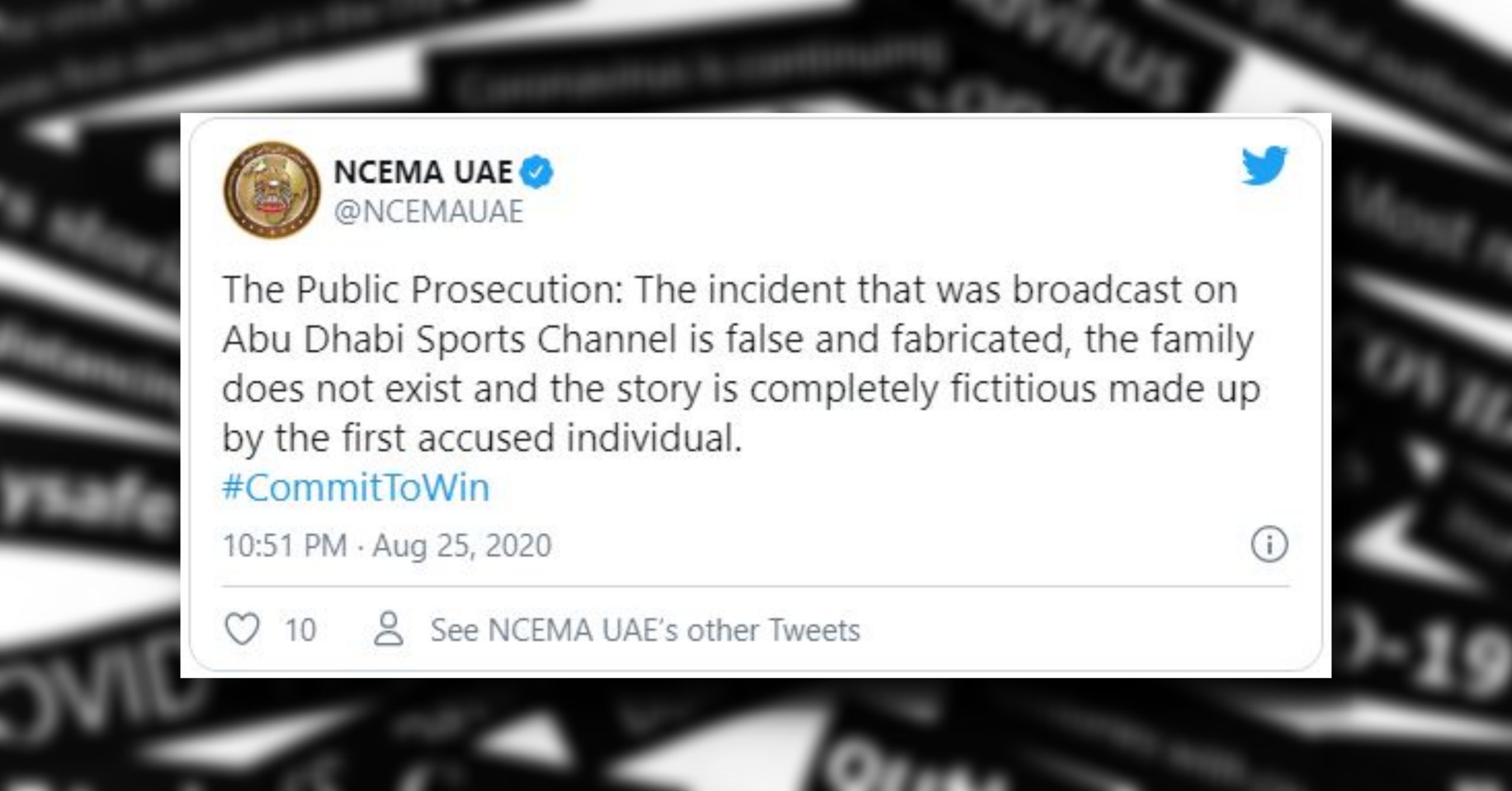 Two Detained for Fabricating News on '5 COVID deaths in a family' in UAE
According to Saif Al Dhaheri, the official spokesperson of the National Emergency Crisis and Disaster Management Authority (NCEMA), "the incident that has been broadcasted via the Abu Dhabi Sports Channel is false and fabricated. The family does not exist and the story is completely fictitious and made up.
Updates from the #UAE Government media briefing today.#نلتزم_لننتصر #committowin pic.twitter.com/bAVdvXyLTG

— NCEMA UAE (@NCEMAUAE) August 25, 2020
The Public Prosecution: This incident has affected members of the Emirati community, citizens and residents, leaving them in a state of confusion and fear around the outbreak of the disease, all based on inaccurate information.#CommitToWin

— NCEMA UAE (@NCEMAUAE) August 25, 2020
Upon learning of the incident shared with the public, authorities immediately launched an investigation, and necessary measures were taken in less than 48 hours, Al Dhaheri noted.
The Public Prosecution office immediately & expeditiously launched an investigation around the incident and is still conducting in-depth investigations to determine the legal responsibility and the perpetrators and to determine the facts that are likely to be behind the incident.

— NCEMA UAE (@NCEMAUAE) August 25, 2020
Commenting on the incident, Counsellor Salem Al Zaabi, acting head of the Emergency Crisis and Disaster Prosecution, said: "The Public Prosecution will not tolerate anyone who carries out his or her duties in the media in an irresponsible manner and it will apply the law firmly and decisively." 
Al Zaabi also pointed out that the second defendant, the channel's correspondent, did not verify the information's authenticity with the authorities, thereby contradicting what was dictated by his professional work duties.
The Public Prosecution: The Public Prosecutor has ordered the preventive detention of the aforementioned individuals pending investigation, in order to ensure the integrity of the investigation procedures that the Public Prosecution undertakes.#CommitToWin

— NCEMA UAE (@NCEMAUAE) August 25, 2020
Meanwhile, the public prosecutor ordered the immediate preventive detention of the defendants, pending investigation.
Al Dhaheri cautioned all those who fail to observe the law in disseminating and sharing Covid-19 information in the media and on social networking sites will be held accountable. 
Monitoring, following-up, and coordinating with the authorities and the Emergency and Crisis Prosecution is an ongoing process and is carried out in less than 48 hours. Any inaccurate information is then corrected and communicated and the necessary measures will be taken, the NCEMA tweeted quoting Public Prosecution.
ALSO READ: Comply with Health Rules or Face Tougher Punishments – UAE Official