As the uncertainty of life after COVID-19 remains a pressing matter for most countries including the UAE, an Emirati inventor has created the compact machine that can enter buildings, climb stairs, and march into homes to spray disinfectant.
The Emirati inventor, Ahmed Al Mazroei, adapted the "sterilization robot" from the machines that his company makes for military and security purposes.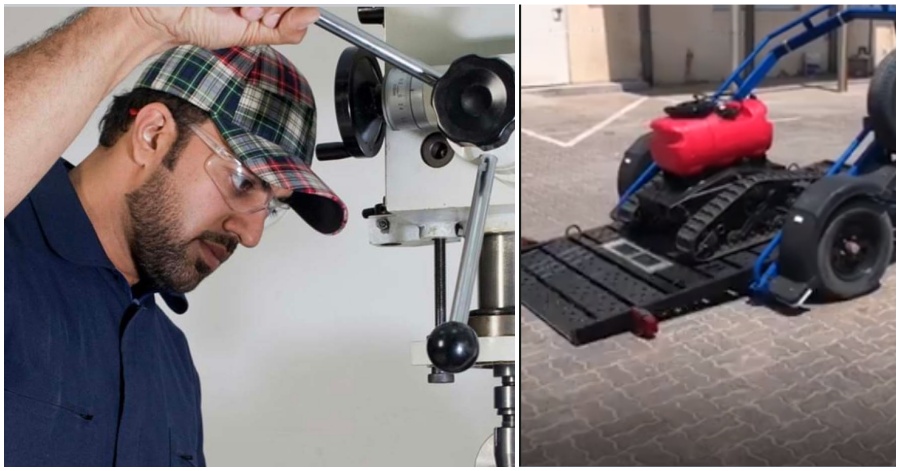 Remote-Controlled Machines Tested by Emirati Inventor to Combat COVID-19 in UAE 
According to Mazroei, his invention could help combat the spread of the coronavirus, because unlike humans, the machine requires limited to no physical contact when it does its work to survey and disinfect an area, as shared in a report by The National.
Al Mazroei, 39, who runs a company and a research center in Mussaffah with 120 employees said: "The robot can be sent into buildings, hospitals, malls and villas where nobody can go because of coronavirus."
"You can put sterilization liquid, water, fog, or smoke into the system," Al Mazroei explained. "The robot can be sent to do the cleaning in closed, interior areas where you don't want to send in people."
The unit will prove to be essential in combating the virus as no human contact within 3 kilometers will be needed, and its battery can also last for about 10 hours of operation.
At the start of the national sterilization campaign by the UAE government, Al Mazroei shared that five units have already been tested over the past few weeks.
The device moves at a speed of about 10 kph and has been designed in a way that can pass through doorways and negotiate narrow stairwells.
Also, the device is equipped with sensors and cameras that have a 360-degree view. This helps operators scan the area as they control the device's movement with great precision. 
In an update from the National, Al Mazroei shared that they have started a production line of robots for use during the coronavirus.
Sharing about the technicalities of his creation, Al Mazroei noted that doing the (sterilization) work outdoors won't be a problem, as people can simply drive a car and put a machine on it. However, the challenge is to build something small that people could send indoors for such purposes. 
During the national sterilization campaign, vehicles fitted with turbine machines have been used across the country.
Al Mazroei's company, the Ahmed Al Mazroei Innovation Centre currently can build three to four of the units every month, and they are already receiving inquiries from other countries including Kuwait. 
In line with this, Al Mazroei shared his plans to hand over additional units to the UAE government to help aid with its national sterilization campaign.
When asked about the price of the specialized unit, Al Mazroei shared that he still has no plans to sell any units until the crisis dies down. 
He also expressed his intention to help the government, saying "I want to support the government – this is something we need to do so it can benefit the country."
ALSO READ: 12 Reasons Why I Feel Safe in the UAE during the Pandemic