Starting March 17, the UAE is temporarily suspending the issuance of all visas. This announcement was made in a report by Emirates News Agency as per statement by the Federal Authority for Identity And Citizenship (ICA).
The suspension will not include diplomatic passport holders or those who have been approved before the effective date.
UPDATE as of March 16, 2020: Just some further clarification, as per the announcement, the type of visas suspended are "ENTRY Visas", which means those who are planning to apply for any type of visa to enter the UAE are the ones affected. This update is reported on the DXB Airports website.
Additionally, the suspension of visa issuance also does not apply to passengers who hold passports from the following countries:
UPDATE as of March 18, 2020: Starting March 19 at 1AM UAE Time, even the countries below with visa-on-arrival, the issuance of visas has been suspended. Find more details here.
Andorra
Estonia
Maldives
Slovakia
Argentina
Finland
Malta
Slovenia
Australia
France
Mauritius
Solomon Islands
Austria
Germany
Mexico
South Korea
Bahamas
Greece
Monaco
Spain
Barbados
Holland
Montenegro
Sweden
Belgium
Honduras
Nauru
Switzerland
Brazil
Hong Kong
New Zealand
Ukraine
Brunei
Hungary
Norway
USA
Bulgaria
Iceland
Paraguay
United Kingdom
Canada
Italy
Poland
Uruguay
Chile
Japan
Portugal
Vatican City
China
Kazakhstan
Republic of Ireland
Colombia
Kiribati
Romania
Costa Rica
Latvia
Russia
Croatia
Liechtenstein
Saint Vincent and the Grenadines
Cyprus
Lithuania
San Marino
Czech Republic
Luxembourg
Serbia
Denmark
Macau
Seychelles
El Salvador
Malaysia
Singapore
Source: Dubai Airports
This means that if you are a passport-holder of the following countries above, you can still visit and enter the UAE, but you may be subject to additional screening.
This move is in line with the precautionary measures taken by the UAE in response to the COVID-19 pandemic. There is no mention on when the suspension will end.
Also Read: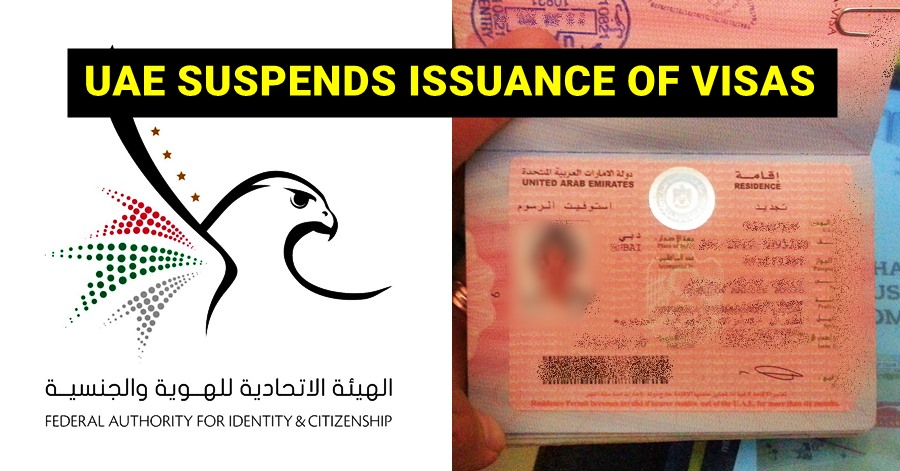 Below is the full report statement:
UAE temporarily suspends visas as COVID-19 declared pandemic
In a statement released today, the Federal Authority for Identity And Citizenship (ICA) said: "The move comes as part of the precautionary measures taken by the UAE in response to the World Health Organisation's declaration of COVID-19 as a pandemic, a development which reflects the high risks now associated with travel under the current circumstances."
The decision does not apply to those who already have their visas issued prior to the aforementioned date.
The ICA noted that the additional precautionary decision will be valid until a mechanism for medical examination has been established in the countries of departure as part of other global measures taken for the common good of all nations of the world to curb the proliferation of the novel virus.
"The ICA affirms that the decision stems from the UAE's deep sense of responsibility and diligent efforts in collaboration with other countries of the world to fight the coronavirus pandemic and survive this ongoing crisis," the statement concluded.
Source: WAM