In one of our previous posts, we looked at the bus timings for the Umm Al Quwain to Abu Dhabi route. Now we shift our focus to the opposite direction of this journey. For those who are looking to travel between Abu Dhabi and Umm Al Quwain, understanding the bus timings is crucial for a smooth and convenient journey.
Whether you're a resident or a visitor, knowing when the buses depart and arrive can greatly simplify your travel plans. In this guide, we will explore the various bus timings available for the route from Abu Dhabi to Umm Al Quwain. Let's dive into the details of this travel route and discover the options that are available to you. Read on.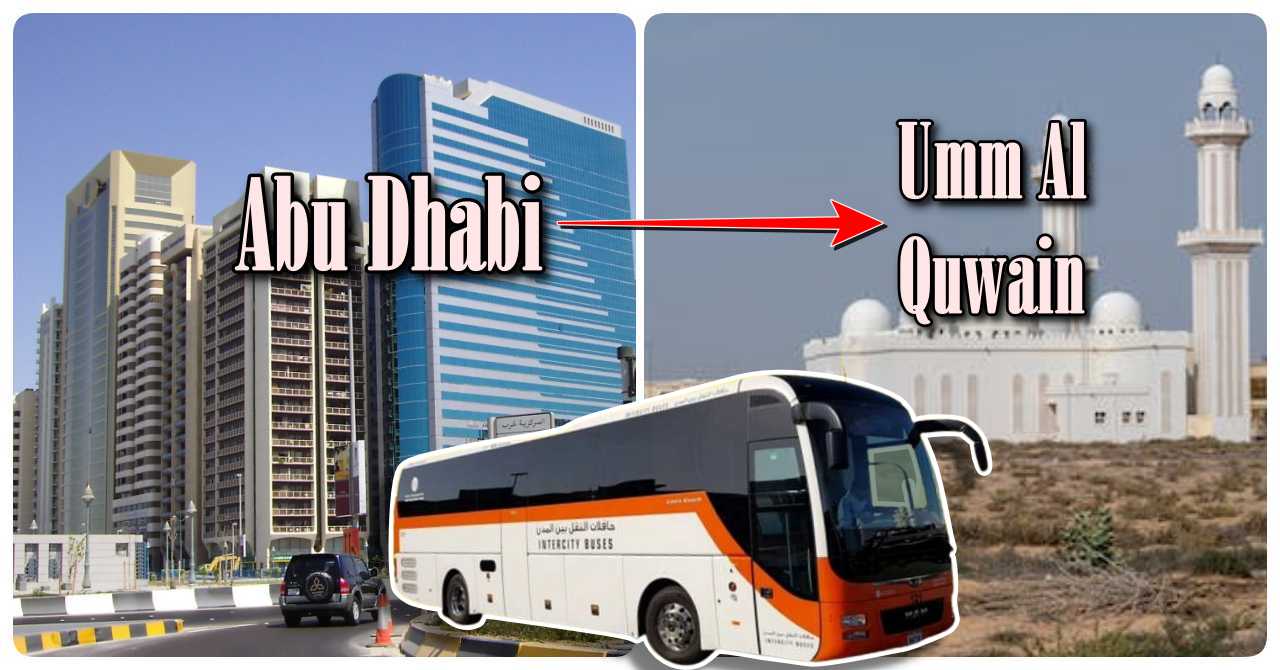 Considering the rich natural offerings and diverse recreational opportunities, a visit from Abu Dhabi to Umm Al Quwain is an enticing prospect.
Umm Al Quwain boasts captivating coastal mangroves that grace the shores of the Arabian Gulf, along with a collection of islands dotting the eastern coastline.
Notably, Al Seniah Island stands out as the largest among them, serving as a sanctuary for Arabian gazelles, falcons, and turtles, providing a unique chance for nature enthusiasts and wildlife admirers to get up close with these remarkable creatures.
Umm Al Quwain's appeal extends beyond its natural beauty; it opens its doors to a myriad of recreational pursuits, catering to visitors with a range of interests.
From the thrill of sailing across the azure waters to the adrenaline rush of skydiving, the emirate offers an assortment of activities to suit all tastes.
Additionally, Umm Al Quwain proudly preserves its cultural heritage, making activities like dhow building, falconry, and camel racing an integral part of its identity.
The renowned Dreamland Aqua Park, the largest water park and resort in the UAE, adds an extra layer of excitement, drawing numerous visitors keen on experiencing its exhilarating attractions.
For those seeking a harmonious blend of nature, tradition, and recreation, a journey from Abu Dhabi to Umm Al Quwain promises a fulfilling and memorable experience.
Map
Below is a map illustrating the path followed by the buses operating between Abu Dhabi and Umm Al Quwain. As of this writing, it's important to note that a direct bus service is not available along this route. Instead, the journey entails a single transfer, extending the travel time to an estimated duration of about five hours to reach the final destination.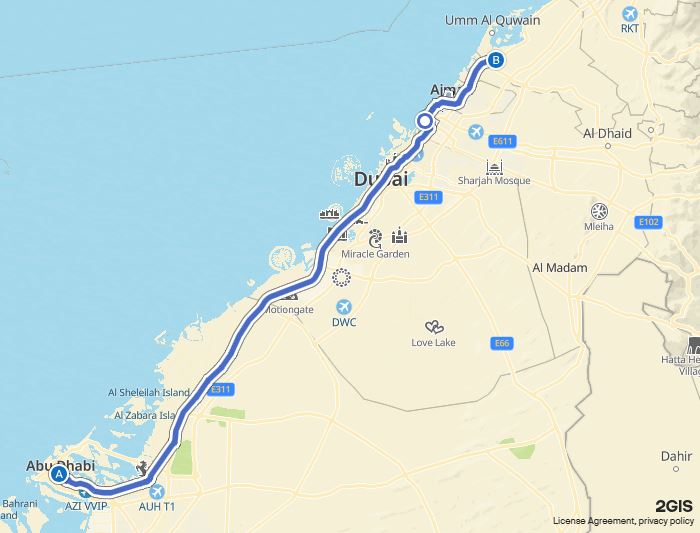 Route
1. Abu Dhabi Central Bus Station, Main bus terminal
Address: Abu Dhabi Central Bus Station, Al Wahda, Abu Dhabi, UAE.
Nearby Landmarks: Al Wahda Mall, Al Nahyan Stadium.
2. Abu Dhabi Bus Station
Address: Abu Dhabi Bus Station, Al Dhafra St, Abu Dhabi, UAE.
Nearby Landmarks: Al Hosn Palace, Al Hosn University.
>> Take Bus 117
3. Sharjah, Ithihad Road, Ansar Mall
Address: Ansar Mall, Al Ittihad Road, Sharjah, UAE.
Nearby Landmarks: Sharjah National Park, Mega Mall.
>> Get off after «Sharjah, Ijtihad Road, Ansar Mall»
4. Al Jubail Bus Terminal 1
Address: Al Jubail Bus Terminal 1, Sharjah, UAE.
Nearby Landmarks: Address: Al Jubail Bus Terminal 1, Sharjah, UAE.
5. Al Jubail Bus Terminal 3
Address: Al Jubail Bus Terminal 3, Sharjah, UAE.
Nearby Landmarks: Sharjah Heritage Museum, Al Jubail Corniche.
>> Take Bus 115
>> Get off at the next stop
6. Umm Al Quwain, Public transport stop
Address: Umm Al Quwain Public Transport Stop, Umm Al Quwain, UAE.
Nearby Landmarks: Umm Al Quwain Corniche, Umm Al Quwain Fort.
Bus Schedule and Timings
Bus 117
The bus service for route 117 has been designed to cater to both early risers and those with time constraints.
Commencing operations at 03:45 am, the initial bus from Sharjah to Abu Dhabi provides an early departure for those seeking a day of exploration.
For individuals desiring a full day of activities, bus 117 operates until 08:00 pm, allowing ample time to make the most of your visit.
Throughout the day, there might be slight variations in bus frequency, typically ranging from 30 to 45 minutes between departures.
This flexible scheduling ensures convenience for passengers, accommodating the diverse demands of different times of day.
Travel Duration:
The estimated travel time from Sharjah to Abu Dhabi is around two and a half hours, with potential variations.
During peak traffic hours, the journey could extend slightly due to increased congestion on the roads.
Opting for non-peak hours is recommended to optimize your travel experience.
This choice helps avoid traffic-related delays and creates a more comfortable journey.
Planning and Resources:
To plan your trip effectively, access the Sharjah to Abu Dhabi bus schedules and timings on the official website of the Sharjah Roads & Transport Authority.
Relying on this trustworthy source ensures accurate and up-to-date information about bus timings, leading to a hassle-free travel experience.
Connecting to Dubai:
It's important to note that bus 117 DOES NOT have a designated stop within Dubai.
However, connecting to Dubai is easily achievable by choosing the Abu Dhabi to Dubai bus route, offering additional opportunities for exploration and adventure.
Bus 115
Accessible Seven Days a Week: You can use the bus service any day of the week, giving you the flexibility to travel when it suits you.
Bus Operational Timings:
Starting from 6:00 AM: The bus service begins its operations early in the morning, serving those who like to start their journeys at sunrise.
Ending at 11:00 PM: The final bus departs at 11:00 PM, making sure you have enough time to reach your destination.
Bus Frequency:
Between 6:00 AM and 8:00 AM: During this time period, buses run every hour, ideal for early birds setting out on their morning travels.
Between 8:00 AM and 8:00 PM: Throughout the day, from 8:00 AM to 8:00 PM, buses run every 45 minutes, accommodating travelers all day long.
Between 8:00 PM and 11:00 PM: In the evening, starting from 8:00 PM to 11:00 PM, buses operate with a gap of 60 minutes, ensuring smooth travel as the day transitions into night.
Bus Fare and Other Features
Bus 117
Riding Bus 117 from Abu Dhabi to Sharjah costs AED 33 (USD 9), making it a wallet-friendly choice for everyday travelers and those watching their expenses.
Unlike some other bus routes, there's no need for a special bus card to travel this route.
Getting tickets is easy – passengers can simply buy standard tickets from the station's ticket counters before starting their trip.
Comfortable MCV600 Mercedes Buses:
Exclusively assigned for Bus 117 route, the MCV600 Mercedes buses not only offer dependability but also ensure a comfortable travel experience.
The insides are fully air-conditioned, guaranteeing a pleasant journey regardless of the weather outside.
Furthermore, these buses are equipped with TV screens, providing entertainment throughout the trip.
Secluded Sections for Enhanced Convenience:
Bus 117 has been customized to suit a diverse range of travelers, as seen in its considerate layout.
The buses include separate sections to ensure the safety and comfort of all passengers.
Specially designated spaces accommodate families, women, and passengers with special needs, creating a safe and enjoyable travel atmosphere.
Entertainment and Relaxing Journey:
Despite the journey's duration, the vehicle's comfort creates a laid-back atmosphere.
Travelers can relax and stay engaged with onboard TV screens or utilize comfortable seats for a much-needed rest.
Although the journey may be long, the bus has been cleverly designed to uphold passenger comfort throughout.
Customer Queries and Complaints:
If you possess any queries, worries, or feedback concerning your experience on Bus 115, the Sharjah government has established a direct line of communication.
You are recommended to send an email to info@sharjah.ae to express your questions or complaints.
As the bus service falls under the administration of the Sharjah government, all customer input is carefully evaluated to improve overall travel satisfaction.
Bus 115
For a smooth and cost-effective travel experience, consider opting for SRTA Bus 115 traveling from Sharjah to Ras Al Khaimah. With a reasonable one-way fare of only 27 AED (approximately USD 7), you can begin your journey without worrying about your budget.
Enjoy Comfortable Seating: A notable feature of Bus 115 is its carefully designed seating arrangement. Settle into the comfortable and cozy seats designed to provide you with a relaxing and enjoyable ride throughout your trip. Whether you're a frequent traveler or embarking on a new adventure, the comfortable seating ensures your journey is pleasant from beginning to end.
Engaging Interactive Screens: The journey is more than just getting to your destination; it includes the experience along the way. Bus 115 enriches your travel with interactive screens placed strategically on the bus. These screens provide real-time updates about the route, upcoming stops, and other important information. Stay well-informed about your journey's progress, adding a dynamic and interesting element to your ride.
Spacious Legroom and Cushioned Seats: Say goodbye to cramped spaces and discomfort. Bus 115 cares about your well-being by offering generous legroom and well-cushioned seats. Relax and stretch out, knowing that you have ample space to enjoy your travel. The combination of cushioned seats and extra legroom ensures a comfortable and contented journey tailored to your comfort preferences.
Other Travel Options
Bus via Al Karama – 4h 26min (AED38–53): If you're looking for a budget-friendly option with a moderate travel time, the bus via Al Karama is a suitable choice. This route takes around 4 hours and 26 minutes, offering an affordable fare ranging from AED 38 to 53. While the travel time might be longer compared to some other options, it's an economical way to reach your destination.
Bus via Al Karama #2 – 6h 9min (AED46–55): Another bus option is the route via Al Karama #2, which takes approximately 6 hours and 9 minutes. This option provides a slightly longer travel duration, yet remains cost-effective with fares ranging from AED 46 to 55. This route could be suitable if you're flexible with your travel time and are looking for an economical mode of transportation.
Drive – 192.4 km – 1h 57min (AED79–113): For those who value flexibility and prefer the independence of driving, taking your own vehicle is an attractive option. Covering a distance of 192.4 km, the drive takes around 1 hour and 57 minutes. While it's a quicker way to reach your destination, it's important to factor in fuel costs and tolls, which may amount to AED 79 to 113. Driving also allows you to customize your journey and explore any detours that catch your interest.
Remember, each travel option has its own set of advantages and considerations. Whether you prioritize speed, affordability, or convenience, these alternatives offer you the freedom to choose the one that best suits your preferences and travel needs.
Tips When Traveling by Intercity Buses
Plan Ahead: Before embarking on your intercity bus adventure, plan your route, departure times, and stops in advance. Check the bus schedules, routes, and fares online to have a clear idea of your journey. This will help you avoid last-minute rush and ensure you reach your destination on time.
Check Fares and Payment Options: Intercity bus fares in the UAE are often reasonable, but it's important to be aware of the costs. Some buses might accept cash only, while others offer cashless payment options like prepaid travel cards or mobile apps. Ensure you have the right payment method and sufficient funds to cover your fare.
Arrive Early: Arriving at the bus terminal a bit earlier than the scheduled departure time gives you ample time to purchase tickets, find your bus, and settle in comfortably. This avoids any last-minute stress and ensures a smooth boarding process.
Carry Identification: Always carry a valid identification document, such as your Emirates ID or passport, when traveling on intercity buses. Security checks might be conducted at terminals, so having your ID handy will help you pass through smoothly.
Pack Essentials: Bring along essentials such as water, snacks, a jacket, and entertainment (like a book or headphones) to make your journey comfortable and enjoyable. Intercity buses in the UAE are usually well-equipped, but having your personal items can enhance your experience.
Respect Cultural Norms: The UAE is known for its diverse population and rich cultural heritage. While on the bus, be mindful of local customs and traditions. Dress modestly and avoid loud conversations or music that might disturb fellow passengers.
Observe Timings: Intercity buses in the UAE are punctual, so make sure you're at your designated bus stop on time. Buses generally wait for a short period before departing, so arriving a few minutes early is advisable.
Choose the Right Seat: If you have a preference for window or aisle seats, try to select your preferred seat when boarding the bus. Some intercity buses might have assigned seating, while others operate on a first-come, first-served basis.
Keep Valuables Secure: While intercity buses are generally safe, it's wise to keep your belongings secure. Keep valuable items close to you and avoid leaving them unattended.
Stay Informed: Stay updated with any announcements or information provided by the bus staff. This could include updates on stops, routes, and any potential delays.
Frequently Asked Questions
1. How frequently do the buses run between Abu Dhabi and Umm Al Quwain?
The frequency of buses between Abu Dhabi and Umm Al Quwain may vary depending on the time of day and the specific route. Generally, there are multiple buses throughout the day, ensuring options for travelers.
2. How long does the bus journey take from Abu Dhabi to Umm Al Quwain?
The duration of the bus journey from Abu Dhabi to Umm Al Quwain depends on the route and potential stops. On average, the trip can take around 4 to 6 hours, considering factors like traffic and distance.
3. Are there different types of buses available for this route?
Yes, there are different types of buses available, ranging from standard to more comfortable options. Some buses might offer amenities like air conditioning and entertainment to enhance the travel experience.
4. Do the buses offer facilities for passengers with special needs?
Yes, many buses on this route are equipped to accommodate passengers with special needs. Look for buses that have designated spaces and facilities for such passengers.
5. Can I check the bus timings online?
Yes, you can often find bus schedules and timings on the official website of the SRTA and relevant mobile applications. This can help you plan your journey and stay updated on any changes.
6. Are there any specific stops or landmarks along the route?
Yes, the buses usually have designated stops along the route. These could include major bus terminals, landmarks, or well-known areas that passengers can use as reference points. You may refer to the section for the route taken by buses based on this guide.
7. Are there any night buses available for this route?
Night buses may be available for the Abu Dhabi to Umm Al Quwain route, but their availability could vary. It's advisable to check the bus schedule to see if there are overnight options.
8. How do I stay updated about any changes in bus timings or routes?
To stay informed about changes in bus timings or routes, you can follow official social media accounts the SRTA. Additionally, visiting official websites or using mobile apps can provide real-time updates.
Summary
In conclusion, as we shift our focus to the journey from Abu Dhabi to Umm Al Quwain, it becomes evident that a comprehensive understanding of bus timings is essential for a seamless travel experience.
Whether you're a resident familiar with the routes or a visitor exploring these Emirates, having access to accurate departure and arrival times can significantly enhance your travel plans.
This guide has delved into the intricacies of bus timings, shedding light on the options available for those embarking on the journey between Abu Dhabi and Umm Al Quwain.
By being well-informed and prepared, you can make the most of your travel, ensuring that your exploration of these two vibrant regions is as smooth and enjoyable as possible.
READ NEXT: 10 Reasons Why I love living in Umm Al Quwain City UAE