The Dubai Department of Economic Development (DED) has announced the closure of several commercial activities, including shopping malls, open markets, theme parks, fitness gyms, amusement centres, and restaurants for two weeks.
However, the decision does not include pharmacies, cooperative societies, supermarkets, and grocery stores, which are allowed to open 24/7, provided that they follow social distancing protocols as part of the precautionary measures taken to curb the outbreak.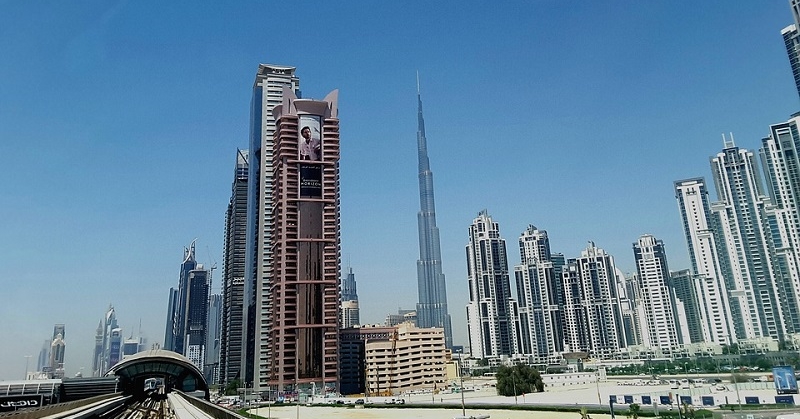 List of Commercial Activities Closed for Two Weeks
Through its social media channels, the Dubai DED announced that in line with the precautionary measures taken by the Ministry of Health and Prevention and the National Emergency Crisis and Disasters Management Authority to curb the outbreak, Dubai Economy has directed the closure of several commercial activities, as follows:
Cinemas;
Theme parks;
Spring camps;
Massage parlours and spas;
Bodybuilding and fitness gyms;
Shopping malls and commercial centers;
Amusement games and electronic games centres;
Open fish, meat, and vegetable markets (with the exception of wholesale suppliers of fish, meat, and vegetables);
Commercial shops in open markets (with the exception of bakeries, laundry services, car workshops, technical and electrical services providers); and
Restaurants, cafes, food and shisha services establishments (with the exception of restaurants and cafes in hotels serving guests only, and food delivery services).
The closure will be imposed for two weeks, starting from Wednesday, 25th March 2020 until Wednesday, 8th April 2020.
During the said period, Dubai Economy has also directed all shisha cafes and coffee shops in the emirate to stop serving shisha. However, it clarified that all closed shops can still sell their products online.
In addition, the Dubai DED has issued the following clarifications on social media, regarding the closure of commercial activities:
Banks can continue to operate unless a decision is issued by the UAE Central Bank;
Exchange houses can continue to operate and receive customers, provided that they follow guidelines on sanitation and social distancing;
Clinics can continue to operate as usual; and
Customers can continue to order takeaway and delivery services from restaurants. However, restaurants in shopping malls must obtain permission from the mall management to offer such services.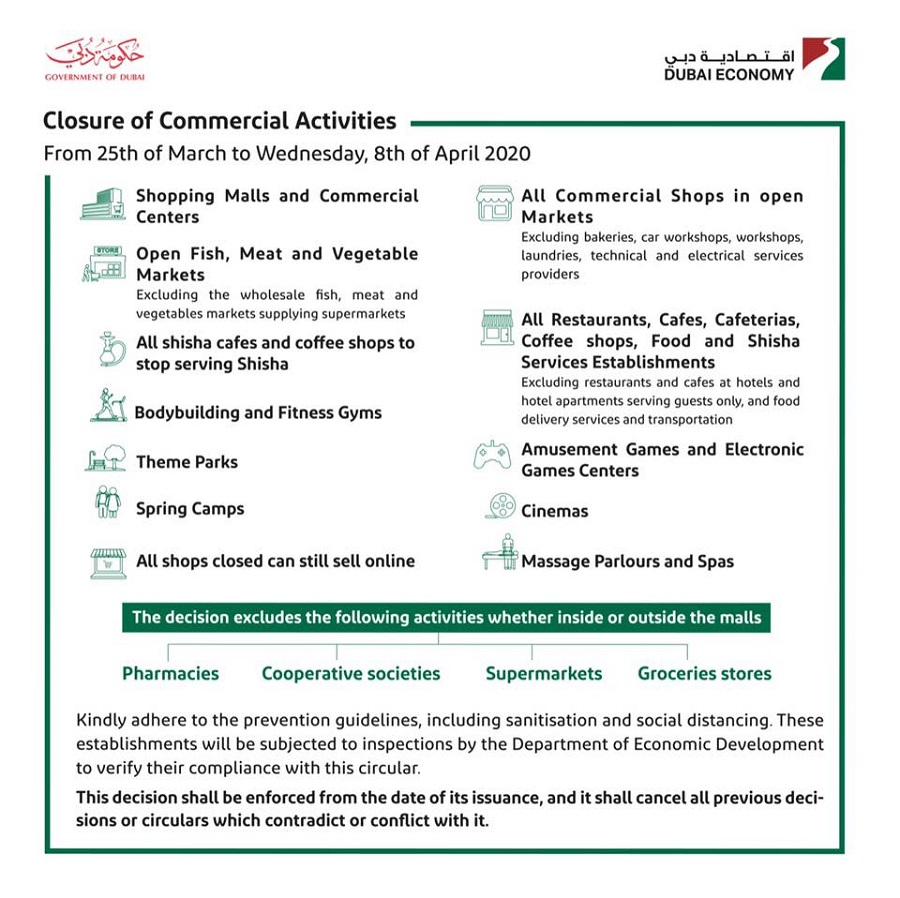 Prior to these latest announcements, Dubai has previously announced the closure of all cinemas, parks, entertainment destinations, gyms, spas, libraries, and museums in the emirate. As citizens, residents, and visitors in the UAE, let us keep all of these guidelines in mind and follow the rules for our own safety, health, and well-being.