A Filipina based in Dubai lost her beloved pet cat during a fire that happened in Al Muraqqabat last week. However, 26-year-old Angelie Agoncillo Mangalidan is now all smiles after receiving a wonderful surprise from Dubai Civil Defence recently.
In the spirit of the "Year of Giving," the Dubai Civil Defence gave Angelie a cat that looks similar to the pet that she had lost. The Director-General of Dubai Civil Defence, Major General Rashid Than Al Matroushi, presented the gift personally.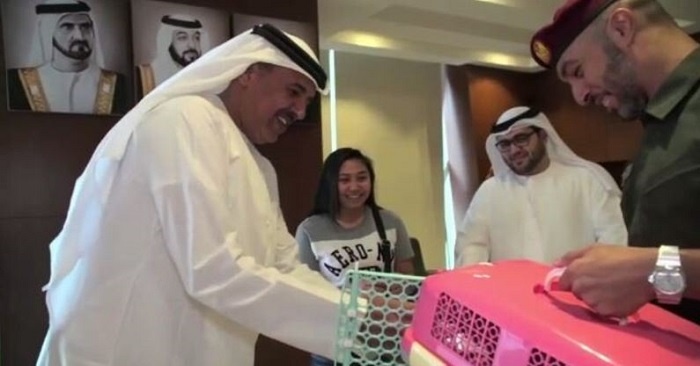 Dubai-based Filipina Receives a "Furry" Surprise
On July 9, a fire started in a flat on the first floor of the building where Angelie lives. Sadly, her pet cat, "Chico," suffocated and passed away during the incident. Nonetheless, fire fighters responded immediately, putting out the fire and rescuing 25 individuals.
In an unexpected gesture, the Dubai Civil Defence decided to give Angelie a surprise – a new cat that looks like her old one. She named her new cat "Cheeno," in honor of her late pet.
Here is a heart-warming video of Angelie receiving her "furry" surprise:
Through this simple gesture, the Dubai Civil Defence turned a tragedy into an inspiring story of sympathy and generosity. Today, Angelie is happily living with her new pet in Dubai, where she currently works as a sales executive for Etisalat. Her touching story shows that it is the "Year of Giving," indeed!