Just before the carbo-loading spree begins in time for the holidays, citizens of Dubai can get on a little bit of a good stretch as YogaFest Dubai returns next month at the Dubai Internet City Amphitheatre from November 15-17, 2018.
ALSO READ: HH Prince Hamdan Invites Everyone to Participate in Dubai Fitness Challenge 2018
Give your arms, core, and back a good warm-up as you break a sweat along with other fitness enthusiasts and fellow yogis in any of the 150 free classes and workshops held by local and international instructors on yoga, dance, qi gong, pilates, and meditation.
3-day Yoga Festival to Kick Off this Coming November in Dubai
The massive 3-day fitness festival is expected to draw in participants of over 5,000 enthusiasts coming together to enjoy free classes and workshops, which focus on yoga, wellness, and sustainability.
With over a hundred of exciting classes to choose from and more than a handful of people to meet, your day can't be any more physically rewarding than this!
Other than getting down and active on your floor mat, you can also attend various talks on fitness, wellness, healthy living, family nutrition, as well as yoga philosophy.
New for this year will be the Shakti Tent, which is exclusive for women, and the Al Jalila Foundation Tent, for people with unwavering determination.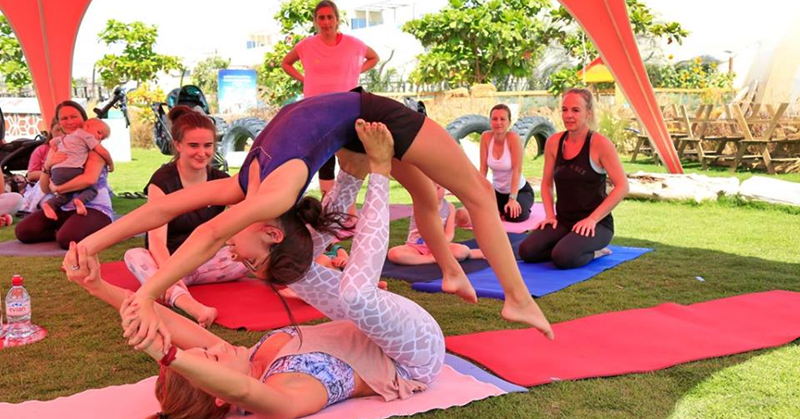 There will also be a family tent, which offers kids' yoga classes, mother and daughter yoga, family yoga, partner yoga, and prenatal yoga. Also, the YogaFest is a dog-friendly event, so you can bring your fur babies with you to join the fun with the whole family!
Donations and proceeds for this free event will go to the foundation's Ta'alouf programme, which supports caregivers of children with special needs.
Participants can also shop for a wide range of unique eco-friendly products at the venue, from homemade aromatherapy sets to yoga leggings made of recycled plastic.
Excited to break a sweat for a cause? Be sure to register early for the event by signing up HERE.
A two-day ticket allows you to join any class across the eight tents at the venue. However, spaces are on a first come, first seated basis so be sure to come early and invite your friends, too!
To know more about YogaFest Dubai 2018, you may visit their official website and Facebook page.