In case you are wondering what happens when there's a sale in Dubai, here are a few photos and videos that show how how busy the crowd can get. Last December 26 from 9 a.m. to 12 noon, Athletes Co. offered a 49 AED sale on all items. The sale lasted only for 3 hours or until stocks were available.
Related Post: What Happened During the 12-Hour Flash Sale in Majid Al Futtaim Malls
These photos and videos were taken and shared by one of our contributors Ahmed El-Nekhaily who is a photographer. You can check out his cools portrait shots here on the following accounts:
Facebook: @Nekhaily Photography
Instagram:  instagram.com/nekhaily.ph
Athlete's Co. 3-Hour Flash Sale At Deira City Centre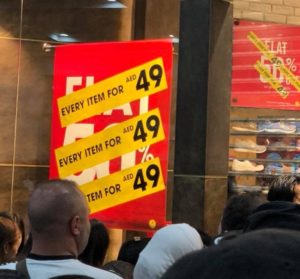 When there's a big sale in Dubai, plenty of people tend to flock the area in order to take advantage of the discounts. Athlete's Co is a multi-brand sports lifestyle shop that houses famous like TOMS, Skechers, Birkenstock, Nike, Lacoste, Adidas, etc.
As we all know that costs of shoes can be a bit expensive especially with branded ones, a lot of people definitely took advantage of the offer and lined up to grab the hands on whatever stock was available.
The crowd piled up and as you can see from the videos below, you can definitely say that aside from the great marketing and word of mouth, a lot of people really participate in this in-store sale purchases.
While others may have complained about how crowded it was, this is a 'SALE' after all, here are the rest of the videos of the said event:
49 AED on all items during the #MyDSF sale at Athlete's Co in #CityCentreDeira @DSFsocial
Video by: https://t.co/e7SARpL9fa pic.twitter.com/VcDvoQn4yV

— DubaiOFW (@DubaiOFW) December 29, 2017
What happens when there's a big sale in Dubai. #dubaipr #uaepr
Sale lasted for 3 hours, 49 AED on all items at Athlete's Co in #CityCentreDeira @dsfsocial

Video by: https://t.co/e7SARpL9fa pic.twitter.com/xaSXBgKG74

— DubaiOFW (@DubaiOFW) December 29, 2017
The crowd earlier at #AthletesCo in #CityCentreDeia during the 3-hour sale. pic.twitter.com/HpUM4JDkxj

— DubaiOFW (@DubaiOFW) December 29, 2017