Are you updated with your Philippine Social Security System or SSS contributions? If so, then you're all set to gain several benefits, not only for yourself but for your loved ones, too. It is very important for us OFWs to keep contributing to our monthly SSS as this will be for our future There has been news announcements that SSS is mandatory for OFWs but even if it is not, it is really important to have a mindset of contributing. In this article, we share the benefits and claims we can get when we become a member.
ALSO READ: Guide to Investing in SSS Flexi-Fund for OFWs
The SSS is a government-run insurance program that offers health and retirement benefits (among others) to private sector employees as well as voluntary members, which include the self-employed, non-working spouses, and of course, overseas Filipino workers (OFWs).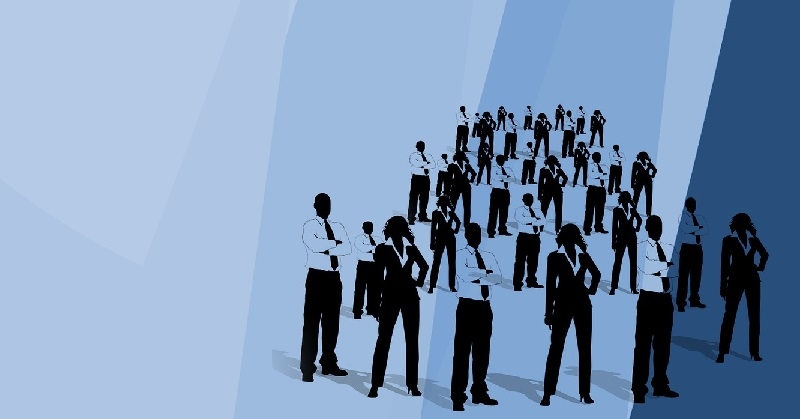 Benefits of an SSS OFW-Member
President Rodrigo Duterte recently signed Republic Act 11199 or the Social Security Act of 2018. The new policy involved increasing the Monthly Salary Credit (MSC) of land-based, OFW-members from PHP 5,000 to PHP 8,000. It also raised OFW-members' minimum SSS contributions from PHP 550 per month to PHP 960 per month. Consequently, this has also led to greater benefits for all members.
List of SSS Benefits
If you are an active SSS OFW-member, you can expect to avail of the following:
# 1 – Sickness Benefit
You can receive a daily cash allowance for each day that you are unable to work due to a sickness or injury. To qualify for this benefit, you should have at least three month's worth of contributions within the last 12 months. It also applies if you have been confined at home or in a hospital for four days or more.
#2 – Maternity Benefit
Female SSS members who recently gave birth (or experienced a miscarriage) may avail of a daily cash allowance from SSS. Similar to the sickness benefit, you need to have at least three month's worth of contributions within the last 12 months to qualify for maternity benefits.
#3 – Disability Benefit
In case a member becomes partially or totally disabled because of an accident, he or she can apply for the disability benefit. Those who have made at least 36 monthly contributions qualify for a monthly disability pension. On the other hand, those who have not reached the same number of contributions would be granted a lump sum amount instead.
#4 – Unemployment Benefit
This is a new SSS benefit offered to those who have been laid off (or terminated) from their jobs against their will. Obviously, it doesn't apply to those who have resigned from their jobs.
The unemployment benefit is equal to 50 percent of the average MSC. For example, if your average monthly salary is PHP 20,000 — you could receive PHP 10,000. To qualify for this benefit, you should have at least 36 monthly contributions, 12 of which should have been made within the last 18 months preceding your involuntary unemployment.
#5 – Retirement Benefit
This benefit is given to those who no longer work due to old age, and is provided as a monthly pension or lump sum amount. Members who have reached 60 years of age and are no longer working may apply, as long as they have made at least 120 monthly contributions.
Meanwhile, members who have reached the mandatory retirement age of 65 years will automatically receive this benefit, regardless of whether they are still working or not.
#6 – Death Benefit
If you are the primary beneficiary (i.e. spouse or dependent child) of a deceased SSS member who had made at least 36 monthly contributions, you can avail of a monthly death pension. If the contributions are less than 36, you would still get a lump sum amount.
For those who have no primary beneficiaries, the secondary beneficiaries (i.e. dependent parents) would receive this benefit instead.
#7 – Funeral Benefit
If you paid for the burial expenses of a deceased SSS member, you may avail of funeral benefits — provided that you have made at least one monthly contribution as a self-employed, voluntary, or OFW member.
Here is an infographic presenting SSS benefits for OFW-members, based on the the Social Security Act of 2018: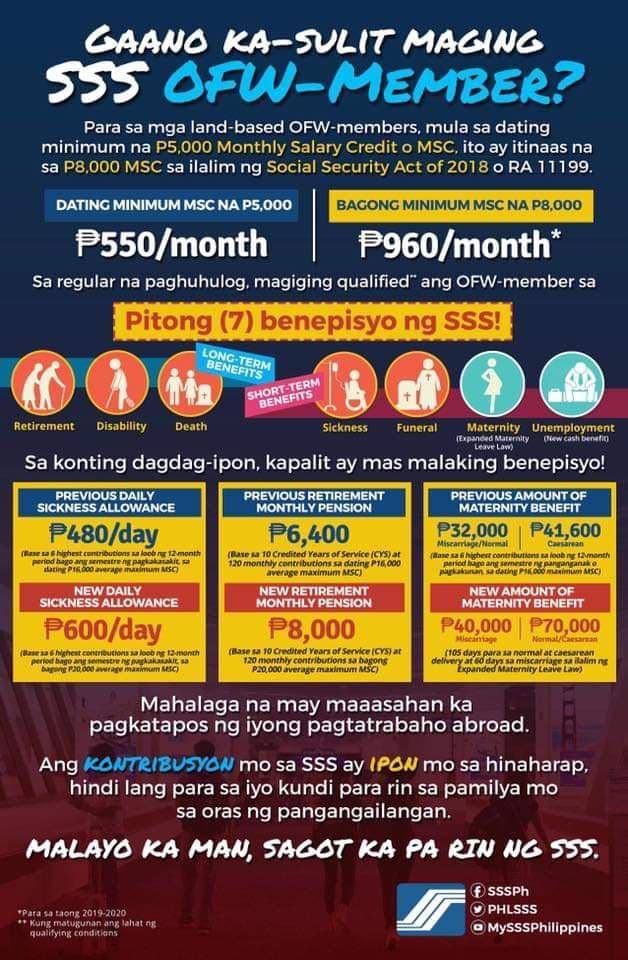 How to Become an SSS OFW-member?
If you already have an existing SS number before you became an OFW, simply continue paying your SSS contributions and check the box for Overseas Worker on the SS Form RS-5. This will automatically change your membership status to OFW.
However, if you do not have an SS number yet, you will need to fill out and submit an SS Form OW-1 or Overseas Worker Record. You will also need to submit the original and photocopy of a primary document or any two secondary documents accepted by the SSS.
Being an OFW doesn't mean you can't benefit from government programs in the Philippines. By continuing your SSS contributions, you can expect to receive the above benefits for yourself as well as for your family in the long run.
DISCLAIMER: The above guide is presented for information-sharing purposes only. To learn more about your SSS benefits and how to avail of them as an OFW-member, please visit the official website of the Philippine Social Security System.