Dubai is a city that always welcomes innovation and fosters a conducive environment for new business opportunities. As the lifestyle and work dynamics change in Dubai, there arises a host of small business opportunities that could be later turned into an established business entity.
Also Read: How to Set up a Company in Dubai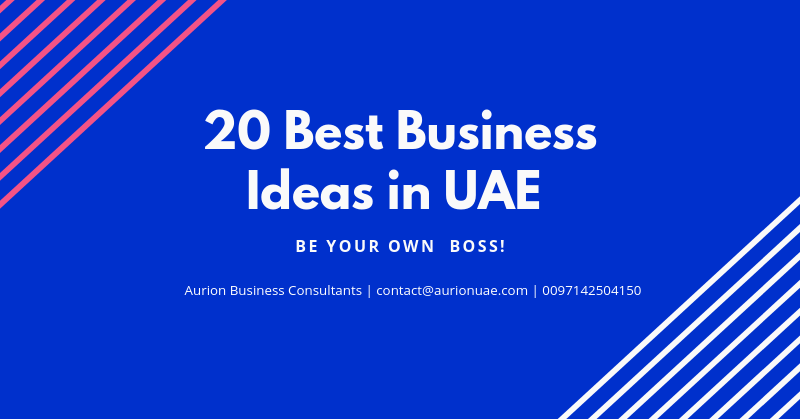 Here is a list of the Profitable Business Ideas in Dubai with a Low Investment for you to put your hands on and try it out.
Advertising
There is a lot of advertising service that you can operate from home. As business picks up and grow your network, you can think of a start-up or full-fledged establishment.
Apparel
The Import/export of Apparels and starting a small Apparel store in the residential hubs of Dubai is a lucrative business to start.
Arts and Crafts Making
It is an excellent home-based opportunity. You can sell your arts and crafts via online stores and enter the global market.
Automobile
Transportation is an integral part of the always active Dubai. Starting an automobile business be it a workshop, spare parts shop, reselling, e-commerce, etc., is expected to fetch you good returns in Dubai.
Beauty
Beauty and healthcare is a booming sector in the UAE. Retail outlets, grooming services, etc., are prospective business areas you can venture into.
Bookkeeping
If you are an expert accountant, you can start off with part-time jobs at home and then expand yourself once you build a network.
Computer Related Businesses
IT is growing at a very fast pace. Any work related to computer and IT is a hot spot currently, start your business with a small capital and work on a few projects and then get successful and expand.
Consulting
According to your knowledge domain and expertize you can start a consulting business even from home. Once you become a subject matter expert, this is a lucrative field to venture into.
e-Commerce
e-Commerce is the most trending sector for investments. The online shopping culture and internet penetration in UAE are triggers this sector to grow.
Education
E-learning, tuition centers, learning centers, playschools, the education sector is always an assured field to set your feet onto.
Entertainment
The entertainments, media, and event management sector in Dubai is exciting to work in. It has great scope for entrepreneurs to tap into the wide audience preferences.
Fish Farming
Aquafarming is a promising sector for small businesses in Dubai. The rising seafood demand could be leveraged on with aqua farming in UAE.
Food Processing & Delivery Services
The food and beverage sector in Dubai is all-time popular. The multi-dimensional crowd of UAE is all out to try on various cuisines. Hence, innovative outlets gain high traction among the people.
Retail Business
Small scale retail stores in residential areas still receive good footfalls. The franchise level business model is very popular in the UAE.
Handyman
On-demand services for building management and other household services like cleaning, painting, etc. It is a prospective business due to the large real estate available in the UAE.
Photography
UAE is very diverse in terms of its topography and location. To capture those images, create a YouTube channel, cover events, do photoshoots and then expand your business.
Real Estate
You can set-up real estate firm, or work remotely using sales staff to sell the listed properties online by liaising with the developer, Landlord, and the client.
Recruitment Agency
Dubai is a dream for all foreign job seeker. However, recruiting the right talent is a key challenge. Hence, you can start assisting HR firms by sourcing the right candidate, and build a network and establish your HR Consultancy and Recruitment business.
Recycling Business
The home-based recycling business is a prospective business in Dubai. The papers and cardboard cartons can be reused by transforming them into carrying bags, notebook, etc.
Tourism
The tour guide, airport pick-up, desert tours, dhow cruise, cultural tourism, etc., is a very prospective business in Dubai.
The UAE economy is growing and the market dynamics are shifting to innovations and new sectors.
It has opened doors to new frontiers, and diversity. Thanks to the country's strong infrastructure, technology, and logistics.
Business Consultants like Aurion Business Consultants will help you in choosing the right business activity and license for your business. So, enjoy a hassle-free business setup experience and good luck with your dream company