There aren't a lot of things as intimate for couples as indulging in a rejuvenating and relaxing massage together. In the dazzling city of Dubai, where luxury and romance blend seamlessly, a world of pampering and serenity awaits couples seeking a truly unforgettable experience. The bustling metropolis offers a myriad of opportunities to embark on a sensory journey, and one of the most cherished experiences is undoubtedly the best Dubai massage for couples.
Combining the elements of opulence, tranquility, and togetherness, this enchanting experience is designed to nurture the bond between partners while immersing them in an oasis of blissful harmony. So, if you're ready to destress and connect with your body as well as your loved one, keep on reading the rest of this guide for smart tips and helpful details for your lover's escapade.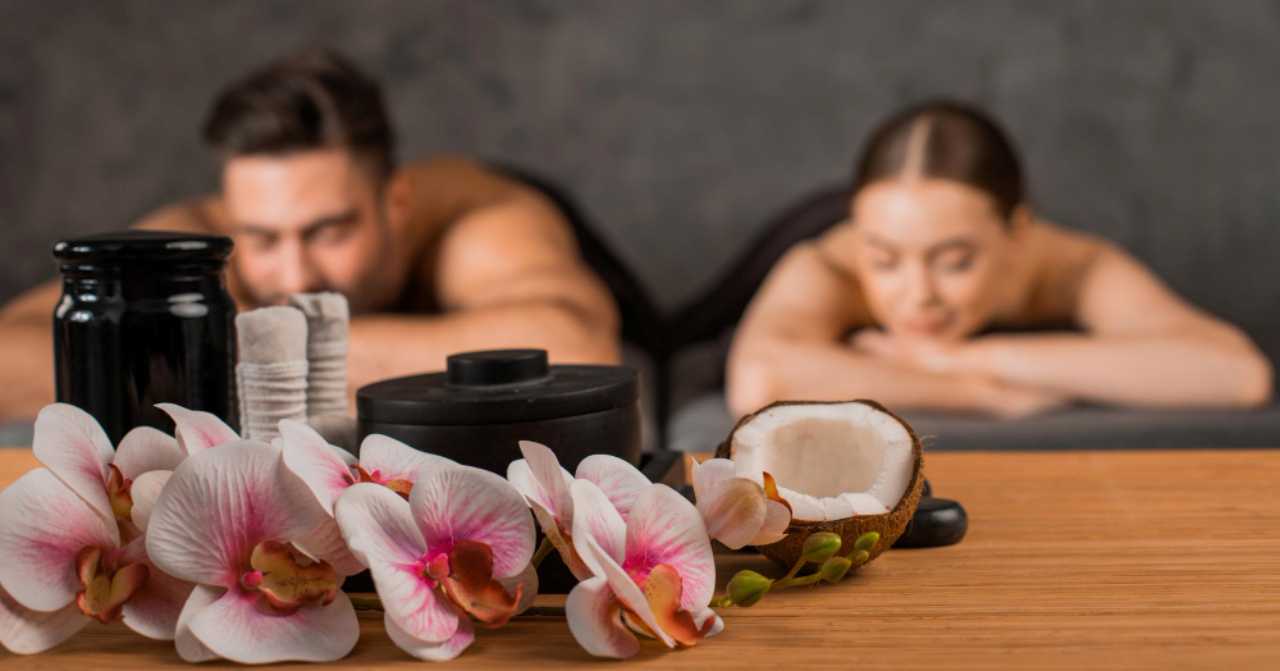 What is a couple's massage?
A couple's massage is a specially designed spa or massage therapy for two individuals, typically romantic partners, who both receive massages at the same time in a shared room.
Usually, two massage therapists attend to each person, ensuring that the massages cater to their specific needs and preferences.
This delightful experience is accompanied by a serene atmosphere, featuring gentle lighting and soothing music, making it an ideal way to enjoy quality time together.
Benefits of Getting a Couple Massage
A couple's massage offers more than just relaxation; it provides an opportunity for you and your partner to strengthen your bond and enhance your relationship in various ways. Here's a guide to help you make the most of your couples massage experience:
Deepen Your Connection: As you and your partner unwind together in the same room, the shared experience fosters intimacy, communication, and a sense of unity. Syncing your breathing and heart rate during the massage enhances the feeling of togetherness and harmony.
Reduce Stress and Anxiety: Enjoy the double benefits of massage therapy and the comforting presence of your life partner. A couples massage can lower cortisol levels, increase serotonin and dopamine, and leave you both feeling rejuvenated and reconnected. By reducing stress and anxiety, you can improve your relationship, minimize conflicts, and enhance communication.
Appreciate Physical Touch: Physical touch is a powerful aspect of human connection. During a couples massage, you'll become more in tune with your partner's body, experiencing the healing and comforting power of touch. This shared physical experience can reignite intimacy and appreciation for each other.
Quality Couple Time: For couples with children, finding time for date nights can be challenging. A couples massage provides an opportunity to enjoy a relaxing activity together, free from worries about the little ones. It's essential to nurture your relationship amidst family responsibilities.
Create Lasting Memories: Beyond relaxation, a couples massage creates lasting memories that you can cherish together. Sharing a new and enjoyable experience strengthens your bond and might even lead to exploring other new activities in the future.
Learn New Massage Techniques: Observe and learn from professional therapists during your couples massage. Acquire new massage techniques that you can use to continue the relaxation and bonding experience at home. This can be a fun way to show care for each other through regular massages.
Improve Sleep Quality: Massage therapy promotes better sleep quality, and a couples massage is no exception. After the massage, both you and your partner can enjoy a deeper, more restful sleep, leading to improved overall health and a more positive outlook during the day.
By incorporating a couples massage into your routine, you can not only experience relaxation together but also nurture your relationship, enhance intimacy, and create cherished memories that will strengthen your bond in the long run. Take advantage of this therapeutic experience to invest in your relationship and enjoy the benefits of shared relaxation and rejuvenation. Here are some of the best massage parlors for couples in Dubai:
Address: Lazuward SW – Jumeirah Village – Dubai – United Arab Emirates
Contact number: +97142489964
Google Map Location:
The special offer for couples features a revitalizing body scrub, eliminating dry skin, and a soothing massage to melt away every bit of stress you carry.
Address: 4th floor – Sheikh Mohammed bin Rashid Blvd – Downtown Dubai – Dubai – United Arab Emirates
Contact number: +97144368750
Google Map Location:
Begin with a calming breathing technique, proceed with a thorough body exfoliation, and conclude with a soothing massage to alleviate accumulated stress, as well as discomfort and soreness in the body.
Address: Palm Jumeirah – The Palm Jumeirah – Dubai – United Arab Emirates
Contact number: +97144573388
Google Map Location:
Begin with a calming bath, and once you're comfortably soaked, it's time for a soothing aromatherapy massage with your preferred oil, letting you ease into a state of pure relaxation.
Address: Level 69, SLS Dubai Hotel & Residences – Marasi Dr – Business Bay – Dubai – United Arab Emirates
Contact number: +97146070654
Google Map Location:
Ascend to the 69th floor of the SLS hotel for an extraordinary and elevated experience.
Indulge in a special spa session featuring the spa's one-of-a-kind bubble exfoliating body foam, followed by a soothing candle massage.
It's a truly enchanting and heavenly treat for your senses.
Address: Sheikh Zayed Rd – Emirates Hills 2 – Dubai – United Arab Emirates
Contact number: +97144179820
Google Map Location:
Indulge in the ultimate relaxation with a couple's massage experience at Sensasia. Unwind and rejuvenate as you savor a soothing treatment that will melt away all your worries and ease any muscle tension, ensuring you emerge feeling revitalized and renewed.
Address: Dukes The Palm – Dubai – United Arab Emirates
Contact number: +971585676718
Google Map Location:
This stylish health facility located on Palm Jumeirah offers an exclusive package for couples, featuring a delightful 60-minute massage using a selection of three distinctive aromatherapy oils, followed by a refreshing 30-minute deep-cleansing facial.
Address: Al Jaddaf Area – Dubai – United Arab Emirates
Contact number: +97145568750
Google Map Location:
Are you prepared for a truly indulgent experience?
This 150-minute session is designed to target the heart, sacral, and crown chakras, promoting a sense of balance and harmony.
The treatment incorporates fragrant essences like rose, orange blossom, and jasmine, and encompasses a revitalizing body scrub, along with a soothing face and body massage.
Address: Jumeirah Zabeel Saray, The Palm Jumeirah, Crescent Road (West) – Dubai – United Arab Emirates
Contact number: +97144530456
Google Map Location:
The 2-hour session offers you and your partner a chance to unwind in a soothing bath that softens your skin, accompanied by the delightful indulgence of fresh strawberries to ease away tension and stress (and also contribute to a portion of your daily fruit intake).
Afterward, you'll have the opportunity to luxuriate in your private sauna and relaxation space before concluding the experience with a calming 60-minute massage. Such a truly serene and rejuvenating experience!
Address: Plot no. PJCR39 East – Crescent Rd – Dubai – United Arab Emirates
Contact number: +97142754444
Google Map Location:
Soma therapy comprises an enchanting Indian aromatherapy massage in a setting illuminated by the warm glow of candles. Unwind as you experience a calming massage, followed by a delightful bath adorned with fragrant rose petals.
Address: Park Hyatt Dubai Dubai Creek Resort – Dubai – United Arab Emirates
Contact number: +97146021660
Google Map Location:
The journey commences with a delicate ceremony using rose petals for your hands and feet, accompanied by a gentle exfoliation of sandalwood powder and pink Himalayan salt over your body.
Following this, a comforting body wrap and a distinctive massage await you, culminating in a soothing facial to complete the experience.
Address: At Stella Di Mare Hotel Near Beach and Dubai Marina Mall – Al Mattla'ee St – Dubai – United Arab Emirates
Contact number: +971543037005
Google Map Location:
Indulge in an unforgettable couple's massage experience at Stella Spa & Massage, perfect for those seeking relaxation and wellness.
From the moment you step in, the friendly staff will make you feel welcome.
The skilled masseuses provide an incredible full-body massage in the cozy couple suites, leaving you feeling rejuvenated and deeply relaxed.
Address: Carlton Hotel Downtown 45th floor – Sheikh Zayed Rd – Dubai – United Arab Emirates
Contact number: +971553470676
Google Map Location:
At Armonia Spa, couples are treated to an enchanting and revitalizing experience, featuring a wide array of luxurious treatments.
From the Royal Moroccan Bath Ritual to personalized body scrubs and the exotic Shiatsu massage, the spa offers an oasis of relaxation.
The highly qualified European therapists ensure a serene and calming environment, guaranteeing a truly blissful escape.
Address: Burj Khalifa St – Business Bay – Dubai – United Arab Emirates
Contact number: +97144383100
Google Map Location:
Experience pure bliss with Soma, J Wellness Circle's perfect couple massage package.
Designed exclusively for partners seeking a romantic and rejuvenating escapade, Soma combines an enchanting Indian aromatherapy massage in a candle-lit ambiance.
Their highly skilled therapists skillfully utilize evocative oils to enhance relaxation and set the mood for an unforgettable experience.
After the massage, delight in an indulgent rose petal bath, accompanied by a bottle of sparkling wine, allowing you both to savor precious moments together, away from the hustle and bustle of the world.
14. Soul Senses Spa & Wellness – Burdubai
Address: Atrium Centre – Khalid Bin Al Waleed Rd – Dubai – United Arab Emirates
Contact number: +971544059911
Google Map Location:
Indulge in an authentic and romantic couple's massage at Soul Senses Spa & Wellness, the perfect haven for relaxation and intimacy.
Surprise your beloved with this blissful experience and let the skilled therapists take you both on a journey of tranquility and harmony.
The cozy spa room boasts a delightful ambiance with soothing fragrances, creating a serene atmosphere for you and your partner.
Address: Wafi City – Sheikh Rashid Rd – Umm Hurair 2 – Dubai – United Arab Emirates
Contact number: +97143149870
Google Map Location:
Indulge in a transcendental spa experience like no other at Raffles Spa, where the art of pampering meets luxury in Dubai.
Immerse yourself in an oasis of serenity, offering exclusive rejuvenating treatments inspired by the richness of Asian, Middle Eastern, and European traditions.
Discover the pinnacle of relaxation and togetherness with their exquisitely designed Couple Massages, delivering a symphony of bliss for you and your partner.
With 6 lavish spa suites, including a dedicated couples spa suite, and over 1200 square meters of wellness facilities, Raffles Spa creates the perfect ambiance for a truly unforgettable experience.
Let their skilled therapists transport you both to a state of pure tranquility, as you bask in the harmonious surroundings and emerge refreshed, reconnected, and rejuvenated.
Tips to Enjoy a Lovely Time with Your Partner at a Couples Massage Spa in Dubai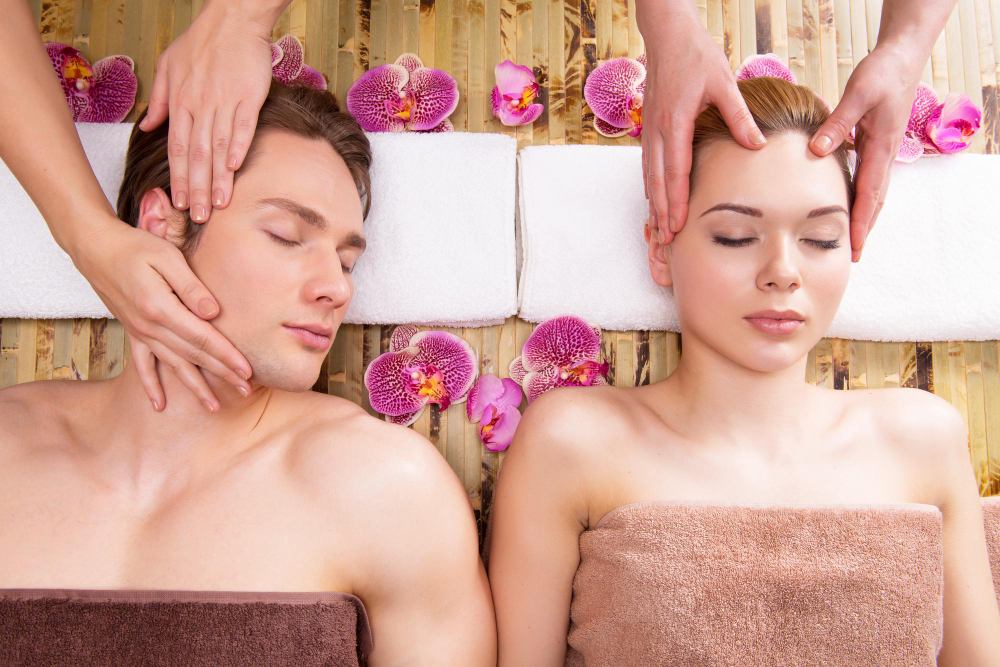 Plan Ahead: Schedule your couples massage spa experience in Dubai in advance to secure the best date and time that suits both you and your partner.
Choose the Right Spa: Research and select a reputable and well-reviewed couples massage spa in Dubai that offers a serene and luxurious ambiance to enhance your experience.
Arrive Early: Arriving a little early allows you and your partner to relax, unwind, and take full advantage of the spa facilities, such as steam rooms or Jacuzzis, before your massage session.
Communicate Preferences: Before the massage, communicate your preferences and any specific areas of tension or sensitivity to the therapists to ensure they tailor the treatment to your needs.
Disconnect from Devices: Make your time together truly special by disconnecting from phones and other devices to fully immerse yourselves in the moment and each other's company.
Share the Experience: Embrace the experience together by holding hands or maintaining physical contact during the massage, deepening your connection.
Respect Each Other's Comfort Zones: Some people prefer silence during massages, while others enjoy soft conversation. Respect each other's preferences to create a harmonious environment.
Focus on Breathing: Encourage each other to focus on deep breathing during the massage to relax and release tension, enhancing the therapeutic benefits.
Extend the Experience: After the massage, take advantage of post-treatment relaxation areas, if available, to extend your time together and savor the tranquility.
Plan a Romantic Afternoon: Continue the romance by planning a romantic afternoon or evening together, whether it's a sunset stroll along the beach, a gourmet dinner, or a quiet moment watching the city lights from a rooftop lounge.
Remember, the key to enjoying a lovely time with your partner at a couples massage spa in Dubai is to embrace the experience together, cherishing every moment of relaxation and connection in this enchanting city of luxury and romance.
Frequently Asked Questions
1. What is a couples massage?
A couples massage is a spa or massage therapy experience designed for two people, usually romantic partners, where both partners receive a massage simultaneously in the same room. It offers a shared and intimate relaxation experience.
2. Where can we find the best couples massage in Dubai?
Dubai boasts numerous luxurious spas and wellness centers that offer excellent couples massage experiences. Some popular options include Amara Spa, Ciel Spa, The Spa at Address Downtown, and Willow Stream Spa.
3. Do both partners receive massages at the same time?
Yes, during a couples massage, both partners are typically treated side by side in the same room, each with their own massage therapist catering to their individual needs.
4. What types of massages are available for couples?
Couples can choose from a variety of massage options, including Swedish, deep tissue, aromatherapy, hot stone, and more. The massages can be customized to suit each partner's preferences and requirements.
5. Is a couples massage suitable for all couples?
Yes, a couples massage is generally suitable for all couples, whether dating, married, or in any stage of a relationship. It provides an opportunity for partners to relax, bond, and share a rejuvenating experience together.
6. Are there any special packages or add-ons for couples massages?
Many spas in Dubai offer special packages for couples, which may include additional amenities such as private jacuzzi sessions, champagne, chocolate-covered strawberries, or access to spa facilities like saunas and steam rooms.
7. Is there a dress code for a couples massage?
For a couples massage, it's recommended to wear comfortable clothing, such as spa robes or provided attire, as you will be in a shared room. However, some spas may allow you to disrobe completely for the massage if you feel more comfortable doing so.
8. Can we request specific preferences during the massage?
Absolutely! Spas are usually accommodating to specific preferences. Feel free to communicate with your massage therapists about pressure preferences, areas of focus, and any concerns you may have to ensure a tailored and enjoyable experience for both partners.
Summary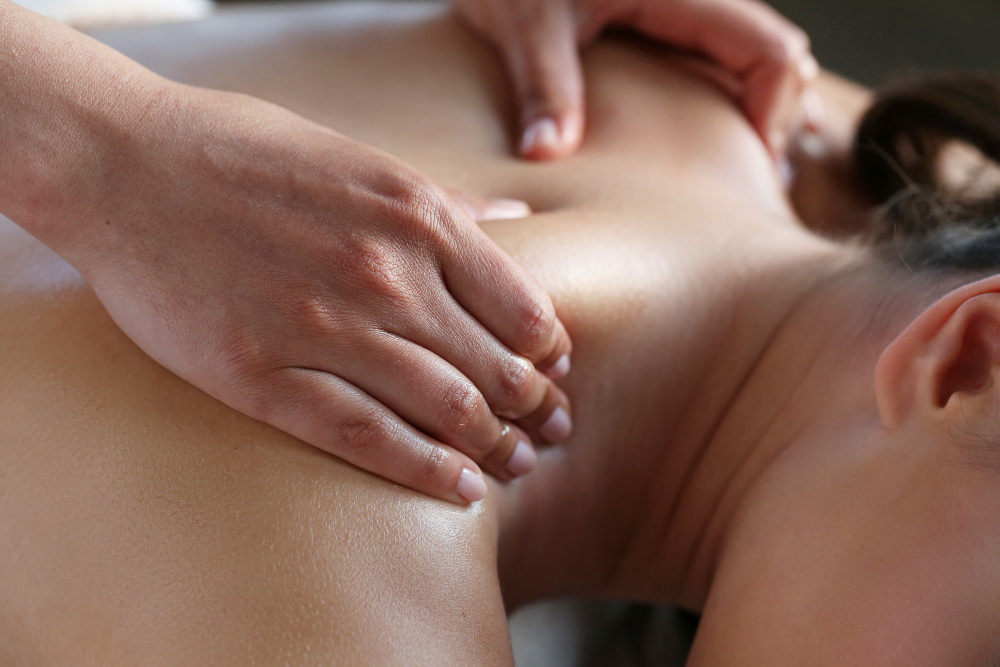 In the bustling metropolis of Dubai, where luxury and romance intertwine, the best Dubai massage for couples offers an unparalleled opportunity for intimate connection and rejuvenation.
This enchanting experience combines opulence, tranquility, and togetherness, creating an oasis of blissful harmony for partners to escape the world's demands and cherish each other's presence.
Whether you're seeking to destress, rekindle the spark, or simply indulge in shared relaxation, a couple's massage in Dubai promises an unforgettable journey.
So, embrace the magic of Dubai's hospitality, let the serenity envelop you, and embark on this sensory journey that will nurture your bond, creating cherished memories to be treasured for a lifetime.
Get ready to immerse yourself in an experience that epitomizes the essence of love and togetherness, and discover the true meaning of connection amidst the splendor of Dubai's unforgettable setting.
READ NEXT: 18 Ways to Relieve Stress Amid the Global Crisis