The Dubai Health Authority has announced job opportunities for nurses. In a recent post from the DHA official Twitter account, they mentioned that they are looking for nurses for contract lasting for 3 months, with the possibility of it being extended.
In order to apply for the said position, applicants need to send an email to HRRecruitment@dha.gov.ae.
The job offer includes financial incentives up to AED 8000 per month.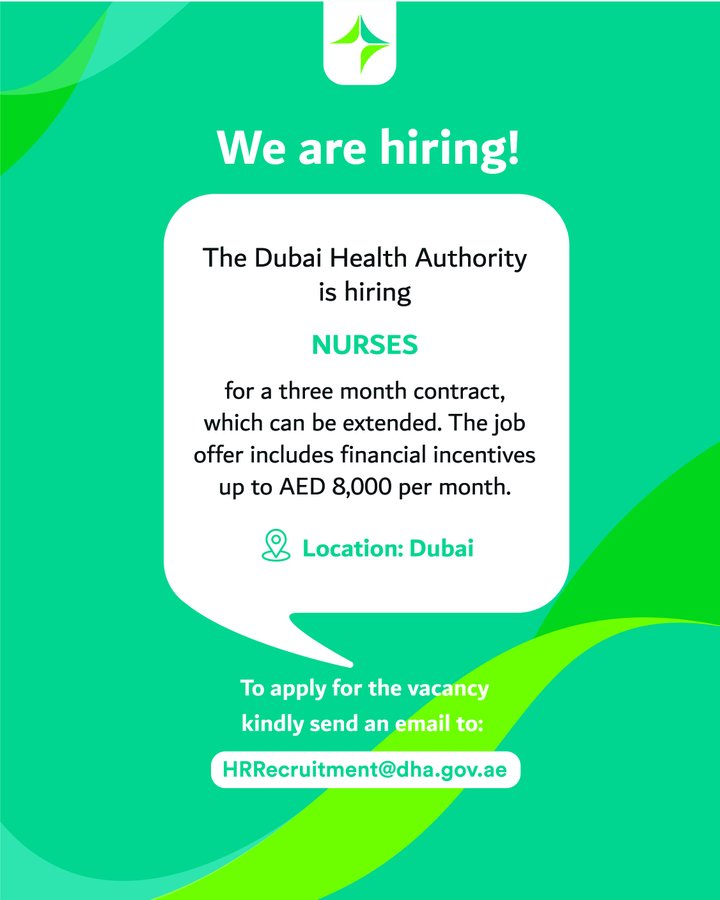 COMMENT: Take note that this job posting mentions financial incentives up to AED 8000. The usual salary set-up in the employment in UAE is that employees have a 'Basic Pay' plus allowances (e.g. transportation allowance, food allowance, etc.) and incentives (e.g. hazard pay, sales commission, etc.) depending on the nature of the job. You will also employed by the government of Dubai – government jobs in the UAE have a impression of good benefits and incentives.
Note: The comment regarding the incentives and allowances is based on opinion. If you wish to learn more information about the job offer, please inquire from the professional people posting the job opportunity (DHA) and it's good to clarify by asking for detailed breakdown of the salary.
In any case, you will be working as a frontliner which is really needed in these challenging times. Good luck!
Below is the Tweet from Dubai Health Authority official Twitter account:
DHA is hiring #Nurses for a three months contract, which can be extended. To apply kindly send an email to
HRRecruitment@dha.gov.ae pic.twitter.com/BS9Jg5sdph

— هيئة الصحة بدبي (@DHA_Dubai) January 26, 2021