A Filipino based in Dubai got recently called out and fined by authorities for taking a quick nap on the Dubai Metro. Though it's something hard to resist, especially after coming from or going to work early in the morning, the city has made it clear that such behavior is considered inappropriate and unacceptable, and must be noted by tourists and newcomers in the city.
Also Read: List of Driving Violations and Traffic Fines in Dubai
The Dubai Metro is one of the most commonly used modes of transport in the city of Dubai, where around half a million overseas Filipino workers reside.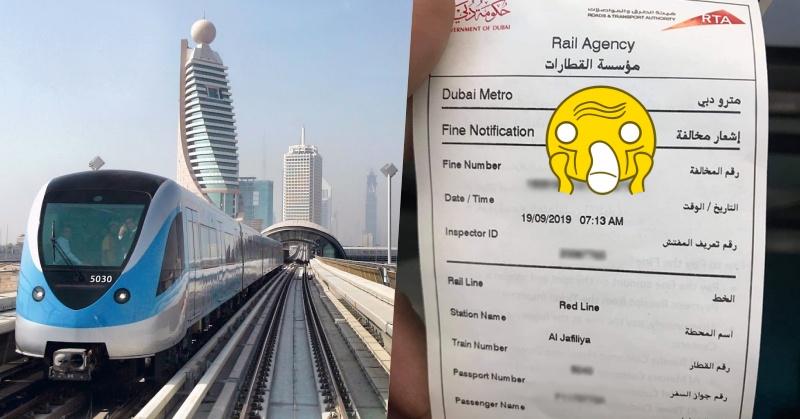 AED 300 Fine for Sleeping in Dubai Metro and Prohibited Areas
The OFW, identified as Jair Ugto, who has been working as a freelance stylist in the UAE for over eight years shared that he didn't realize that he had dozed off inside the Metro as he was going home from work.
In an interview with the Filipino Times, Ugto shared that he fell asleep because he was extremely tired from work. He said that it was also the first time that this has ever happened to him.
Ugto recounted that an inspector saw him on the CCTV and woke him up inside the Dubai Metro's Gold Class cabin, and informed him that he will be paying a total fine of AED 300 for falling asleep in the train.
Though it may seem like a harmless act, the Roads and Transport Authority (RTA) has made this clear through a schedule of fines inside train stations, which notes that "sleeping in the train's waiting areas, shelters or any place where it is prohibited" will land commuters a fine worth AED 300.
In fact, there are 31 defined situations published by the RTA which may invite fines ranging from AED 100 to AED 2,000.
Violations and Corresponding Fines at the Dubai Metro
Here are some of the common ones:
AED 100 – Eating, chewing gum, drinking, causing disturbance or carrying pets (except guide dogs)
AED 200 – carrying weapons, flammable articles, or any hazardous material
AED 300 – Sleeping in passenger shelters or prohibited areas
AED 500 – damaging, sabotaging or tampering with the systems, equipment, and seats of public transport means, facilities or services
AED 2,000 – accessing the security or safety system such as the emergency exits, unless it's necessary.
Metro Rules are listed and published on the RTA website along with the handy guide to using the Dubai Metro, as well as an accompanying brochure.
For his part, Ugto hopes that his story will serve as a lesson for his fellow Filipinos to always know and observe the rules not only in the Metro but in the city as well to avoid getting in trouble with the law.
ALSO READ:  [LOOK] New Dubai Metro 2020 Route Quickly Taking Shape