Mohammed Saif Abdul Razak, an expat from Portugal, became a millionaire when he won the 12 Million AED jackpot at the Big Ticket Abu Dhabi raffle which was held at the Abu Dhabi International Airport. His winning ticket number is 191331.
Among the 7 winners, 6 are Indian expats. Mohamed, is the Grand Winner For The Dream 12 Million Series 198.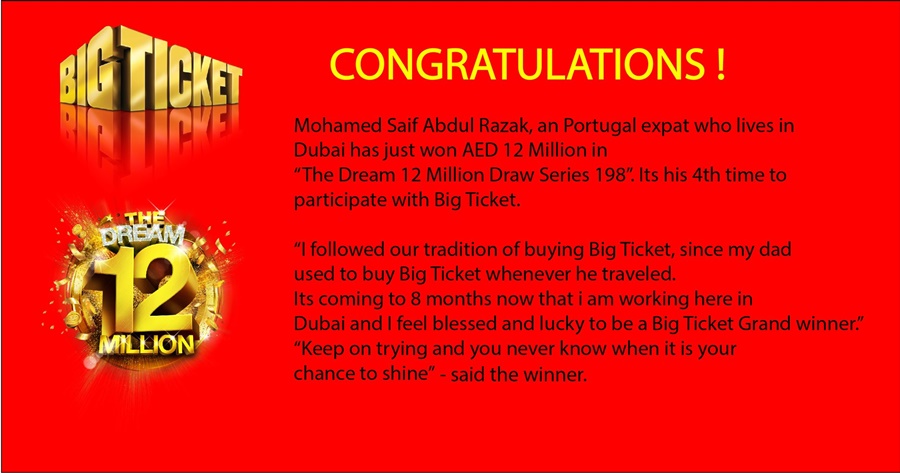 Big Ticket Raffle Dream 12 Million Series 198 Winner is Expat from Portugal
Below is the statement from the FB Page of Big Ticket Abu Dhabi:
Mohamed Saif Abdul Razak, a Portugal expat who lives in Dubai has just won AED 12 Million in "The Dream 12 Million Draw Series 198". It's his 4th time to participate with Big Ticket.
"I followed our tradition of buying Big Ticket, since my dad used to buy Big Ticket whenever he traveled. It's coming to 8 months now that I am working here in Dubai and I feel blessed and lucky to be a Big Ticket Grand winner."
"Keep on trying and you never know when it is your chance to shine." – said the winner
Check the complete list of winners below: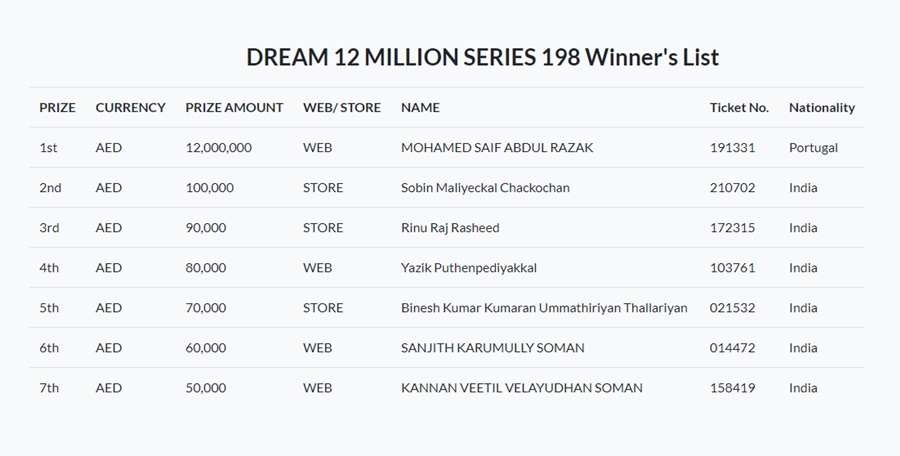 Video: Announcement of Winner in Big Ticket Abu Dhabi Raffle
For this raffle series, below is a video where the winner was announced: