A week ago, Jollibee UAE made a lot of people happy by launching a food truck along the Dubai Marina promenade. Recently, they made even more people happier by giving away free meals!
The famous Filipino food chain, in coordination with Khalid Al Ameri, a popular Emirati vlogger, decided to "give back" to the hardworking people of the UAE by giving them free food. Keep on reading to know more!
Also Read: Social Media Rules in UAE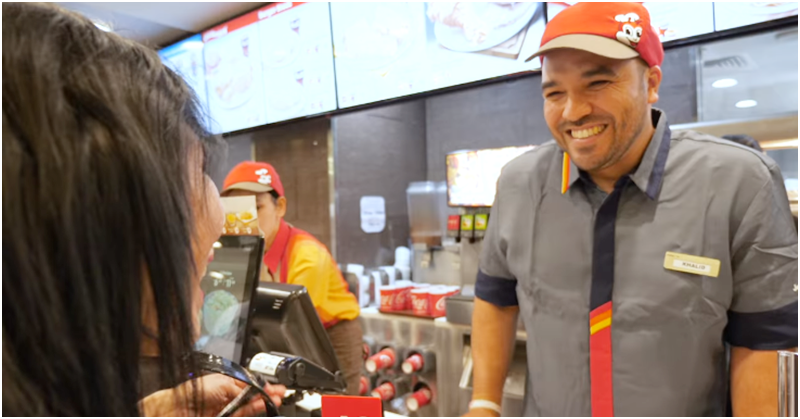 Emirati Blogger Serves Free Meals to Workers
"There are so many amazing people who dedicate their lives to working hard and spreading joy wherever they go," Khalid stated in a post on his Facebook page. "So Jollibee UAE and I decided to thank them for everything they do! Mabuhay!"
What exactly did Khalid do? He went to Jollibee and pretended to be part of the crew, taking orders and serving meals to some very surprised — and delighted — customers!
"The meal is one us today. Enjoy your meal. No payment," he said to one customer.
Speaking to two ladies, who appear to be healthcare workers, the Emirati blogger said: "Because you both work so hard, you take care of our health, your meal today is on us. For free!"
Indeed, there were many huge smiles at Jollibee that day, as Khalid served Burger Yum, Chicken Joy, Jolly Spaghetti, Jolly Hotdog, and other Pinoy favourites!
"The founder of Jollibee created a mascot that he believed represented the true characteristic of Filipinos around the world," Khalid explained. "And the reason behind that is that the bee hops around to create sweet things for life and that they are happiest no matter how busy they are."
"And that is why we did what we did today," the vlogger shared. "To give back to those who bring us so much happiness and joy, no matter how busy they are or how busy they get."
Here is the video of Khalid as part of the Jollibee crew, shared on his Facebook page:
ALSO READ: Jollibee Opens in City Center Deira
Interestingly, this is not the first time that Khalid Al Ameri posted a video related to Filipinos. During a visit to the Philippines, he shared about why Pinoys smile. In another post, he even defended overseas Filipino workers (OFWs) from Kuwaiti blogger Sondos Al Qattan, who was criticized for saying that domestic workers shouldn't have days off.