In one of our previous posts, we have featured a Filipina, Feby Baguisa-Dela Pena, who prepares free meals to help her community in Dubai during these difficult times. This genuine act of kindness has drawn the attention and respect of many people in the UAE and all over the world including Emirati vlogger, Khalid Al Ameri.   
Also Read: [WATCH] Emirati Vlogger Khalid Al Ameri Plans Surprise for Filipina Nanny and Visits Her Hometown
Hearing about what Feby and her team are doing, Khalid decided to meet them in person and to give them a big surprise. Continue reading below to find out about Khalid's special surprise!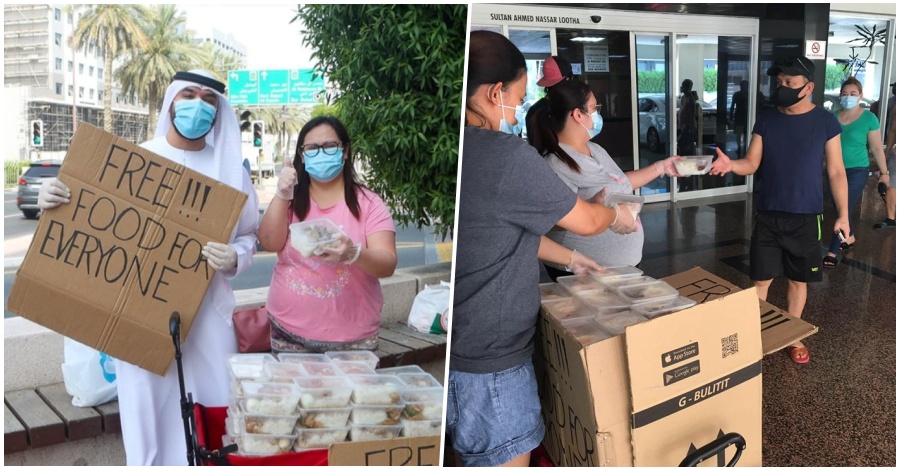 [VIDEO] Kind-Hearted Filipina Gets a Surprise Visit from Emirati Vlogger Khalid Al Ameri in Dubai
Despite being jobless and raising a family with three young kids, Feby did not hesitate to help her fellow residents in Dubai who are also struggling during these times. 
In her small way, Feby selflessly offered her time, energy, and a portion of their family's resources to feed people who are in greater need than them. Read more about Feby's story here.
Because of this, people in the UAE as well as back in the Philippines are showing their support to Feby and her team, and are also sharing what they can to help others.  
Khalid Al Ameri, for his part, decided to pay them a surprise visit, so that he could meet the Filipina who's been making waves on the news and all over social media for her charitable work in Dubai.
In the video, the surprise on Feby's face was very evident when she saw Khalid Al Ameri right in front of her doorstep. She invited Khalid and his team into her house and showed them her small kitchen where she prepares the food she will share with the residents in their area.
Feby showed Khalid how she prepares one of her staple dishes, chicken adobo with egg and rice, which she prepares for hundreds of people every day.
According to Feby, her chicken adobo is very simple to make, but she prepares it with love. 
Khalid spent some time with Feby and her kids as they prepare the packed meals that they will distribute later that day. 
As they were preparing the meals, Khalid asked her why she chose to help others when she has her own family to take care of during these difficult times.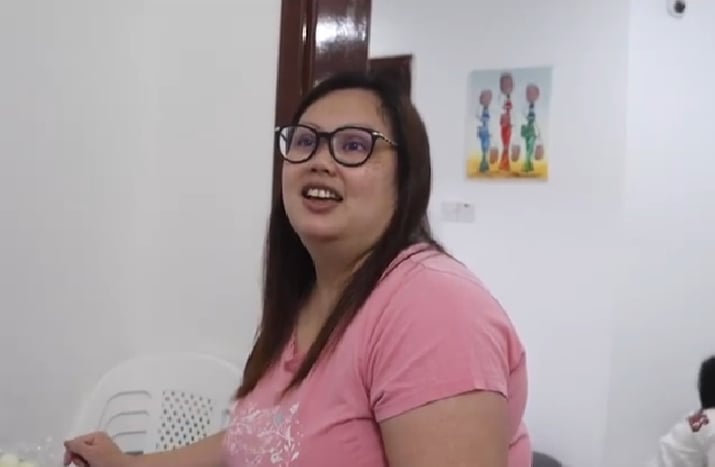 And without thinking too hard about it, Feby replied: "I don't believe that you have to be rich to help others," with a warm smile on her face, she added, "Whatever you have in your own house, in your own pocket, you can share it. Even [if only] just a portion of it."
Just a little after lunchtime, Khalid joined Feby and her team as they went out of their apartment to distribute the packed meals to the residents in the area. 
What Khalid saw right then was a long line of people of various nationalities ready to receive the food that Feby prepared for them. 
Khalid said that this is the beauty of living in Dubai, where people from all over the world join hands together and support each other regardless of race, gender, and status in life. 
To show his appreciation for the service that Feby and her team are doing for the residents of Dubai, he pulled Feby and JP aside to hand them a very special surprise – a whopping AED 10,000!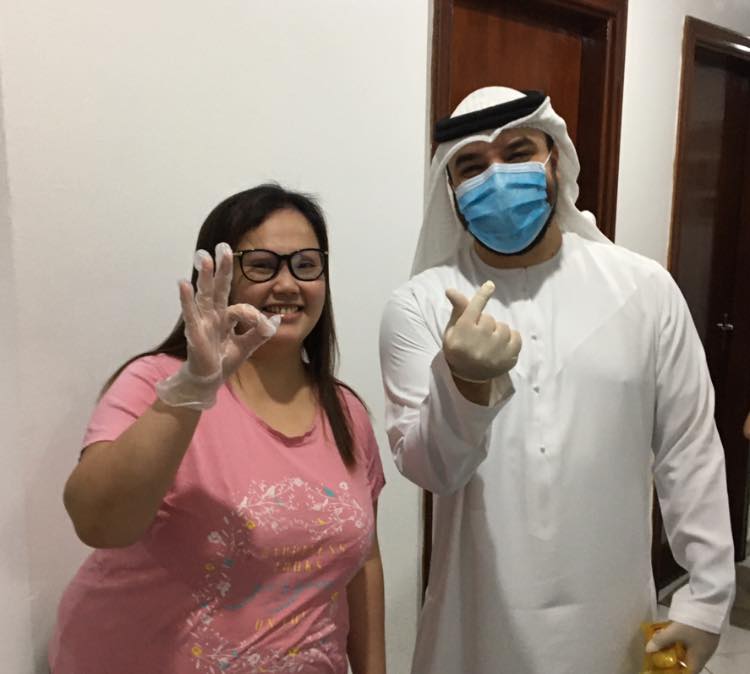 The couple was pleasantly surprised and they were very grateful for the generous gesture that Khalid did, in support of their effort.
Catch the full video below as shared by Khalid Al Ameri via his Facebook page:      
ALSO READ: Positive Stories in Times of Crisis via Amicable Barter Community in Dubai – ABCD Facebook Group