Amid the crisis the world is experiencing right now, there are people creating opportunities and launching efforts to help others in whatever capacity they have to uplift them in their situation. And this is exactly what the expat community in Dubai is doing through the use of social media platforms and their connections within the community to help others who are experiencing hunger and poverty during this challenging period. 
The Amicable Barter Community in Dubai (ABCD) is a fast-growing Facebook Group where it celebrates the spirit of giving and helping the community. It is an avenue where people can trade their items to other members. Most of the members are trading their valuables in exchange for groceries to help out other people who have been left jobless and are in need of basic items like rice, food, etc.
Designer Bags for a Sack of Rice to Help the Needy – Trade Pre-Loved Items for Essential Goods in Facebook Barter-Trade Group
The efforts being made by the Dubai expat community on Facebook takes us back to the good 'ole days when everything was much simpler and exchanging goods or items was the common way of acquiring basic commodities and other essentials. 
This online community known as Amicable Barter Community in Dubai (ABCD) was founded by Filipino HR professional and life coach Lou Olvido-Parroco and her husband Cesar Rocky Parroco on May 22. To say that their effort was a success is an understatement as within 48 hours, the group had already gained over 1,000 members, as shared in a report by the Khaleej Times. Currently, the group has over 50,000 Members.
According to Lou, "To some, this may just be another online platform to make value of items they sifted out after decluttering – but, to others, especially to those who are financially tight after losing a job, the group can be a channel where they can obtain rice or grocery items to feed their family by bartering a favorite watch, bag or any other item in their possession."
She further explains, "Through this platform, people can meet their needs without losing their sense of dignity, because they do not need to beg – just barter."
However, Lou acknowledged that organizing a barter community is not really a novel idea as there are several such communities in existence around the world.
She also shared that the idea to initiate an online fraternity in the UAE came after she organized a live bartering program on Facebook in April.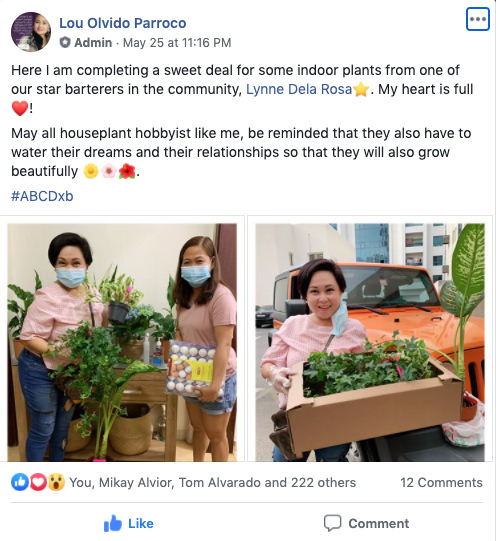 "I offered to trade some of my favorite branded items – including three Louis Vuitton bags, one limited-edition Burberry bag, and one Van Cleef & Arpels accessory – in exchange for sacks of rice to be sent to needy families in the Philippines who were severely affected by the sudden lockdown," Lou said.
Seeing how this initiative received overwhelming support and saw more than "700 families in the Philippines" receive rice supplies, the idea to begin a local bartering community was born.
Since its first week of activity, the group has facilitated closing several deals successfully – including a pink guitar bartered for five bags of 5kg rice, a wall décor hanging in exchange for a basket of fruits, a Juicy Couture summer dress for groceries, and even a bottle of pickled papaya for a can of cooked meat.
Aside from practicing fair and smart trading, members are also reminded to exercise due diligence and follow strict safety protocols in every transaction, including wearing face masks, maintaining social distancing, washing their hands thoroughly, and disinfecting any items they receive thoroughly.
As of now, the majority of the group members are Filipino, but the group administrators are hoping to see its audience grow into a more diverse base moving forward. 
ALSO READ: PCG-Dubai Donates 50,000 Meals to Residents Affected by COVID-19