During these unprecedented times, we see either the best or worst in people. And for Filipinos living abroad, who can only depend on themselves because their families are not with them, the situation can test their grit, patience, and determination to survive. On the other hand, the pandemic also creates new opportunities for people who have the means and are willing to extend help to those in need.
ALSO READ: Positive Stories in Times of Crisis via Amicable Barter Community in Dubai – ABCD Facebook Group 
Such is the case of a Filipina vlogger based in the UAE, Angellie Marie Autentico, who is popularly known among her social media followers as Madam Wakwak, who transformed her SUV into a caravan of relief goods that goes around the UAE to help her fellow OFWs.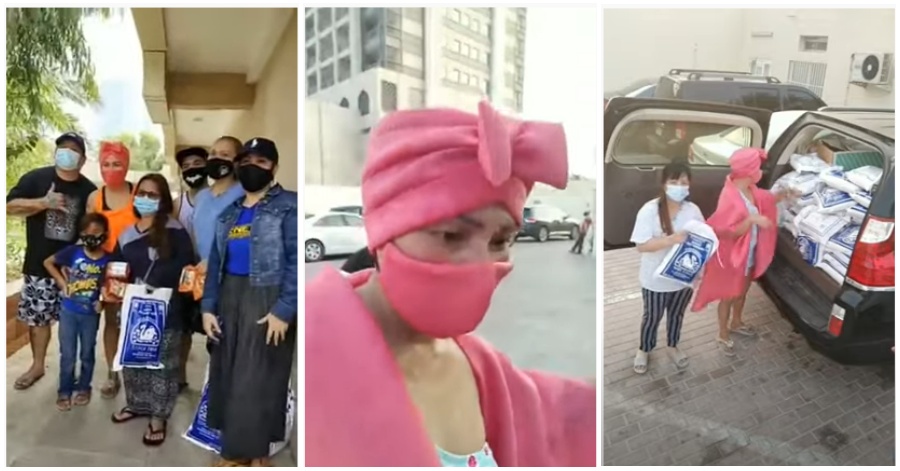 UAE-based Pinay Converts Car into Relief Caravan in Aid of OFWs in Need 
Last Thursday, August 13, she has spent her first YouTube earnings worth AED 4,514 (approx. Php 59,000) on bags of rice and packs of noodles for several Filipino families residing in Ajman.
She has documented the distribution of her relief goods, loaded in her car trunk, at a parking lot of a hotel in the emirate in one of her latest YouTube videos. 
Among those who benefited from Madam Wakwak's relief caravan were a restaurant staff and a factory worker who lost their jobs during the pandemic. 
Check out Pinay UAE vlogger, Madam Wakwak's post here:
In the video, Madam Wakwak said, "Inuuna natin ang mga OFW para magkaroon sila ng strength. Kasi kung wala na silang strength, hindi narin sila makapagpadala dyan sa mga pamilya nila sa Pilipinas. (We are prioritizing our OFWs to help them regain strength. Because when they lose their strength, they can no longer provide for their families back in the Philippines.)"
Because of the Pinay's kind and inspiring initiative, netizens showered her with praises in the comment section of the video she posted on her YouTube page.
According to Autentico, who is a native of Bohol, she is planning to give out free 5kg bags of rice to 300 more OFWs.
She will also be driving to Sharjah in the coming days to extend aid to to her fellow kababayans in need.
Meanwhile, Madam Wakwak urges those who are seeking help to reserve the food assistance to Filipinos who have lost their jobs.
Autentico understands the importance of work among OFWs during these times and shares this message to her kababayan in the UAE: "Whatever situation they're in, they just have to keep pushing and floating, because we already know what's the end this—this too shall pass."
"Just have faith and don't stop in finding ways to survive and to keep afloat. The bottom line is God is in control. In the meantime, while God is working on our situation and our purpose, we shouldn't stop doing our part," the Filipino added.
We salute you, Madam Wakwak, for your noble initiative! We hope that you continue to inspire more people through your work and achievements so that you can be a blessing to more and more people, especially to our kababayan in the UAE!
ALSO READ: [WATCH] Emirati Vlogger Khalid Al Ameri Surprises Filipina Who Cooks Free Meals for the Community in Dubai