A fire broke out in an apartment residence opposite an Al Ghurair mall at around noon on Monday (October 9). Officials who were at the scene of the incident revealed that there were no casualties affected by the incident. 
According to authorities the fire reportedly broke out from an AC unit on the fourth floor of the said building. The apartment was apparently being shared by a group of bachelors who were mostly from Pakistan and India.  Fortunately, the fire alarm was able to go off, giving residents and authorities enough time to act accordingly.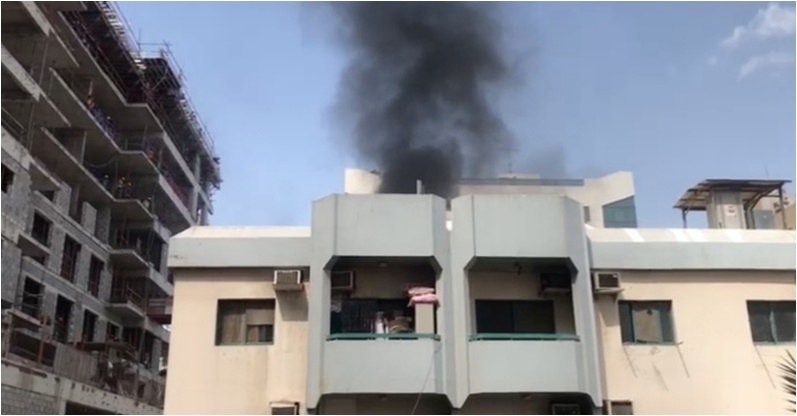 Minor Fire Breaks Out in Dubai Apartment, No Casualties Reported
Among the residents of the building, "Mary G", a Filipina who lived on the same floor with her family, was seen standing outside the building with her one-year-old in her one hand and some diapers in the other, as shared in a report by the Khaleej Times. 
Mary recounted that she had just given a shower to her baby when she smelled smoke and something burning, shortly after the building alarm went off. 
"When I opened the door, I saw black smoke billowing out of the flat opposite to mine. I got so scared that I just grabbed my baby and rushed out. I know some bachelors were living in that apartment but don't know the exact cause of the fire. I hope our belongings are safe," she said.
In less than 15 minutes after the fire broke out, a number of ambulances, police patrol vehicles, and fire engines came rushing to the scene and helped residents safely evacuate the building.
A civil defense official confirmed that the minor blaze in the balcony of a flat had been contained effectively within 15 minutes and that no injuries were reported.
As many foreign residents share accommodation in places such as Dubai, it's important that we look after our own place so that incidents such as these can be prevented, and to avoid the unnecessary loss or damage to properties, more importantly, lives.
Since the summer season is already over, it would be smart to have appliances such as AC units and power sockets checked and to have them repaired as soon as possible. If cohabiting with other people, remember to look after your own place during and after you use it, and to inform housing authorities if something is amiss or needs to be further looked into.
ALSO READ: Child Safety Council Warns Against Posting Sensitive Information