I have been having problems with my flat foot which causes me to suffer from foot pain and fatigue. To alleviate this problem I bought arch support orthotics insoles online in Dubai. Here in Dubai, the easiest place to buy some affordable but good-quality insoles are online via Amazon.ae (BUY FLAT FOOT INSOLES HERE).
There are some orthopedic stores in Dubai that sell orthotic insoles, however, they're a bit expensive. Since I'm just looking for some good quality insoles that offer arch and heel support, I've decided to buy them online.
While there are a number of podiatry centers (foot care specialists) available in Dubai, I've been simply looking for a generic foot orthotic that I can use for everyday wear. The reason is that I've been using insoles for more than 10 years already and I need a generic insole product to replace my old ones.
Check Arch Support Insoles for Flat Feet Here
Buying Cheap but Quality Orthotics Dubai Online
If you don't have the time or money to visit one of these stores, then you can also buy cheap flat foot insoles online. There are a number of websites that sell generic orthopedic insoles at discounted prices. For example, Amazon.ae offers a wide selection of arch support orthotics for both men and women at really affordable prices.
The orthotics are not gel-type insoles you insert to add cushion on the feet, I'm talking about heavy-duty hard insoles that have an arch support to lift the falling feet and keep them in the correct posture.
Check Arch Support Insoles for Flat Feet Here
What is Plantar Fasciitis / Flat Foot?
Plantar Fasciitis is a condition where the foot arch flattens and causes pain when standing or walking. It can be caused by regular wearing of ill-fitting footwear, standing for long periods of time, or being overweight. The resulting heel pain can range from mild to severe and may limit activity levels if not addressed properly.
This is where the insoles come into place. Again, these insoles are NOT gel-type cushions, but hard EVA-material where it helps align your foot so that it doesn't fall and prevents it to become flat.
This insole helps in preventing plantar fasciitis and other foot ailments caused because there is no stability on your feet.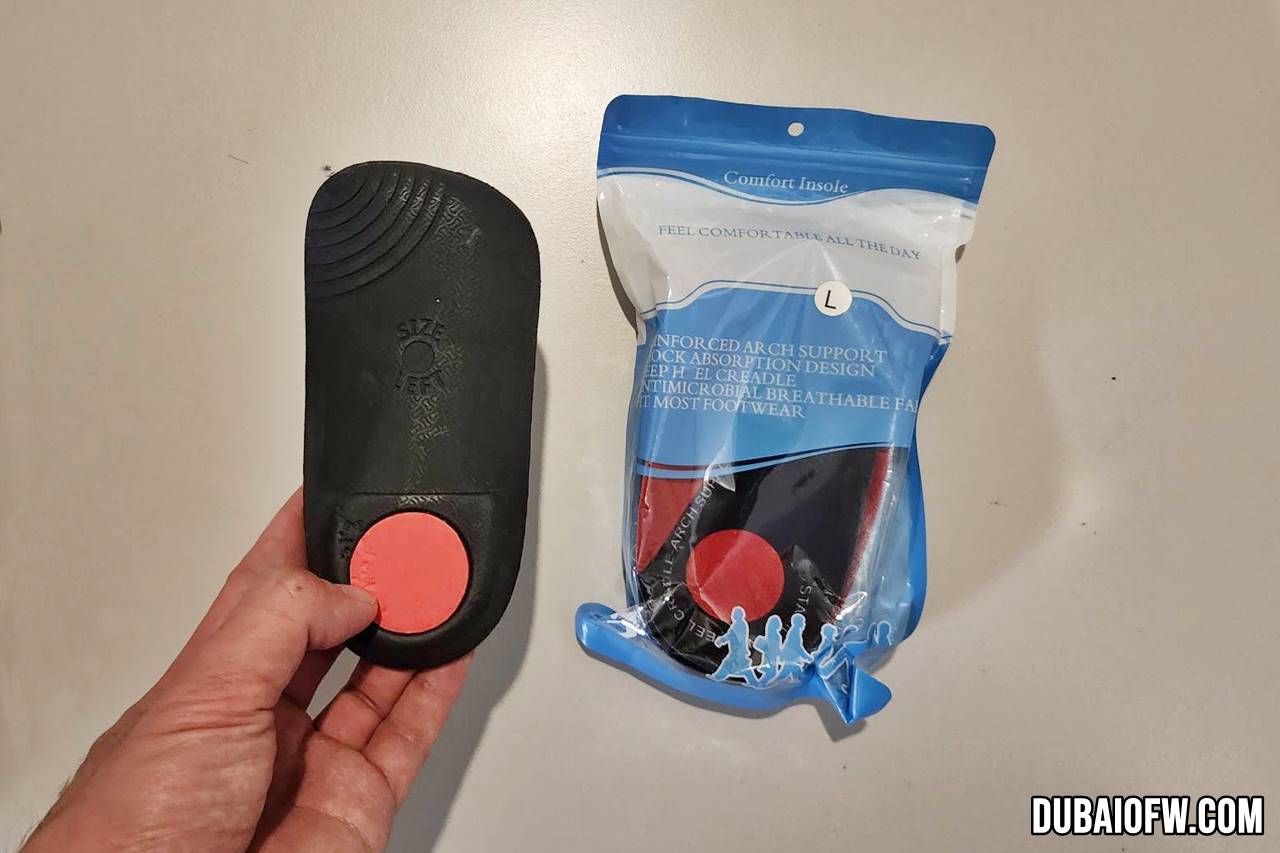 My Amazon.ae Purchase
I ordered a size Large (L) insole and was very happy with the purchase. The insoles have good arch support and also provide heel cushioning. They are lightweight and comfortable, and the best part is that they didn't break the bank. I'd definitely recommend them to anyone who needs orthopedic insoles in Dubai.
In conclusion, if you're looking for a good quality yet affordable orthotic insole in Dubai, then online stores like Amazon.ae are your best bet! Not only do they offer flat foot insoles at discounted prices but their delivery time is also very quick! So go ahead – check out the link above to get started on relieving your foot pain today!
Check Arch Support Insoles for Flat Feet Here
Note: Please check with a dedicated podiatrist for your medical needs. I have already talked to a podiatrist beforehand and have used these insoles for more than 10 years so I know the type of generic arch support insoles that I needed to buy online.