Probably the most asked question by newcomers or travellers to Dubai is "what do I wear?" Do I need to cover my hair? "Can I wear a bikini on the beach or at the water park in Dubai? "Can I wear a short dress to the shopping mall in Abu Dhabi?" Women are usually the ones who seek advice, but men should also get information about the local habits as they too might need to wear long pants, shirts and closed shoes on some occasions.
Dubai is very relaxed and open when it comes to clothing, and therefore the public is very international, so is the clothing. You will see people wearing all sorts of imaginable clothing – from short and sleeveless t-shirts to Burgas. But do not forget that it is a Muslim country, and you are a visitor.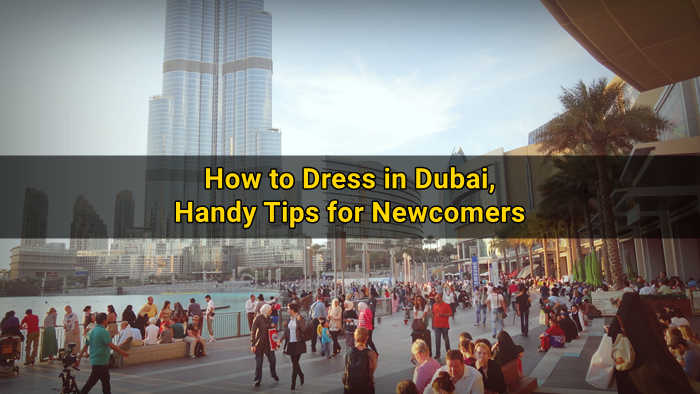 Dress Code in Dubai: Tips for Travellers
If this is your first time to travel to Dubai, please be guided as we outline some tips on how to dress appropriately in the emirate, depending on the location.
The Dress Code At Dubai Hotels, Restaurants And Shopping Malls – Most shopping malls, restaurants and hotels in Dubai ask for a "modest" dress from customer and advice to cover the knees and shoulder, but we saw many people who didn't fit this description, and no one seems to be bothered. As long as you stay in high tourist places (hotels, shopping malls), you can pretty much wear what you want. The Rules can be enforced more strictly during Ramadan, so keep that in mind.
What To Wear At The Beach, Swimming Pools And Water Parks In Dubai – Any beachwear from bikini to full cover Islamic swimsuits are allowed at all pools, beaches, and water parks such as Aqua venture Water Park at Atlantis, The Palm. The only rule is no nudity.
What To Wear On Dubai Desert Safari – One of the most popular tourist activities outside the city to visit the desert. I would recommend wearing trousers, shorts or Capri pants (not skirts or miniskirts) and shirt or blouse. It is usually hot in the desert, but it was very cold during December. In the winter, get a sweater or even a jacket because it does get cold in the evening. Sandals or closed shoes – depends on your preference.
Clothing Advice For Abu Dhabi And The Other Emirates – We haven't been to the Emirates, but we have heard that Abu Dhabi is already much more conservative than Dubai, and people are often stared at when they are dressed the way we do in the west. That makes me think that all other Emirates are even more traditional. From what we understand, Dubai is far more tolerant than the seven United Arab Emirates, so keep in mind when travelling outside of Dubai.
Do You Need Warm Clothes In Dubai? – Normally, you just need summer clothes and Skechers in Dubai. A thin sweater can be comfortable for some cooler evenings in the winter or inside the malls. In December, when we visited, the malls were air-conditioned, but not so cold that you would need a sweater. It is said it might be different in the warmer seasons and you may need to take a thin sweater with you if you like shopping – Just in case the AC works too hard.
————
Let these tips guide you in dressing appropriately. Again, Dubai is an open city so as they tolerate expats to wear conservative clothing, we should abide by their rules and laws.
---
About the Author: Rachel Stinson


Rachel Stinson has always had a knack for writing, food, fashion, and sports especially Golf. Blogging has combined all four for her with an added bonus of enthusiastic audiences. She expertly analyzes real estates, restaurants and online fashion stores with respect to pricing and people involved and can express her opinions in an unhesitant, engaging manner for all matters.