The couch is both a practical and a decorative furniture. In order for it to function well in a living room, it must have adequately cared for.
However, removing current stains is not enough – it is equally important to systematically clean the sofa upholstery with a good vacuum cleaner and proven detergents.
The couch is an essential element of home furnishings. It stands in the living room most often, where we not only spend our free time but also receive guests.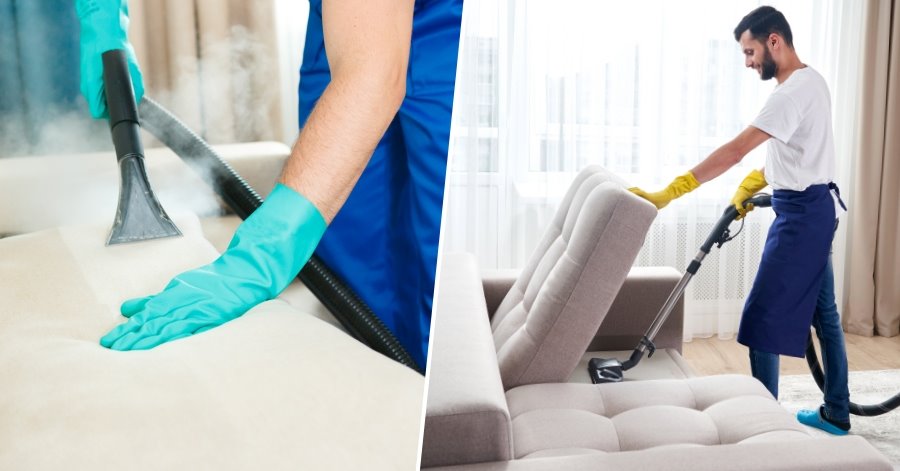 As it has a representative function, it must be neat, clean, fresh, and well-groomed. Unfortunately, both the corner sofas and the fold-out sofas get dirty after some time, especially if there are children or pets in the house.
A key element of caring for this type of furniture in Dubai is the regular cleaning of upholstery, regardless of whether it is made of fabric or leather.
Cleaning a Sofa With Fabric Upholstery
When considering how to clean the couch, pay attention to what material it is made of. In the most common upholstery made of velour and cotton, the cleaning rules are similar.
Always start cleaning the fabric couch with a thorough vacuuming. Thanks to this, we will get rid of dust and invisible mites, which can be too nuisance, especially for allergy sufferers. Dry cleaning should, therefore, be carried out at least once a week.
How to refresh a fabric sofa?
The key to success is the right upholstery cleaning equipment. The 2-in-1 cordless vacuum cleaner with a handheld module will work best.
Such equipment is exceptionally light and handy, which significantly facilitates cleaning. Thanks to the appropriate end caps and the detachable hand part, you can easily reach every nook and cranny of both the corner and fold-out sofas.
Additionally, you can brush with a built-in LED bulb. It will help remove dust from even the smallest gaps.
However, if we do not have such equipment, we can use a classic vacuum cleaner with a bag or a bagless model. The most important thing is that the device is equipped with a set of appropriate filters, such as a HEPA or a Hygiene + bag.
Thanks to such advanced technology, the vacuum cleaner will easily remove dust and dust, hair, animal hair, and mites, and neutralize bad smells. In this way, the sofa in the living room will look and smell like new. Besides, a good vacuum cleaner should have a special nozzle adapted to upholstered surfaces, facilitating the cleaning process.
After cleaning upholstered furniture with a vacuum cleaner, it is worth wiping it with a damp cloth. A home way to refresh the couch is to spread a damp sheet over it and toss it gently with a carpet beater.
If there are stains on the sofa, get rid of them immediately. How to clean a fabric sofa? In this case, you can use a damp cloth with washing-up liquid, carpet shampoo, or upholstered furniture cleaner. Home remedies are equally effective, such as using a solution of 10 g of citric acid and ½ Glass Of Water.
How to Clean Leather Upholstery?
The leather couch is a bit more demanding piece of furniture. Even so, the basics of cleaning are very similar.
Cleaning the leather upholstery should be started again by vacuuming it, e.g., with a bagless or cordless device. The next step is to wash it and moisturize it – for this purpose, you can use proven chemicals, preferably recommended by the manufacturer or a trusted leather furniture upholsterer. These detergents will work well to remove light dirt and wine, coffee, tea, and fat, and sauces.
There are also home remedy methods to clean the leather on the couch. In the case of light dirt, it is worth using a cloth soaked in water with dissolved soap flakes. Gently wipe the leather sofa with it and then let it dry. When the upholstery is dry, moisten it with plain olive oil or linseed oil, applied in circular motions with a dry cloth.
Citric acid also helps with some stains. It can deal with coffee and mayonnaise, and even tea. You can also try to use chemicals that can be found in every supermarket. The selected products can bring the desired results, provided that they are used in the right way.