Meet Honey, a senior head mixologist and pre-opening supervisor for a restaurant that is opening very soon in Business Bay area – Cuisinero Uno. Honey studied Computer Science in college but accidentally got into the Food and Beverage industry. Last 2015, she won a gold medal award in a beverage competition at the SIAL Middle East, competing with other bartenders from other hotels in the region. She's been in Dubai for more than 4 years now.
One of the greatest battles of Filipino expats is being away from family. Honey is no different as she is a single mother trying to support herself and her daughter in the Philippines. It's very difficult to fight loneliness especially during special occasions when we are not with our loved ones. Despite this, she remains strong and keeps in mind that she wants to provide the best for her daughter and send her to a good school.
One of the things to note about our interview is that Honey is very grateful to her mentors who have paved the way for her to accomplish what she has achieved now. This is also a good lesson to us expats, to find people in our industries that can help us become better versions of ourselves. Read through the rest of our interview below.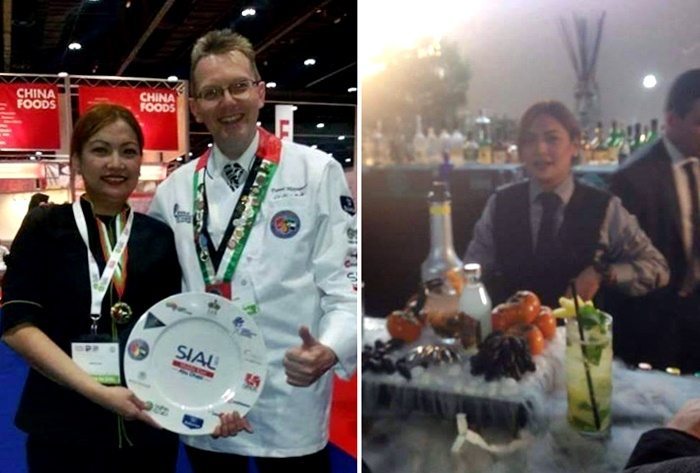 OFW Profile: Honey Dela Cruz, Senior Head Mixologist in Dubai
Nickname: Honey
Age: 38
Current Profession: Pre-opening Supervisor/Senior Head Mixologist
College course: Bachelor of Science Major in Computer Science
How many years in Dubai? 4 years and 4 months
1. Tell me about yourself.
You can simply call me Honey, 38 yrs old and currently employed as a Pre-opening Supervisor/Senior Head Mixologist, at soon to be open tapas bar, Cuisino Uno, I studied at STI College and took Bachelor of Science Major in Computer Science and I've been in Dubai for 4 years and 4 months now.
2. Why did you come to Dubai?
Depression to begin and bring my life back. And save money for so many reasons.
3. What were your previous jobs?
I had a few jobs before working in the F&B industry. I was as an Assistant Office Staff at a company buying and selling hardware and software products. I was promoted to Logistics Officer and then further, as Marketing and Purchasing Officer. I switched careers and worked as an Executive Legal Secretary.
I moved to the Food and beverage industry by accident and I became a preopening bartender at bar and lounge in Manila. I was lucky to have a good mentor (Mr. Alexander Pastrana) who taught me about this industry. This experience paved the way for me to land a job in Dubai working for the world's tallest hotel and biggest hotel chain in the world as a preopening bartender/barista.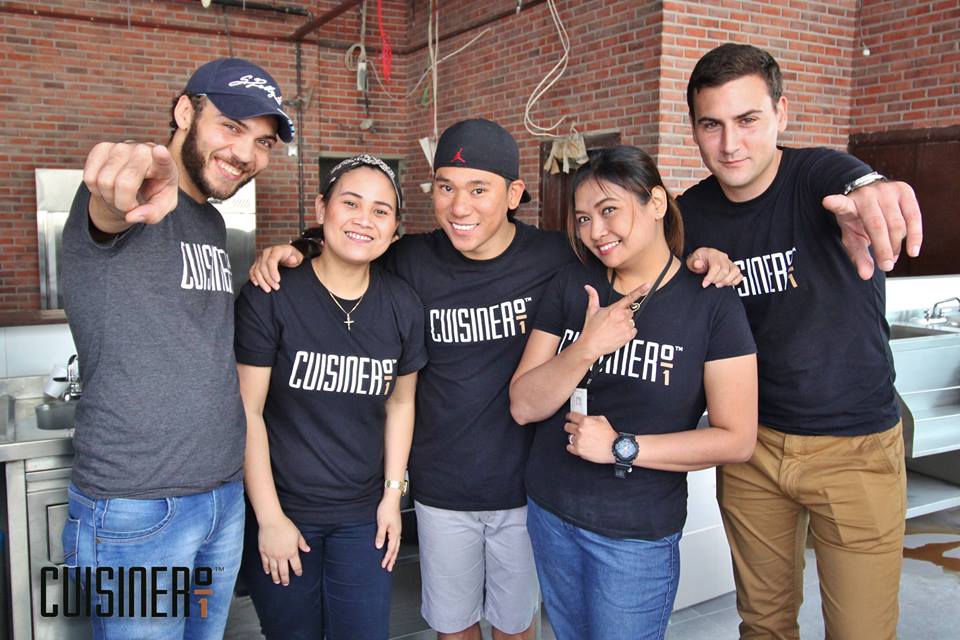 4. How do you find your current job? Are you happy/satisfied with it?
I met Chef John Buenventura, a multi-awarded chef, and he offered me a job. Yes, I'm certainly happy and satisfied as I'm looking forward to lead my team in my most rewarding career.
5. Are you able to save in Dubai? Why/How?
Absolutes big Yes, not that much but I am very thankful to our almighty God. I also have responsibility to support my family back home.
6. Is it difficult to live in Dubai? What are/were your struggles?
Every day in my life is a blessing to me, but sometimes I get homesick as I live alone without any family/relatives. Homesickness kicks in especially when I get physically sick, or during special occasions like my birthday, Christmas, New Year, and birthdays of my daughters and loved ones. My daughter and family are my strength so I feel sad when I'm NOT with them during these events.
What I choose to keep in mind is to be thankful that I am healthy, I have a good job and friends around me to compensate for the loneliness I feel. The Company which is my job here is my immediate family. The staff and friends in this industry are the keys to my success. I am really glad to love my job as this happiness makes me accomplish my tasks everyday.
7. What do you Like about Dubai?
The fast-paced environment. That if you work hard, you will definitely succeed and move up in your career. Also the developments of the city in terms of technology, system and innovation. Meeting different persons of various cultures with their own personality and skills also helps in broadening our minds.
8. What do you NOT Like about Dubai?
I want to have a pet but it's not allowed (in my partitioned room) which is understandable due to the lack of space. Because if you plan to have a pet in Dubai, you must have your own apartment. Aside from this, nothing else.
9. What are your plans in your career/family/future?
I want to become like my mentors who have helped me in my career, Mr. Russell Sanchez (aka Maestro or Master), Chef John Buenaventura, CEO of Cuisinero Uno, and Mr. Alexander Pastrana of Relik Tapas Bar and Lounge. I plan on helping others be successful in their paths by sharing what I've learned in this industry.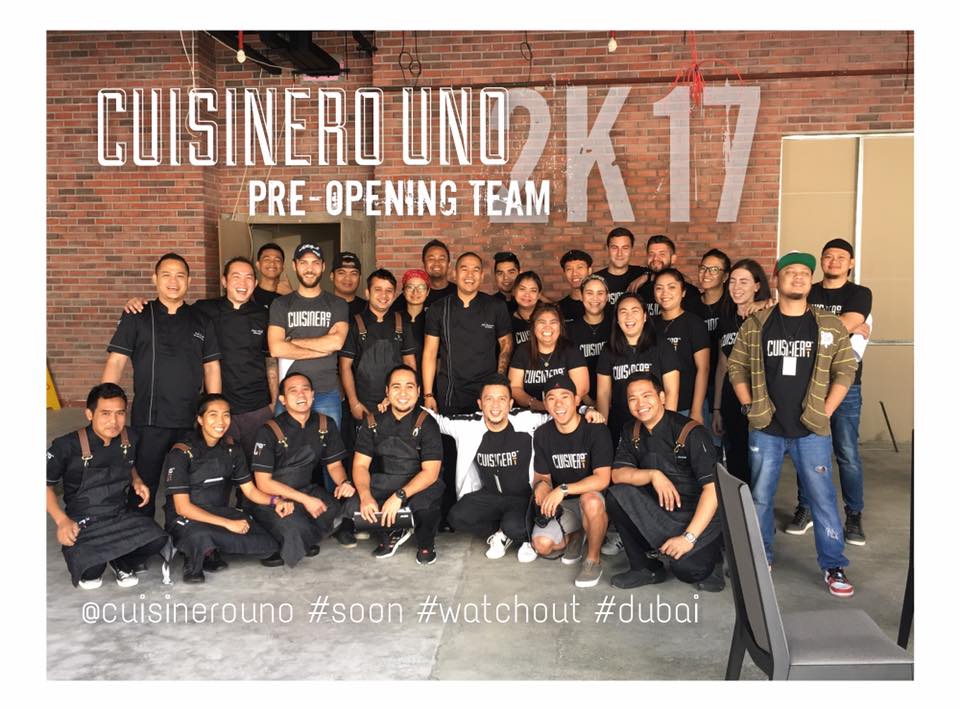 I aim to work hard so that my family will be proud of me. I want to become financially stable so I can provide a better life with my family and serve our church in various activities.
In this regard, I want to take this opportunity to thank my parents, my mom and my father in heaven, thank you for being your child and thought me everything how to deal with life and letting me deal my life as a single mother for almost 21 years.
10. You have any tips for Kabayans when working/finding work/living in Dubai?
Not only for Filipinos but to everyone. You can be successful if you accept and work hard in Dubai. Learn as you progress in your career. Whatever you may have in your past, you can choose to turn these negative thoughts into positive ones. As you are living in a different country, be a good player in life and follow rules. Take care of your health, physically and mentally to help you get by through your daily routine.=
Connect with Honey on Social Media:
Instagram: instagram.com/im.d.0ne
Facebook: facebook.com/honey.relik
—————————————
*Photos provided by Honey
Are you an Expat in Dubai? Do you want to be featured in the website? Send us an email telling us you want to be featured at admin@dubaiOFW.com and we will send you the set of questions! Let's help other Pinoys who want to come to Dubai understand what life in the UAE is like through your story.