Job alert for doctors that specialize in various field as well as nurses. Life Care Services are looking for qualified health care professionals and staff to be based in the Middle East.
Life Care Services launched its new project ''Careers-Health'' that specialize in providing competent and qualified medical staffs in Middle East. They are already supplying Doctors and Nurses in different polyclinics and hospitals all over UAE. At this time, they are continuously looking for Doctors on all specialization and Medical Center and Home Care Nurses to be based here in UAE.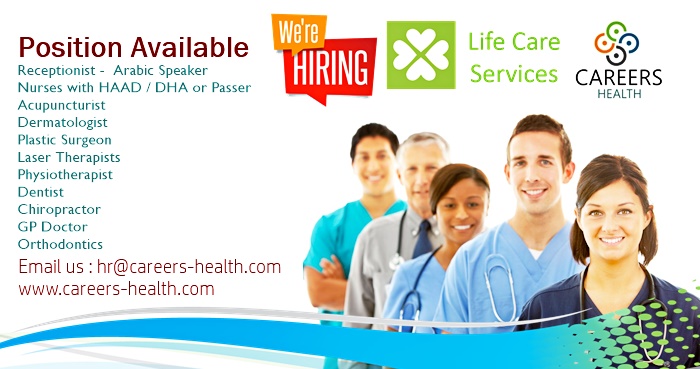 Job Alert by Life Care Services: Doctors and Nurses Wanted in UAE
Please check out the available job opportunities and requirements in the details below. Make sure you have the qualifications before sending your resume.
Doctors – Doctors with DHA or HAAD License and have experience working here in UAE.
Acupuncturist
Dermatologist
Plastic Surgeon
Laser therapists
Physiotherapist
Dentist
Chiropractor
GP Doctor
Orthodontics
Nurses in UAE – Registered Nurse with DHA or HAAD License and have experience working here in UAE
Female Nurses for Home Care in Al Ain – Registered Nurse with HAAD License/HAAD Passer
Nurse in Dubai with Receptionist Experience – Registered Nurse with DHA License and have a receptionist experience
How to Apply
For interested applicants, kindly email your CV at hr@careers-health.com
Visit and like our page for more job openings https://www.facebook.com/careershealthdubai/
Visit our website: careers-health.com