If authentic Japanese cooking is what you're after, then pay a visit to Kimura-Ya, a restaurant that will make you feel like you're right in "the land of the rising sun."
Located at the Oberoi Hotel in Business Bay, Dubai, Kimura-Ya is part of a popular chain originating from Tokyo, Japan. It is known for offering delicious food, exceptional service, and a truly "Japanese" dining experience for all its guests. Keep on reading to learn more!
Check out our experience at this restaurant in this video below:

Authentic Japanese Cuisine at Kimura-Ya in Oberoi Hotel Business Bay Dubai
Kimura-Ya is known for its hot pot, "shabu-shabu" feasts — tasty meat, vegetables, and mushrooms served and cooked right on the guests' tables. The place provides indoor seating as well as private dining areas, plus there's a full bar available. Yay!
As for the food, let's get right to it! You can start by sampling their Tsumami (appetizers), such as salted cabbage, marinated tuna, chilled tofu, and sliced octopus wasabi. Don't forget to try their sushi rolls (e.g. tempura roll, salmon roll, spicy tuna roll) and sashimi (e.g. yellow tail sashimi, octopus sashimi) as well.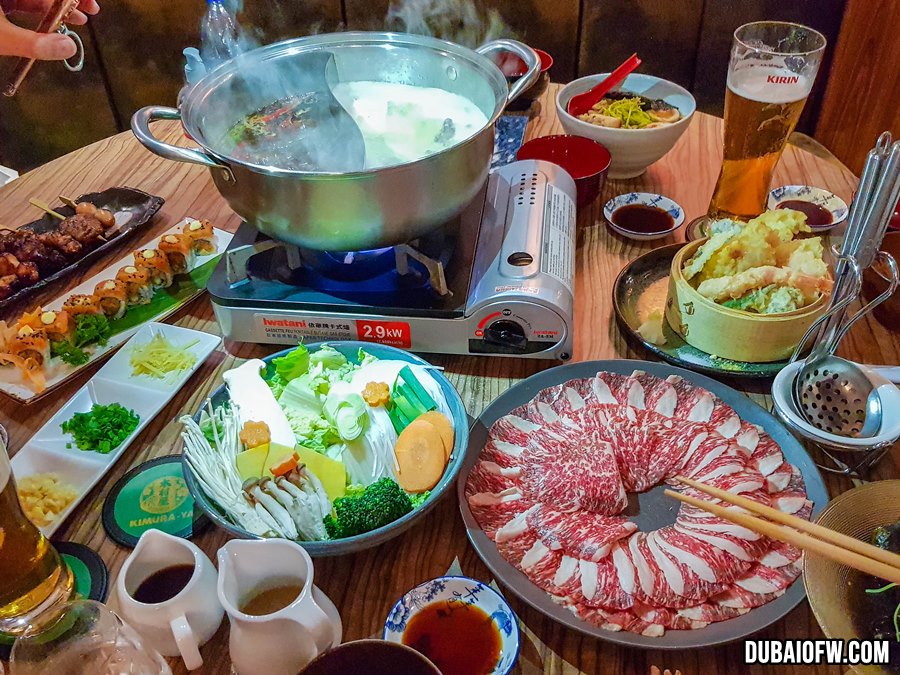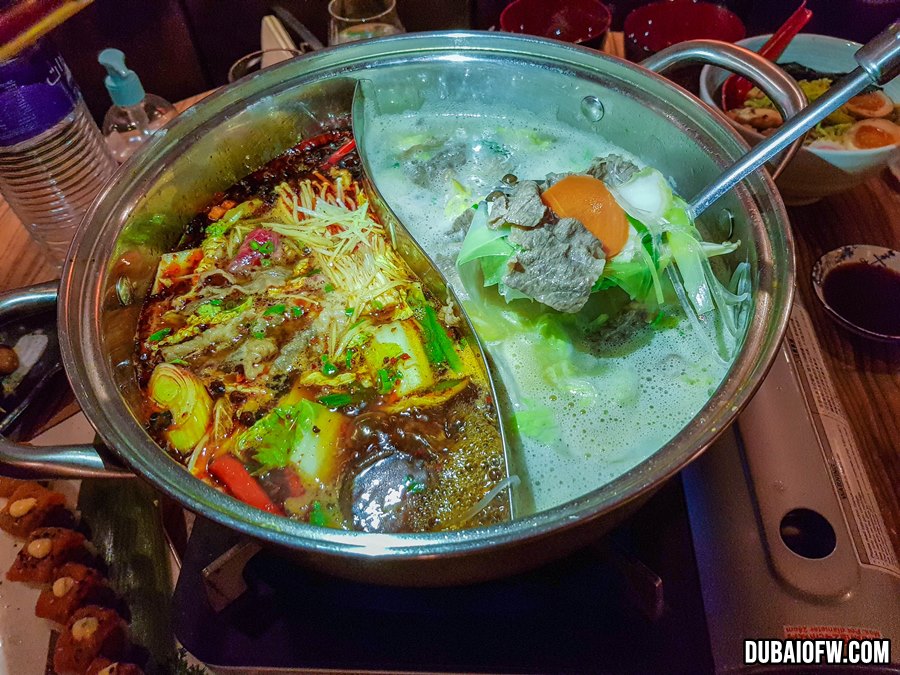 We've only just begun! Now how about some Yakitori? These are grilled chicken skewers served with different kinds of salt and sauces. Deep-fried Japanese food, a.k.a. "Tempura," are also on the menu, including shrimp tempura, vegetable tempura, and chicken tempura.
Of course, you shouldn't miss the Yakiniku (Japanese-style barbecue) offerings, specifically the wagyu (which may be thinly or thickly sliced), salted leek marinated wagyu, and the thickly-sliced tongue (!). Meanwhile, Japanese Ramen fans will definitely enjoy the restaurant's chicken shoyu ramen, spicy shrimp ramen, miso ramen, and other noodle dishes.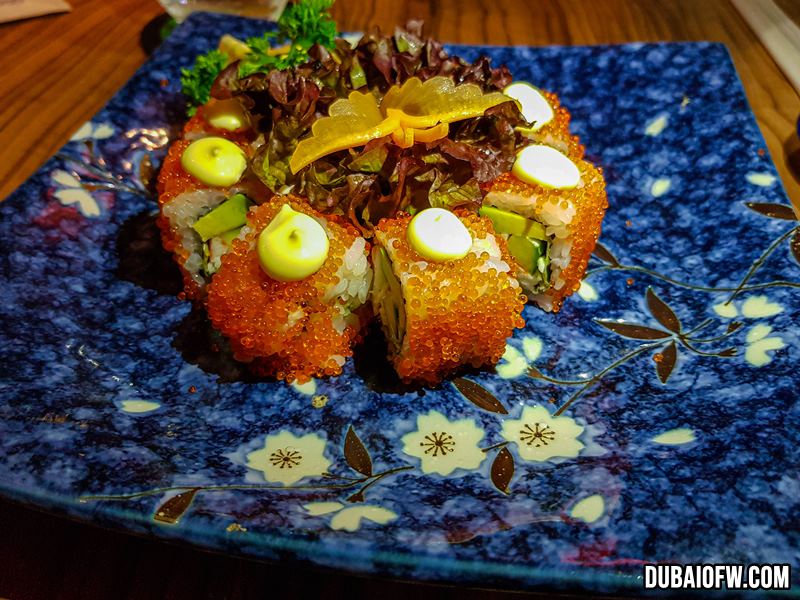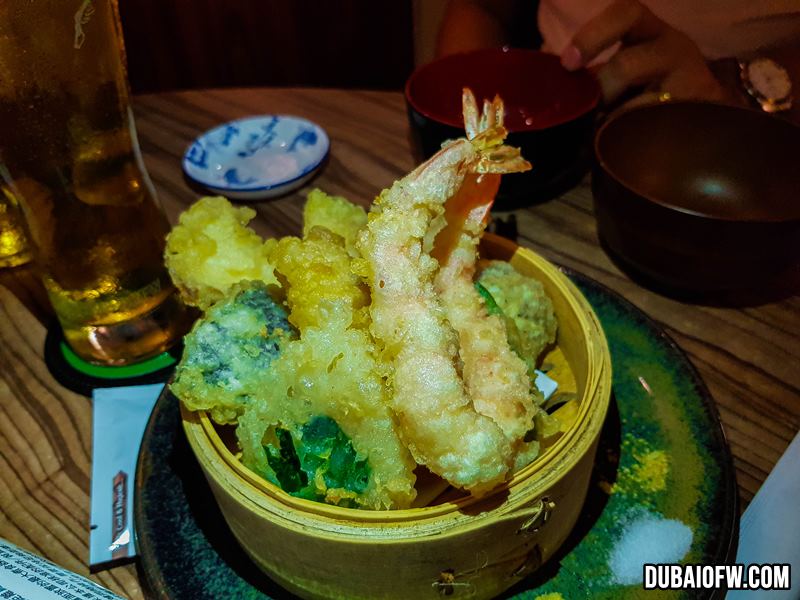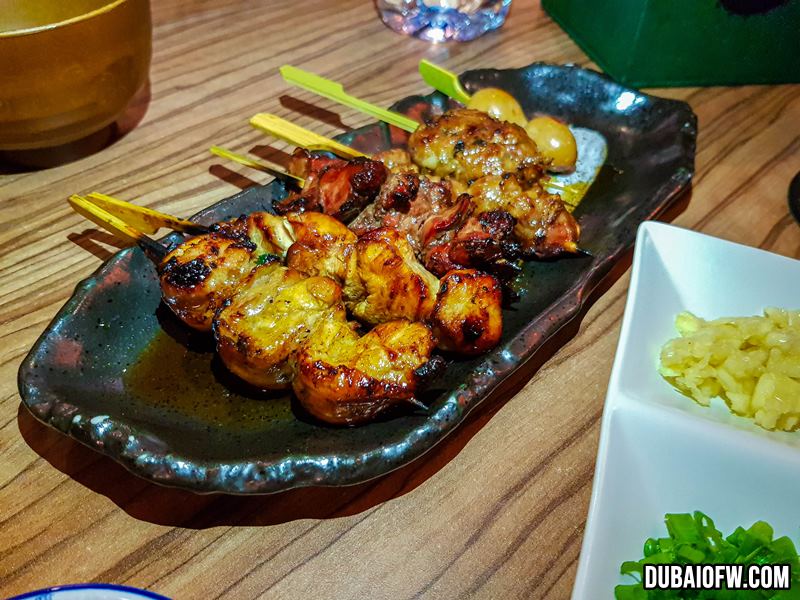 If you're a rice lover, don't worry because Kimura-Ya's menu includes Japanese fried rice, grilled rice ball, tempura rice bowl, and wagyu beef rice bowl, among other favourites. As for dessert, get ready to sample some Amaimono (Japanese sweets), such as black sesame ice cream, matcha ice cream, and the Kimura-Ya parfait. Yum!
Wash it all down with a glass of water, juice, or soft drinks, or enjoy a cup of coffee or tea. A wide selection of alcoholic beverages are also available: red wine, white wine, whiskey, classic cocktails, Japanese cocktails, and of course, the traditional Japanese sake (rice wine).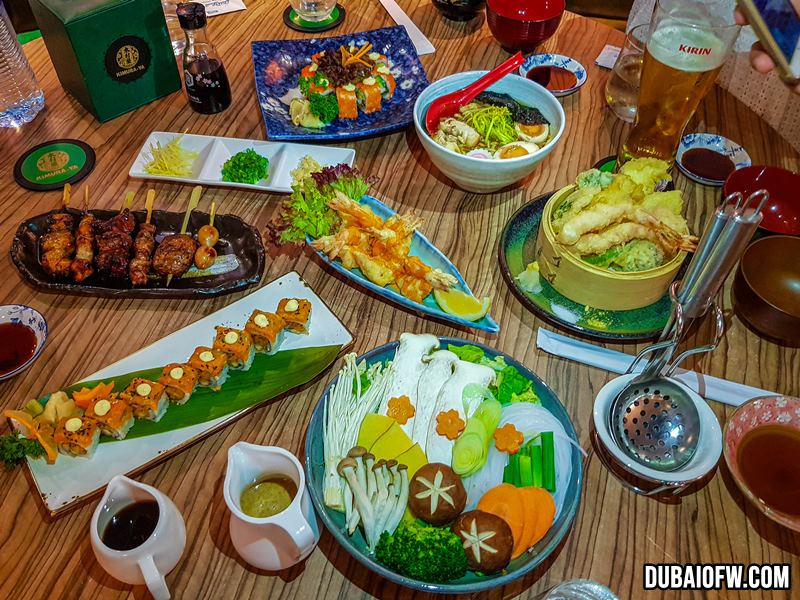 Opening Hours and Prices
Kimura-Ya is open daily, from 12:00 pm until 12:00 midnight. The average cost of a meal good for two is around AED 200, plus there are exciting promos throughout the week.
Every Sunday to Thursday, from 12:00 pm to 5:00 pm, the restaurant holds a "Weekday Lunch Promo," featuring a variety of dishes starting from AED 35, including soup, salad, and unlimited rice. Meanwhile, every Friday and Saturday, Kimura-Ya's delicious "Brunch" is available for AED 199 (without alcohol) or AED 399 (with alcohol) per person.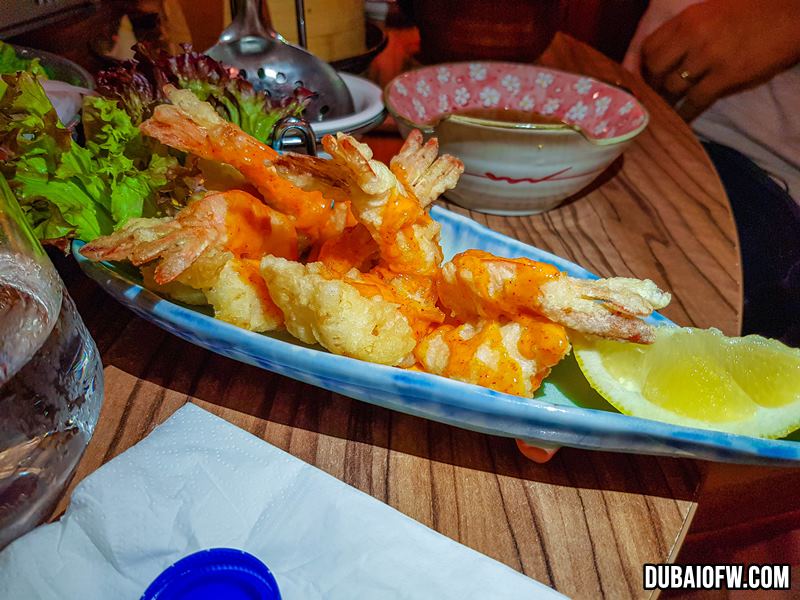 The restaurant also has an ongoing "Kabayan Promo." For just AED 50 per head, Filipino guests can enjoy a "shabu-shabu" (unlimited wagyu) feast, from 12:00 pm until 9:00 pm. This promo runs from September 21 to October 31, 2020.
Video: Kimura-Ya Restaurant
Here's a video of our visit to this authentic Japanese restaurant in Oberoi Hotel below:
Check out this video featuring the ongoing Kabayan Promo, as shared by the restaurant's official Facebook page:
Are you ready for an exciting hot pot experience with your family and friends? Just head to Kimura-Ya at the Oberoi Hotel in Business Bay. Don't forget to call in advance and make reservations. Moreover, keep in mind these
restaurant rules
for dining out, especially during these times.
19 Photos: Kimura-Ya Business Bay
Here are pictures of our experience at Kimura-Ya in Oberoi Hotel Business Bay:
Contact Information
Kimura-Ya Restaurant
Address: The Oberoi Hotel Dubai, The Oberoi Centre, Al A'amal St., Business Bay, Dubai, UAE
Telephone: +971 4 444 1455
Email: kimura-ya@kimuraya-dubai.com
Facebook: https://www.facebook.com/kimurayadubai/
Instagram: https://www.instagram.com/kimurayadubai/
Google Map Location
Here is the Google Map location of the restaurant: