To our kabayans, there is a job opening for a Membership & Database Executive by MECSC. The Middle East Council of Shopping Centres is a not for profit organization. The MECSC is The voice of the retail industry for retailers, shopping centre owners, management, service providers and all retail professionals in the Middle East, North Africa and beyond.
The job opportunity is for an applicant who will be based in Dubai. Below you can find more details and information about this opening. Please check it out below.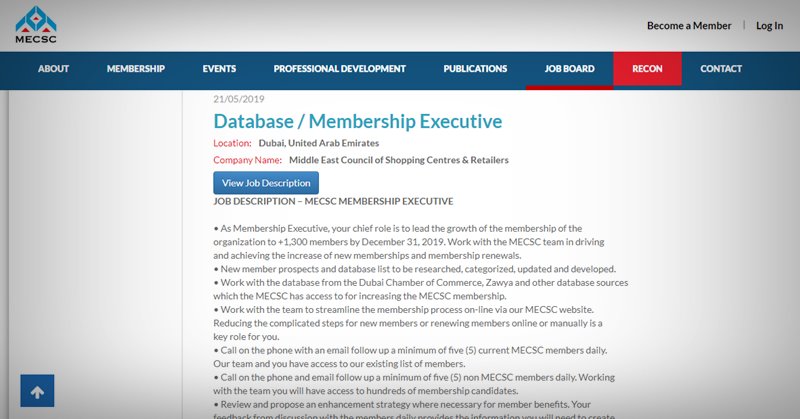 MECSC Membership Executive Job Opportunity – Male
Below are the qualifications and other requirements for this job opening.
Qualifications:
1. Very Good Communication and Negotiating Skills.
2. Knowledge of the Business and capable in understanding the customer needs.
3. BPO experience is a plus (Outbound and Inbound Calls)
4. Supervisory or Managerial Experience is a plus
5. Someone who is accustomed to dealing and negotiating with C-suite Level or VVIPs.
6. With Experience & Skills in Business Strategy, Sales & Marketing, Advertising and Finance Statement of his account and Project Management.
7. Expert in Reporting and Analysis of Data. (Also Web Savvy)
8. Proficient on MS Office, Web Marketing, Social Media Marketing, Writing.
Note: We are not looking for any prior educational background, as long as the experience and skills is there.
Job is open for FILIPINO only, Male is preferred.
To learn more about the job posting, you may also check it out here – https://mecsc.org/site/jobs
How to Apply:
Please send an email to: MECSCHiring@gmail.com
Disclaimer: Please be advised that this job posting is based on an email sent to us who wanted to share their listings. We are sharing this posting in our aim to help those who are looking for opportunities. Always be careful and double-check job listings online. Good luck!