Fujairah National Bank offers corporate banking, corporate banking, personal banking services along with commercial finance, treasury, cash management, precious metals and diamonds, and aid for Islamic banking.
Also read: National Bank of Fujairah Credit Card Benefits in UAE Types and How to Apply
The bank also offers a wide range of customized solutions ranging from machinery financing to Elham, a suite of Emirati businesswomen's banking services. The bank was the first traditional bank to enter Islamic financing network for Nasdaq Dubai's Islamic Murabaha in 2017. The bank's separate subsidiary, NBF Capital Limited, also provides advisory services.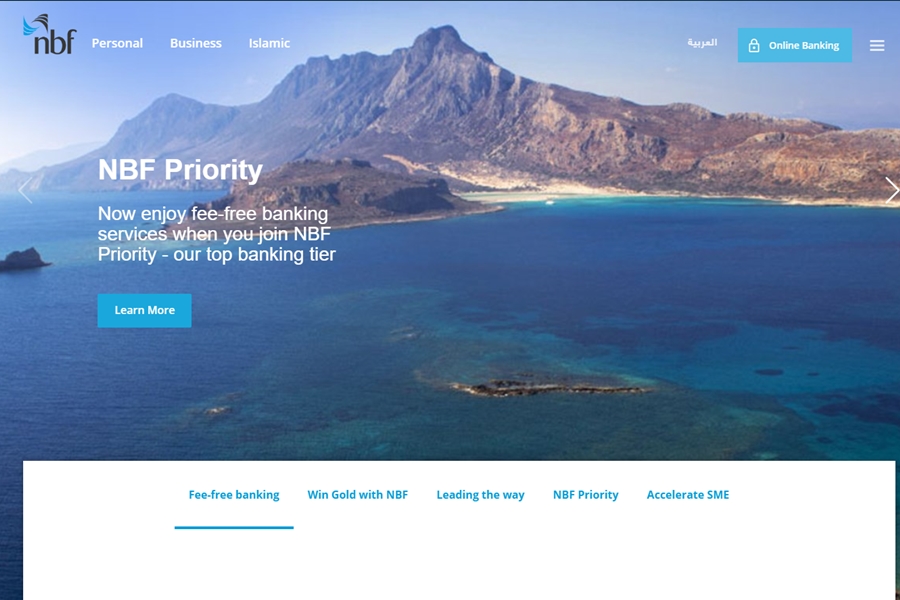 Emirates National Bank of Fujairah Branches and ATM Machines
Below are the list of Emirates National Bank found in UAE, including their address location. So it will be easier for you to check if the branch is in your area, please do a "CTRL+F" search on your keyboard and type the bank name or location.
Abu Dhabi Branch
Location: Showroom 2, Al Sawari Tower B, Corniche, Abu Dhabi PO Box 786, Abu Dhabi
Sat – Thu: 8:00 am – 3:00 pm
Tel: 600-565551
Fax: 02-6768503 / 02-6728362
Abu Hail Branch
Location: Al Zarouni Building Opposite Abu Hail Centre Abu Hail main road PO Box: 125841 Dubai
Sat – Thu: 8:00 am – 3:00 pm
Tel: 600-565551
Fax: 04-2216831
Al Ain Branch
Location: Royal Building, Ground Floor, Zayed Bin Sultan St. PO Box 88108, Al Ain
Sat – Thu: 8:00 am – 3:00 pm
Tel: 600-565551
Fax: 03-7648156
Al Quoz Branch
Location: Shop #14, The Curve Bldg., Next to Audi Showroom Sheikh Zayed Road Al Quoz, PO Box 126565, Dubai
Sat – Thu: 8:00 am – 3:00 pm
Tel: 600-565551
Fax: 04-3285494
Al Ras Branch
Location: Deira Waterfront Development Car Park Building #1 Al Dhagaya Street, Al Ras, Deira
Sat – Thu: 8:00 am – 3:00 pm & 3:30 pm – 8:00 pm
Tel: 600-565551
Fax: 09-2029426
Al Reef Branch
Location: Shop #10 Al Reef Downtown (near Starbucks)
Sat – Thu: 10:00 am – 8:00 pm
Tel: 02-6125791
Bur Dubai Branch
Location: Al Fujairah Building, Khalid Bin Al Waleed Street PO Box 2979, Dubai
Sat – Thu: 8:00 am – 3:00 pm
Tel: 600-565551
Fax: 04-3979100
Dibba Branch
Location: Sheikh Mohammed Bin Hamad Street PO Box 11700, Fujairah
Sat – Thu: 8:00 am – 1:00 pm
Tel: 600-565551
Fax: 09-2443785
Fujairah Branch
Location: Hamad Bin Abdullah Street PO Box 887, Fujairah
Sat – Thu: 8:00 am – 3:00 pm
Tel: 600-565551
Fax: 09-2227992
Fujairah City Centre Branch
Location: G012A, Fujairah City Centre P O Box 887, Fujairah
Sat – Thu: 10:00 am – 3:30 pm & 4:00 pm – 10:00 pm
Tel: 09-2029010
Fax: 09-2237550
Fujairah Court
Location: Sheikh Khalifa Bin Zayed Road
Sun – Thu: 7:30 am – 2:30 pm
Tel: 600-565551
Fujairah Free Zone Branch
Location: NBF Building, Fujairah Khorfakkan Road PO Box 887, Fujairah
Sat-Thurs 8:00-3:00
Tel: 600-565551
Fax: 09-2241047
Jebel Ali Branch
Location: NBF Building, Next to Etisalat, Jebel Ali PO Box 17676, Dubai
Sat – Thu: 8:00 am – 3:00 pm
Tel: 600-565551
Fax: 04-8810939
Masafi Branch
Location: NBF Building, Masafi PO Box 11208, Fujairah
Sat – Thu: 8:00 am – 1:00pm
Tel: 600-565551
Fax: 09-2563339
Mussafah Branch
Location: Al Bustan Guardian Building Ground Floor Musaffah Sector 1, M1 PO Box 786, Abu Dhabi
Sat – Thu: 8:00 am – 3:00 pm
Tel: 600-565551
Fax: 02-5551215
Qidfah Branch
Location: NBF Building, Qidfah PO Box 12002, Fujairah
Sat – Thu: 8:00 am – 1:00 pm
Tel: 600-565551
Fax: 09-2360494
Sharjah Branch
Location: Faya Business Building, Ground Floor (opposite Al Majaz Park and Khalid Lake), Al Majaz 2, PO Box 1416, Sharjah
Sat – Thu: 8:00 am – 3:00 pm
Tel: 600-565551
Fax: 06-5255887
List of National Bank of Fujairah ATMs Locations in Emirates
Abu Dhabi Branch
Location: Showroom 2, Al Sawari Tower B, Corniche, Abu Dhabi
Services: Cash Withdrawal & Balance Inquiry, Cash & Cheque Deposit, Utility & Credit Card Payment, Fund Transfer, Mini Statement & PIN Change
Abu Hail Branch
Location: Al Zarouni Building Opposite Abu Hail Centre Abu Hail main road
Services: Cash Withdrawal & Balance Inquiry, Cash & Cheque Deposit, Utility & Credit Card Payment, Fund Transfer, Mini Statement & PIN Change
Ajman Department of Economic Development – HQ
Location: Al Rashidiya 2 Sheikh Rashid Bin Abdulaziz Road
Services: Cash Withdrawal & Balance Inquiry, Cash & Cheque Deposit, Utility & Credit Card Payment, Mini Statement & PIN Change, Fund Transfer
Al Ain Branch
Location: Royal Building, Ground Floor, Zayed Bin Sultan St. PO Box 88108, Al Ain
Services: Cash Withdrawal & Balance Inquiry, Cash & Cheque Deposit, Utility & Credit Card Payment, Fund Transfer, Mini Statement & PIN Change, Cash Deposit, Cheque Deposit
Al Quoz Branch
Location: Shop #14, The Curve Bldg, Next to Audi Showroom, Sheikh Zayed Road, Al Quoz
Services: Cash Withdrawal & Balance Inquiry, Cash & Cheque Deposit, Utility & Credit Card Payment, Fund Transfer, Mini Statement & PIN Change
Al Ras Branch
Location: Deira Waterfront Development Car Park Building #1 Al Dhagaya Street, Al Ras, Deira
Services: Cash Withdrawal & Balance Inquiry, Cash & Cheque Deposit, Utility & Credit Card Payment, Fund Transfer, Mini Statement & PIN Change
Al Reef Branch
Location: Shop #10 Al Reef Downtown (near Starbucks)
Services: Cash Withdrawal & Balance Inquiry, Cash & Cheque Deposit, Utility & Credit Card Payment, Fund Transfer, Mini Statement & PIN Change
Almas Tower
Location: Almas Tower, Jumeirah Lakes Towers
Services: Cash Withdrawal & Balance Inquiry, Cash & Cheque Deposit, Utility & Credit Card Payment, Fund Transfer, Mini Statement & PIN Change
Amiri Court
Location: Al Sharqi Street, Amiri Court building, Ruler's Court, Fujairah
Services: Cash Withdrawal & Balance Inquiry, Cash Deposit, Utility & Credit Card Payment, Fund Transfer, Mini Statement & PIN Change
Bur Dubai Branch
Location: Al Fujairah Building, Khalid Bin Al Waleed Street, Bur Dubai
Services: Cash Withdrawal & Balance Inquiry, Cash & Cheque Deposit, Utility & Credit Card Payment, Fund Transfer, Mini Statement & PIN Change
Burjeel Hospital
Location: Al Najdah Street
Services: Cash Withdrawal & Balance Inquiry, Utility & Credit Card Payment, Fund Transfer, Mini Statement & PIN Change
Dibba Branch
Location: Sheikh Mohammed Bin Hamad Street
Services: Cash Withdrawal & Balance Inquiry, Cash & Cheque Deposit, Utility & Credit Card Payment, Fund Transfer, Mini Statement & PIN Change
Dibba Municipality
Location: Dibba Municipality
Services: Cash Withdrawal & Balance Inquiry, Cash Deposit, Utility & Credit Card Payment, Fund Transfer, Mini Statement & PIN Change
Easa Saleh Al Gurg Corporate Office
Location: 13th Floor, ESAG Tower-1, Baniyas Road, Deira
Services: Cash Withdrawal & Balance Inquiry, Cash & Cheque Deposit, Utility & Credit Card Payment, Fund Transfer, Mini Statement & PIN Change
Finance Department
Location: Al Sharqi Street, Finance Department, Amiri Court, Fujairah
Services: Cash Withdrawal & Balance Inquiry, Cash & Cheque Deposit, Utility & Credit Card Payment, Fund Transfer, Mini Statement & PIN Change
Fujairah
Location: Al Madina Supermarket
Services: Cash Withdrawal & Balance Inquiry, Utility & Credit Card Payment, Fund Transfer, Mini Statement & PIN Change
Fujairah Airport
Location: Fujairah Airport
Services: Cash Withdrawal & Balance Inquiry, Cash Deposit, Utility & Credit Card Payment, Fund Transfer, Mini Statement & PIN Change
Fujairah Branch
Location: Fujairah Head Office, Hamad Bin Abdulla Street
Services: Cash Withdrawal & Balance Inquiry, Cash & Cheque Deposit, Utility & Credit Card Payment, Fund Transfer, Mini Statement & PIN Change
Fujairah Chamber of Commerce & Industry
Location: Sheikh Hamad Bin Abdullah, Fujairah
Services: Cash Withdrawal & Balance Inquiry, Cash Deposit, Utility & Credit Card Payment, Fund Transfer, Mini Statement & PIN Change
Fujairah City Centre Branch
Location: G012A, Fujairah City Centre
Services: Cash Withdrawal & Balance Inquiry, Cash & Cheque Deposit, Utility & Credit Card Payment, Fund Transfer, Mini Statement & PIN Change
Fujairah Court
Location: Main Entrance, Fujairah Court House, Fujairah
Services: Cash Withdrawal & Balance Inquiry, Cash & Cheque Deposit, Utility & Credit Card Payment, Fund Transfer, Mini Statement & PIN Change
Fujairah Free Zone Branch
Location: NBF Building, Fujairah Khorfakkan Road
Services: Cash Withdrawal & Balance Inquiry, Cash & Cheque Deposit, Utility & Credit Card Payment, Fund Transfer, Mini Statement & PIN Change
Fujairah Municipality
Location: Al Sharqi Street, Fujairah Municipality Building, Main Entrance, Fujairah
Services: Cash Withdrawal & Balance Inquiry, Cash Deposit, Utility & Credit Card Payment, Fund Transfer, Mini Statement & PIN Change
Fujairah Municipality (Main Office)
Location: Al Sharqi Street, Fujairah Municipality Building, Main Entrance, Fujairah
Services: Cash Withdrawal & Balance Inquiry, Cash Deposit, Utility & Credit Card Payment, Fund Transfer, Mini Statement & PIN Change
Fujairah Police Camp
Location: Fujairah Traffic Police, Head Office
Services: Cash Withdrawal & Balance Inquiry, Utility & Credit Card Payment, Mini Statement & PIN Change, Fund Transfer
Fujairah Port
Location: Fujairah Port, Gate Pass Entry Building, Khorfakkan Road
Services: Cash Withdrawal & Balance Inquiry, Cash Deposit, Utility & Credit Card Payment, Fund Transfer, Mini Statement & PIN Change
Gold & Diamond Park
Location: Gold & Diamond Park, Building 1 Entrance, 4th Interchange, Sheik Zayed Road
Services: Cash Withdrawal & Balance Inquiry, Cash & Cheque Deposit, Utility & Credit Card Payment, Fund Transfer, Mini Statement & PIN Change
Jebel Ali Branch
Location: National Bank of Fujairah Building, Next to Etisalat
Services: Cash Withdrawal & Balance Inquiry, Cash & Cheque Deposit, Utility & Credit Card Payment, Fund Transfer, Mini Statement & PIN Change
Lifeline Hospital
Location: Mussafah – Abu Dhabi
Services: Cash Withdrawal & Balance Inquiry, Utility & Credit Card Payment, Fund Transfer, Mini Statement & PIN Change
Masafi Branch
Location: Masafi Branch
Services: Cash Withdrawal & Balance Inquiry, Cash & Cheque Deposit, Utility & Credit Card Payment, Fund Transfer, Mini Statement & PIN Change
Musaffah Branch
Location: Al Bustan Guardian Building Ground Floor Musaffah Sector 1, M1, Abu Dhabi
Services: Cash Withdrawal & Balance Inquiry, Cash & Cheque Deposit, Utility & Credit Card Payment, Fund Transfer, Mini Statement & PIN Change
Qidfa Branch
Location: NBF Building, Qidfa, Fujairah
Services: Cash Withdrawal & Balance Inquiry, Cash & Cheque Deposit, Utility & Credit Card Payment, Fund Transfer, Mini Statement & PIN Change
Sharjah Branch
Location: Faya Business Building, Ground Floor (opposite Al Majaz Park and Khalid Lake), Al Majaz 2, Sharjah
Services: Cash Withdrawal & Balance Inquiry, Cash & Cheque Deposit, Utility & Credit Card Payment, Fund Transfer, Mini Statement & PIN Change
Sharjah Gold Souq
Location: Block – 8, Next to Mayur Jewellery LLC. Central Souk, King Faisal Street, Al Majaz Area-1, Sharjah
Services: Cash Withdrawal & Balance Inquiry, Cash Deposit, Utility & Credit Card Payment, Fund Transfer, Mini Statement & PIN Change
Tasheel
Location: Al Etihad, Mohmmad Bin Matar road, Opposite Al Ghandi Auto
Services: Cash Withdrawal & Balance Inquiry, Cash Deposit, Utility & Credit Card Payment, Fund Transfer, Mini Statement & PIN Change
Tawian Branch
Location: NBF Building, Dibba Road, Tawian, Fujairah
Services: Cash Withdrawal & Balance Inquiry, Utility & Credit Card Payment, Fund Transfer, Cash & Cheque Deposit, Mini Statement & PIN Change
Yas Mart Hypermarket
Location: Baniyas
Services: Cash Withdrawal & Balance Inquiry, Cash & Cheque Deposit, Utility & Credit Card Payment, Fund Transfer, Mini Statement & PIN Change, Cash Deposit, Cheque Deposit