After 10 days in the ICU, an Omani man who got hit in the head by a glass bottle died due to severe head injuries. The bottle was thrown from a balcony from a high-rise building in JBR.
The incident took place on January 4, 2022. According to a report shared by Omani news outlet, Wa-Gulf, the Omani victim, who lived in the Jalan Bani Buhassan district, was dining with his friend at a restaurant in JBR when he was injured by an empty glass bottle that was thrown from an apartment.
Here's the post on Twitter by Wa-Gulf
#وهج_الخليج | وفاة المواطن العماني الذي سقطت الزجاجة على رأسه قي دبيhttps://t.co/pQaDYIWzb2

— صحيفة وهج الخليج (@wagulf) January 16, 2022
Omani National Hit on Head by Glass Bottle, Dies after 10 Days in ICU
The victim was identified by reports as Suleiman bin Ibrahim Al Bloushi. He was rushed to the ICU of the hospital in Dubai, where he died 10 days later after suffering a coma.
Many have sent their condolences after Al Bloushi's family posted the news of his death.
Asian Man who Threw the Bottle Arrested
The Asian man who threw the bottle was identified and arrested by Dubai Police, who used artificial intelligence technologies in their Criminal Data Analysis Centre.
The perpetrator has since been referred to the Public Prosecution for possible prosecution.
Below is the post from Dubai Police regarding this incident: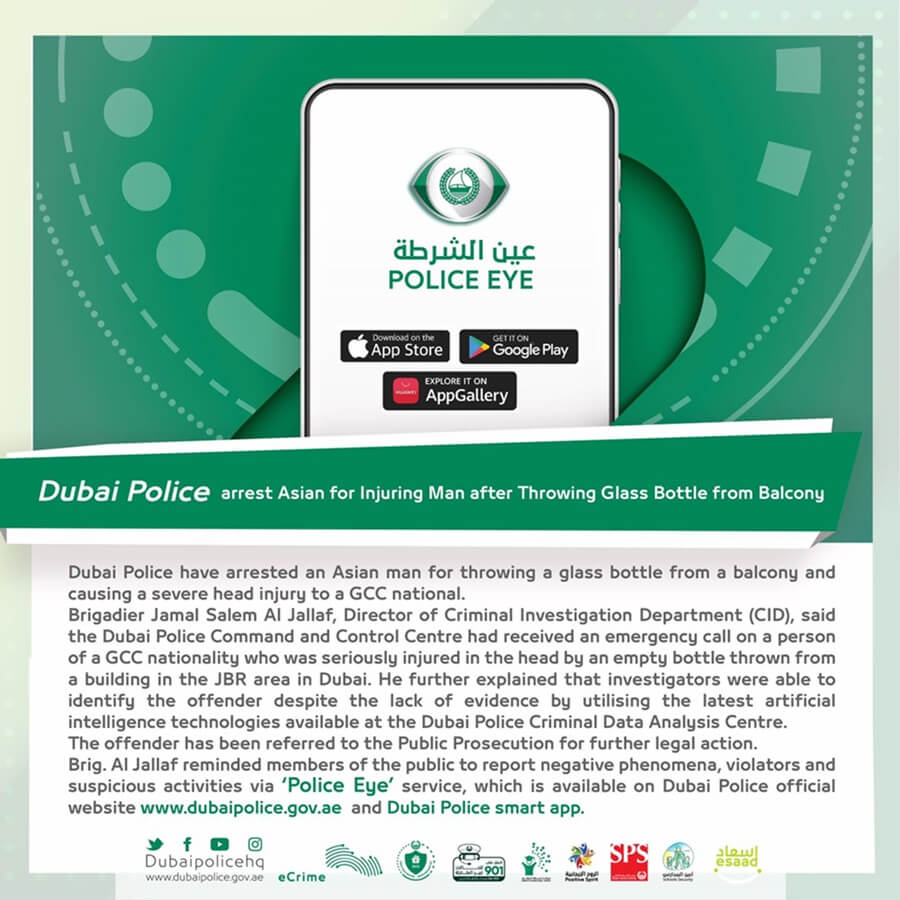 Dubai Police have arrested an Asian man for throwing a glass bottle from a balcony and causing a severe head injury to a GCC national.
Brigadier Jamal Salem Al Jallaf, Director of Criminal Investigation Department (CID), said the Dubai Police Command and Control Centre had received an emergency call on a person of a GCC nationality who was seriously injured in the head by an empty bottle thrown from a building in the JBR area in Dubai. He further explained that investigators were able to identify the offender despite the lack of evidence by utilising the latest artificial intelligence technologies available at the Dubai Police Criminal Data Analysis Centre.
The offender has been referred to the Public Prosecution for further legal action.
Brig. Al Jallaf reminded members of the public to report negative phenomena, violators and suspicious activities via the 'Police Eye' service, which is available on Dubai Police official website www.dubaipolice.gov.ae and Dubai Police smart app.