Taal Volcano in the Philippines has erupted on Sunday (January 11, 2020) which has forced the residents to evacuate. Experts have warned of another possible hazardous eruption. The volcano's eruption has led to the evacuation of three towns.
Flights (both arrivals and departures) have been cancelled at Manila Ninoy Aquino International Airport (NAIA) due to the eruption.
PHIVOLCS UPDATE as of January 13, 2020 4pm (Philippine Time). DOST-PHIVOLCS strongly reiterates the total evacuation of the volcano island and high-risk areas within the 14-kilometer radius from the Taal Main crater must be enforced.
As of January 13, 2020 at 3:20am (Philippine Time), PHIVOLCS has posted an update showing lava fountain emitting from main crater of the volcano. Here's their picture: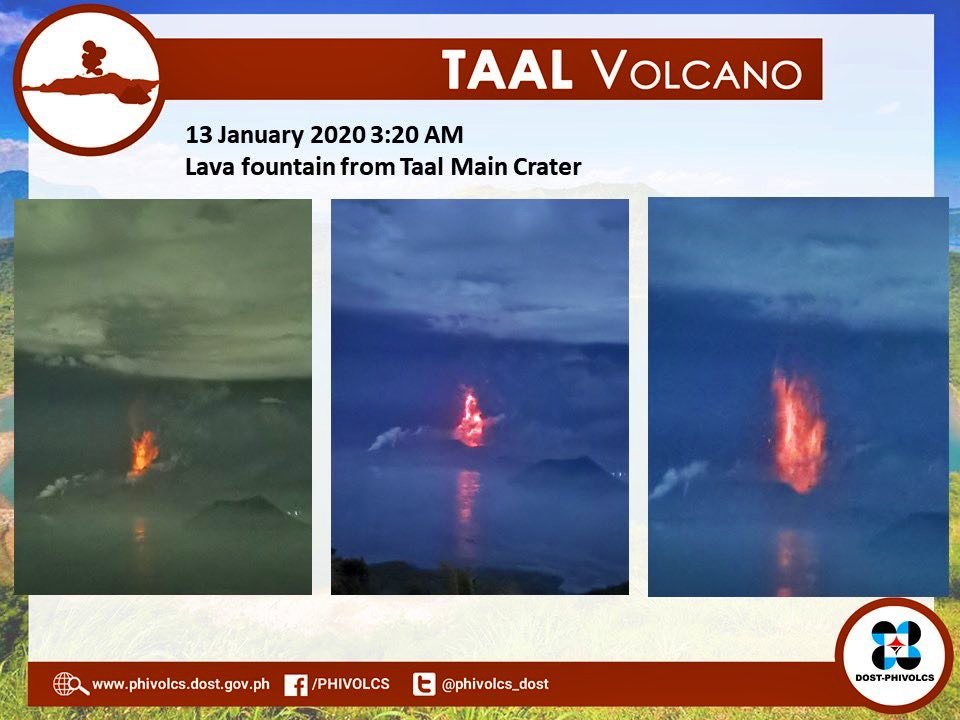 Below is a statement from the DOST-PHIVOLCS as of 3:20am – January 13, 2020:
ERUPTION UPDATE FOR TAAL VOLCANO
13 JANUARY 2020
3:20AM
As of this issuance, ashfall from ongoing eruption of Taal has reportedly fallen in the following areas:
Tanauan Batangas
Escala Tagaytay
Sta. Rosa Laguna
Dasmarinas, Bacoor, Silang Cavite
Malolos, San Jose Del Monte, Meycauayan Bulacan
Antipolo Rizal
Muntinlupa, Las Pinas, Marikina, Paranaque, Pasig, Quzon City, Mandaluyong, San Juan Manila
Makati City
Taguig City
Larger particles called lapilli measuring 2 to 64 millimeters in diameter have reportedly fallen in the following areas:
Tanauan, Talisay Batangas
Tagaytay City
Nuvali, Sta. Rosa Laguna
Fine ashfall can cause irritation and breathing problems especially among the elderly and children and it is particularly dangerous to our health. In addition, areas of ashfall have also experienced sulfurous smell which can also cause irritation. Affected populations are advised to drive with extreme caution as wet ash can cause poor visibility and, when wet, can make roads slippery.
The Philippine Seismic Network has recorded a total of 52 volcanic earthquakes in the Taal region as of 12:49am, January 13, 2018. Twenty-six (26) of these earthquakes were gelt with intensities ranging from Intensity II-V in Tagaytay City, Cabuyao, Laguna, Talisay, Alitagtag, Lemery and Bauan, Batangas. Such intense seismic activity probably signifies continuous magma intrusion beneath the Taal edifice, which may lead to further eruptive activity.
DOST-PHVOLCS strongly reiterates the total evacuation of the Volcano Island and high-risk areas within the 14-kilometer radius from the Taal Main Crater. Areas in the general north are advised to guard against the effects of heavy and prolonged ashfall. Civil aviation authorities have advised aircraft to avoid airspace around Taal Volcano as airborne ash and ballistic fragments from the eruption column pose hazards to aircraft. DOST-PHIVOLVCS is continually monitoring the eruption and will update all stakeholders for further developments.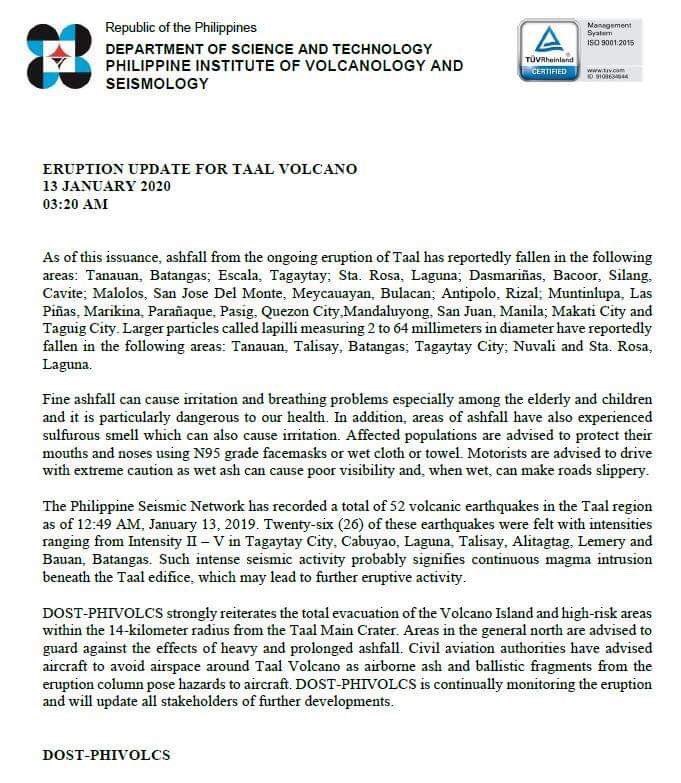 The Manila International Airport Authority suspended arrivals and departures.
Here's a statement
Due to the suspension of flights in NAIA, due to Taal Volcano eruption, all passengers are advised to coordinate with their respective airlines before proceeding to the airport.

— NAIA (@MIAAGovPH) January 12, 2020
Here's a Tweet from PHILVOCS of the eruption of Taal Volcano:
Inside the Taal Volcano Main Crater taken on January 12, 2020. The eruption was captured by PHIVOLCS IP camera at 5-minute interval from 1 PM to 3 PM. #HandaAngMayAlam #TaalVolcano #TaalEruption2020 pic.twitter.com/kA2HZ4aYQs

— PHIVOLCS-DOST (@phivolcs_dost) January 12, 2020
Experts warn of an "explosive eruption" after the Taal Volcano in the Philippines spews ash near Manilahttps://t.co/yJZsw8Ztu6 pic.twitter.com/P0Fjoczxv6

— CNN Breaking News (@cnnbrk) January 12, 2020
LOOK: Rescue operation at Talisay, Batangas after the phreatic eruption of the Taal Volcano, Sunday afternoon. (Photo courtesy of Philippine Weather System) pic.twitter.com/rP3DKTo366

— Manila Bulletin News (@manilabulletin) January 12, 2020
The Department of Health has posted of Health has posted a note against the effects of ash fall and this serves as a warning for residents to prevent health problems.