Our latest OFW interview features Wendy, a 35-year-old Filipina in Dubai. She is currently working as an Executive Assistant in a government healthcare facility, although her college degree is in Hotel and Restaurant Management! She has been living with her family in Dubai for 10 years now.
Aside from her regular job, Wendy is a blogger and traveler as well. With her youthful looks and passion for adventure — would you believe she's also a doting mom to three adorable kids? Wendy has also managed to bring some of her family members to live and work in Dubai.
Despite all her success, Wendy remains humble amid life's ups and downs. After everything that she has been through, her zest for life and positive attitude are admirable. She urges fellow Filipinos to dream big and never settle for less. Learn more about Wendy and her inspiring story below!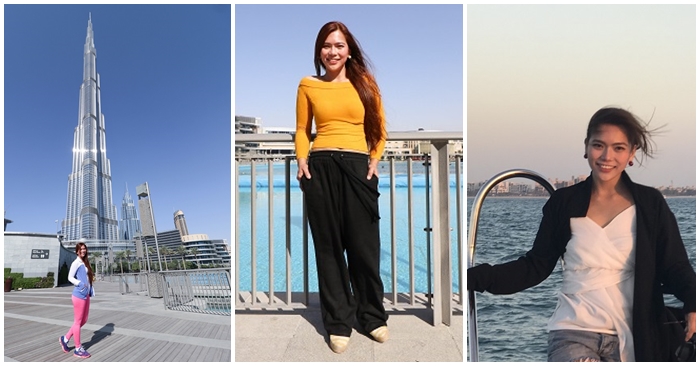 OFW Feature: Wendy, Executive Assistant & Blogger
Name: Wendy Molina
Age: 35 years old
Current Profession: Executive Assistant in a Government Healthcare Facility
College Degree: Hotel and Restaurant Management
Years in Dubai: 10 years
1. Tell us about yourself.
Hi! My name is Wendy Molina, 35, married with 3 kids, and living in the UAE for a decade (and a month to be exact). I am currently working as an Executive Assistant in a government-owned healthcare facility with a degree in Hotel and Restaurant Management. As you can see from the irony there, things don't always end up the way we planned, don't you think?
2. Why did you come to Dubai?
I and my then 2-year-old son came to Dubai in December of 2007 basically to spend the holidays with my husband who was working here at that time and maybe, yeah — to test the waters — or so they say, with no plans of staying here for long. Circumstances led me toward looking for a job and telling myself that a maximum of 5 years will be enough to save for our future plans and go home.
3. What were your previous jobs?
For 10 years in the UAE, I have only worked for 2 companies. My first job was as a receptionist/front desk officer for a well-known hospital, and then eventually I got promoted as a Department Secretary. I've also worked in numerous BPO companies back in the Philippines for quite some time before venturing abroad.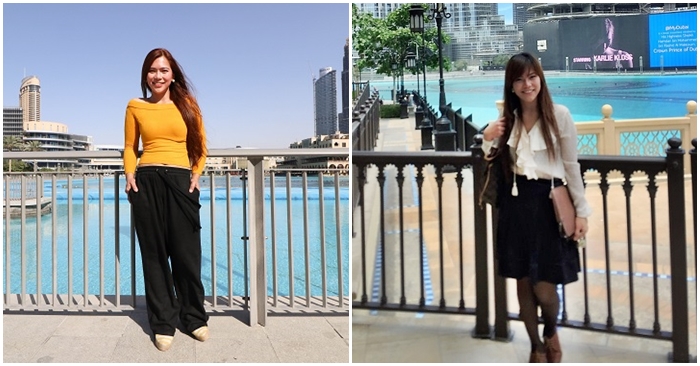 4. How do you find your current job? Are you happy/satisfied with it?
My current job as an Executive Assistant is actually challenging and rewarding at the same time. You get to meet the high profile members of the organization and they also know you by heart (if you are lucky in a day, you get a glimpse or two of his highness). You can communicate with them directly, tell them your concerns and sometimes share ideas without being taken aback.
The challenging part is, they expect more from you than the rest and trust that you deliver results in a timely manner and be able to exceed their expectations. This gives me the notion that there is no room for any mistake and you must always be alert and ready for anything that they throw your way. Nevertheless, this has made me grow into a person of strength, confidence, and value. I can say that I am happy with where I am right now, with lots of opportunities for advancement.
5. Are you able to save in Dubai? Why/How?
At first, we were dedicated and focused on saving money, particularly since I had to provide assistance to my family back home on a monthly basis and send my siblings to college. Of course, we also had plans of putting up our own business, a house and lot, future for the kids, insurance, and investments alike.
But as soon as we managed to bring some members of the family abroad and settled comfortably — that is when the irrational spending started. There came a time when I was blinded by the glitz and glamour of Dubai and the people who venture in here. The idea of having things available for everyone to claim in just a flash of a credit card. (Yes, I can somehow relate to Rebecca Bloomwood, the Girl with the Green Scarf in Confessions of a Shopaholic… don't we all girls? lol) When plastic money is so accessible to all we tend to forget that it is not real money in the first place. Not long before I realized, rainy days came and I was stripped off from the life I had been accustomed to.
Fortunately, I had been doing side hustles on top of my 8-to-5 job, providing English tutorials to kids, plus participating and selling goods at pop-up markets and campaign events.
And for everyone's concern — yes, we did managed to save. However, I must say that we could have done better. Ten years is such a long time and with all the compensation and benefits (and the side hustles) that I've been getting, it definitely falls short of what I am supposed to and capable of saving.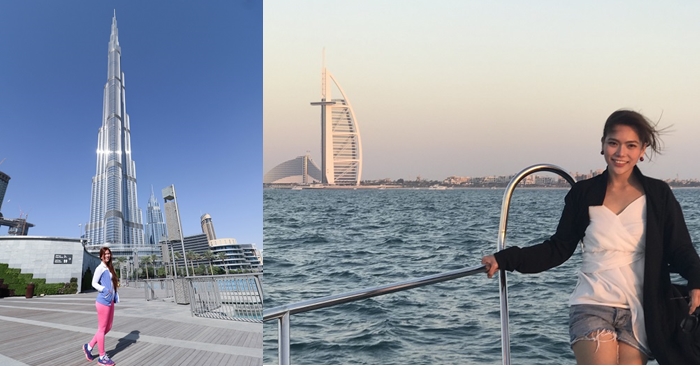 6. Is it difficult to live in Dubai? What are/were your struggles? What's life like outside work?
My family had a fair share of Ups and Downs. Living in Dubai is not difficult if you know how to get yourself around, approaching the right people, and being determined enough to get what you want from it.
Just last year, I had a high-risk pregnancy and was diagnosed with high blood pressure and pre-eclampsia at childbirth under C section. I was in and out of the hospital and my daughter stayed in the NICU for 45 days (which I usually describe as my 45 days of hell). With our insurance only covering a small amount, the hospital bill sky-rocketed, our pockets and savings were emptied. We reached "rock bottom" with only limited resources at hand. My greatest struggle was when we had to decide on sending the kids back home in order to save and concentrate more on generating money to pay the bills.
Fast forward to now, I am coping and slowly picking up the pieces with an occasional drive around the city of Dubai. Work will always be part of our life here. But being outside of work, exploring the different places and attractions that Dubai offers, meeting other people of different cultures and traditions, knowing their stories — is invigorating. It makes you realize that you are not alone in this world.
7. What do you like about Dubai?
The question is, what is there not to like about Dubai? It is here where most of my dreams were fulfilled — the City of endless opportunities. Everything is within your fingertips. Government processes are fast and easy with the latest in advanced technologies. Most locals are friendly and willing to help especially on the road. When you ride on a public transport and accidentally leave something, it will be returned to you completely untouched. Not to mention the amazing infrastructures, magnificent buildings, and the majestic Burj Khalifa — all in what was once a desert land!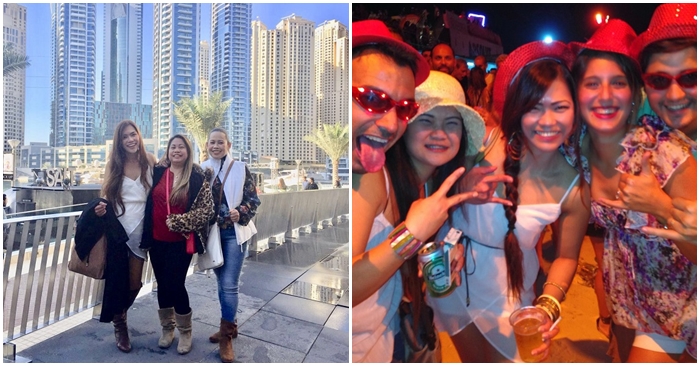 8. What do you NOT Like about Dubai?
Okay, the excruciating heat of summer in Dubai is a given. But there is only one thing that can get into my nerves most of the time – MOTORISTS! They will even cut you in broad daylight. Cameras are there in every corner of the city for an awful lot of reasons! Hah!
9. What are your plans in your career/family/future?
I have became comfortable with the culture and the way of living in Dubai and I don't have any plans of going back to the Philippines just yet, until we have to send our kids back home.
There, change of plans. Now, I am looking forward to being reunited with my family again. Just a couple of thousands of Dirhams more, then I will be heading home for good. Or, who knows… I might consider taking my family back to Dubai instead.
10. You have any tips for Kabayans when working/finding work/living in Dubai?
Most of us settle for the monetary value a company offers, only to end up unemployed after a few months. Looking for a job in the UAE is not only about the compensation, but how you and the company will benefit from each other. When you apply for a job, it is of critical importance that you do a background check, know the history of the company, and if your mission and vision correlate with each other. Make sure that the company will provide you with room for growth and advancement.
Once you set foot on this land, don't be discouraged if at first you don't find what you are looking for. It will come to you, never settle for less. You have to bear in mind that you are here because a job is meant for you — a role is on the taking.
And once you get that dream job, you have to save as much as you can, even bigger than what you were supposed to. Buy insurance, investments, and save at least 6 months' worth of your salary as an emergency fund at the earliest possible time. Secure those things before drooling over a Prada bag, Gucci shoes, or a Dolce coat.
Find a side hustle that you love or turn a hobby into something that will compensate you and keep it even if your current job is doing good. This will help you when your main bread and butter takes a downturn. Only then you will be able to dance in the rain.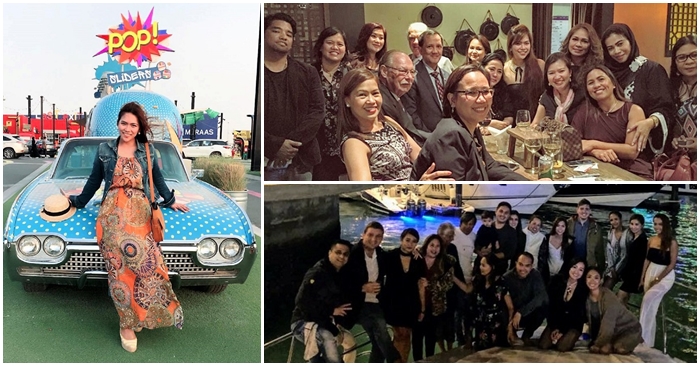 Connect with Wendy via Her Blog & Social Media
To know more about Wendy, you may get in touch with her through:
Blog: The Vintage Box
Facebook: WendyCraze
Instagram: @wendycraze
—————-
*Photos provided by Wendy
Are you an expat in Dubai? Do you want to be featured in the website? Send us an email telling us you want to be featured at admin@dubaiOFW.com and we will send you the set of questions! Let's help other Pinoys who want to come to Dubai understand what life in the UAE is like through your story.